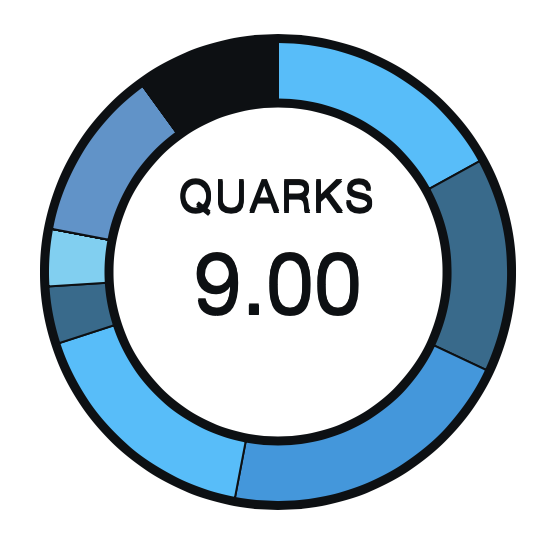 Quarks rating explanation here.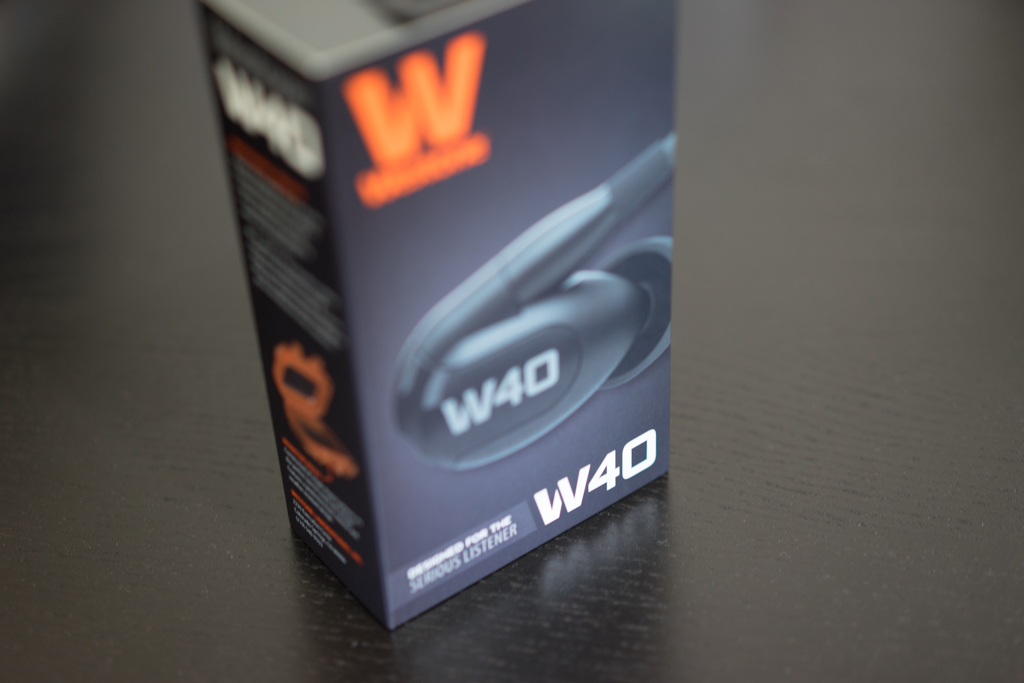 Hardware Design
Rating: 10/10
Design is minimalistic and elegant. There are no sharp edges or shiny colors. Just a very discrete W40 printed on the outer side of each earphone.
When inserted in the ear canal, the cable is supposed to run on the back of your ear. This is an excellent design as it provides a secure fit and it helps get the cable out of the way. The cable can even be run down your back for a more inconspicuous look. However, it's not the most practical way to wear them.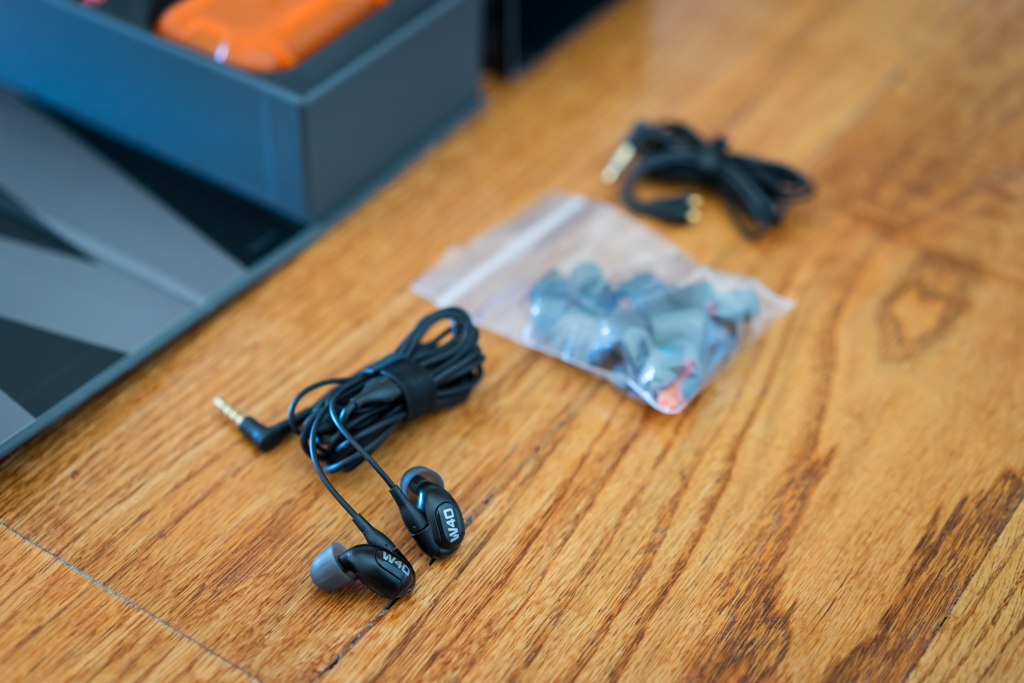 The cable can easily be detached from the earbuds. The W40s come with two cables: one of which has full music controls (play/pause and volume buttons) and a microphone, so it can be used to control a music player (on a smartphone) and make/receive calls. Westone also includes a great plastic case and a multitude of plastic ear cushions (both silicone-like material and foam).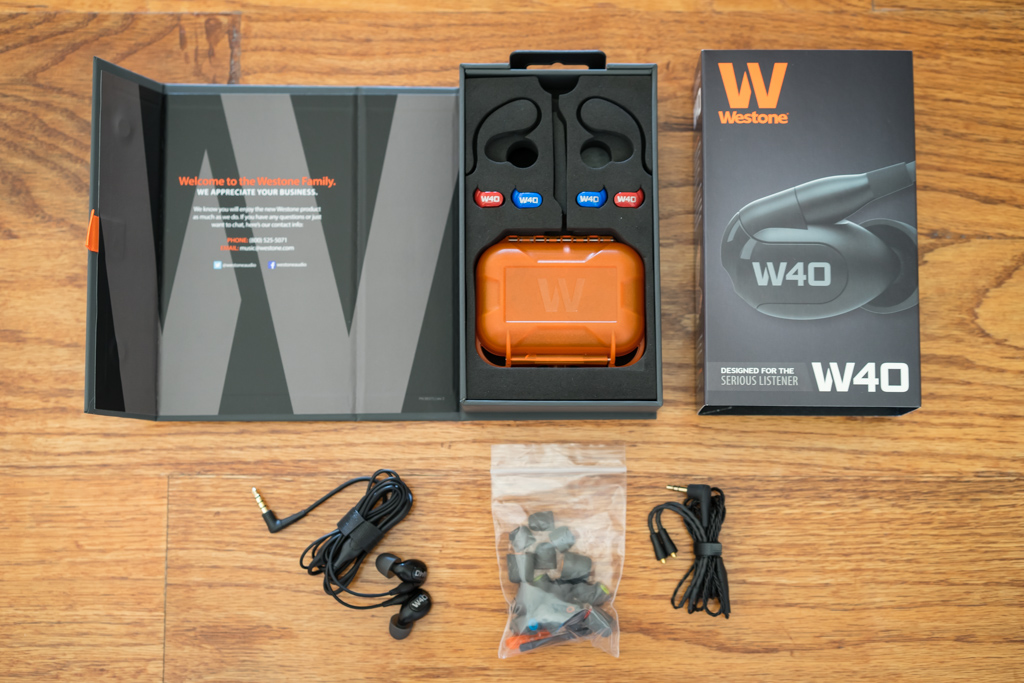 There are two color face plates included (blue and red) in addition to the black ones that come pre-installed. Westone even includes a little screwdriver used to change the face plates. I would have liked them to be of darker tones or perhaps a gun metal option.
With regards to their size, it's really impressive how they were able to fit 4 armature drivers and crossover circuitry in such a small package.
Hardware Quality
Rating: 8/10
The earbuds are made of high quality plastic with some rubberized surfaces. Although they don't feel cheap at all, a magnesium casing like the one used on the Westone Alphas would have been great. Also, engraved letters instead of painted/printed ones seem appropriate for earbuds in this price range.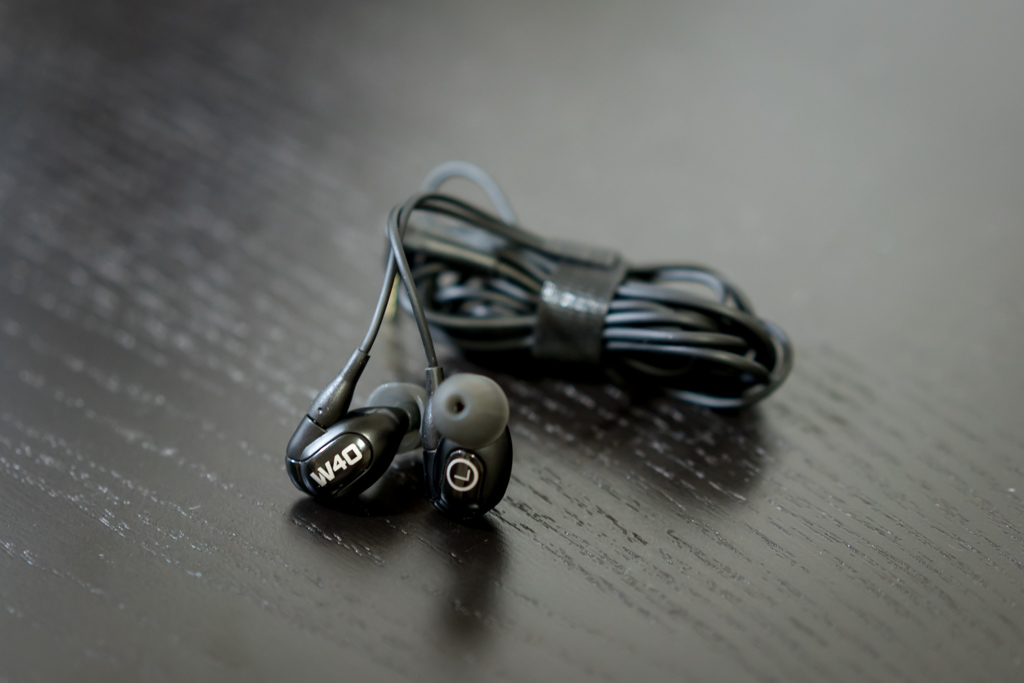 Cables are thin but feel strong and well constructed. The buttons tactile feedback is good, volume and play/pause areas in the remote control are easy to find just by touch.
In typical Westone fashion, the storage case is built like a tank. it's made of a very sturdy plastic material with a soft interior. The case lid is lined with a thin rubber band to prevent moisture and dirt from getting inside. It's also provided with what seems to be an air valve.
General Performance
Rating: 10/10
The W40s are provided with not one, two or three, but four balanced armature drivers with a 3-way crossover..
Multiple drivers allow them to cover the whole audible spectrum with relative ease and clarity as each driver is tuned to reproduce a predetermined range of frequencies. In this configuration, the crossover circuitry plays a key role as it is responsible for dividing music into different frequencies and route them to the appropriate drivers. I must say, the W40s do all of this in a masterful way.
In fact, single-driver (dynamic) earphones typically offer a better bass response than multiple-driver ones. However, Westone has engineered these earphones to perform exceptionally well at lower frequencies. In fact, their technical frequency response is 10 Hz to 18 kHz, which is a wider range and covers more low frequencies than several high end single-driver earphones (typically 20 Hz to 18 kHz).
I tested the earphones with the following songs in Apple lossless format:
Pinch Me, Bare Naked Ladies: Whole and surrounding bass, clear vocals.
Fallin' and Wild Horses, Alicia Keys: All sound range can easily be heard, nothing overpowers nothing. Fulfilling bass and noticeable highs, crystal clear vocals (Alicia's respiration and breath). Superb reproduction of chord instruments.
Garota de Ipanema, Tom Jobim: Just sublime, great mid frequency response although some emphasis on high frequencies.
Jamming and One Love, Bob Marley: Thorough and fulfilling bass with clear and distinctive highs. Hard to achieve this without one overpowering the other, but the Westone W40s pulled it off. Mids are sublime, it's like having Bob singing in your brain.
Price
Rating: 8/10
This is a though one. Do these sound like $500 earbuds?. Well, No; they actually sound like $800+ earbuds, so their current price tag may be appropriate. However, there are many other offerings out there with similar performance at a better price (obviously, with some trade-offs). If the W40s were $100 less, I would give them a five-star rating in this category.
Ease of Use
Rating: 10/10
Although the W40s should be inserted in the ear canal and the cable is supposed to be run on the back of the ear, they are simple to use. The cable is very malleable and putting the earphones in place is a straightforward process.
Other Pros
Rating: 10/10
This section is intended to account for features not usually found in similar products. The W40s have a couple of features that make them stand out from the competition:
Small Size: As indicated above, the W40s are small. Although they are slightly larger than the Westone Alphas, they are smaller than the Shure SE215 (reviewed here).
Comfort: Westone has done a great job on the ergonomic design of these earphones.This is probably the result of their years of experience manufacturing hearing professional earpieces and industrial hearing protection. Even packing 4 drivers, they have managed to make a comfortable earpiece that can be worn for hours without any discomfort.
Included Items: Westone has included the following in the package: S-M-L silicone-like tips, S-M-L foam tips, cleaning tool, mini screw driver (for changing face plates), 3 face plates, two earphone cables (one with remote control), rugged carrying case and instructions manual.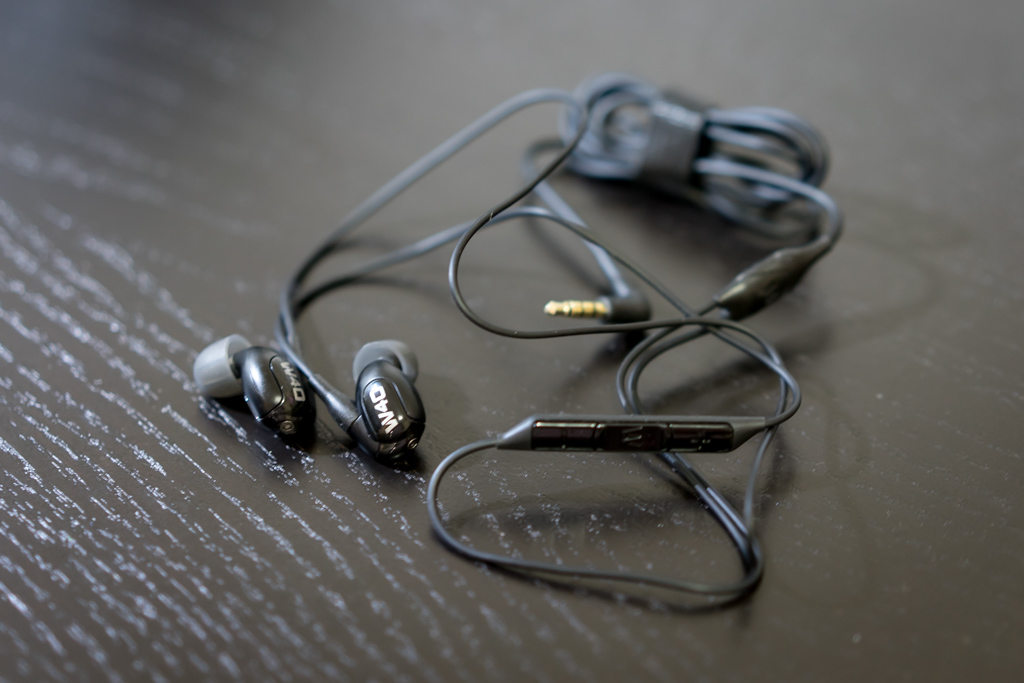 Amazon Reviews
Rating: 4/5 Stars
As of the time of this writing, the Amazon rating for these earphones is about 4 stars out of 71 reviews. I would say they are somewhat underrated given their performance, but I went ahead and factored that figure in the Quarks rating in an effort to being objective.
Newegg Reviews
Rating: Not Available/Not Used
Although the Westone W40s are sold on Newegg, they haven't been rated by the time of this writing.