Pebble is probably the company responsible for the whole smartwatch era. The original and famous Kickstarter campaign offered a truly innovative and capable product that was quickly embraced by the (nerd) masses. They pretty much created a niche that was quickly flooded by products from other big companies like Samsung, LG, Motorolla/Google and Apple.
The original Pebble was a little too plasticky and informal, but about a year after its release, they announced the Pebble Steel, which was a sign the company was getting serious about watches. At the beginning of this year, they announced the Pebble Time and Pebble Time Steel, and just recently the Pebble Time Round.
Although you can easily find several reviews for most of these watches online, I couldn't find a comparison review between the two steel models, the Pebble Steel (my main watch as of today ) and the Pebble Time Steel. Since Pebble was nice enough to send a review unit of the latter, I decided to take it for a spin and share my thoughts on how it compares to the Pebble Steel.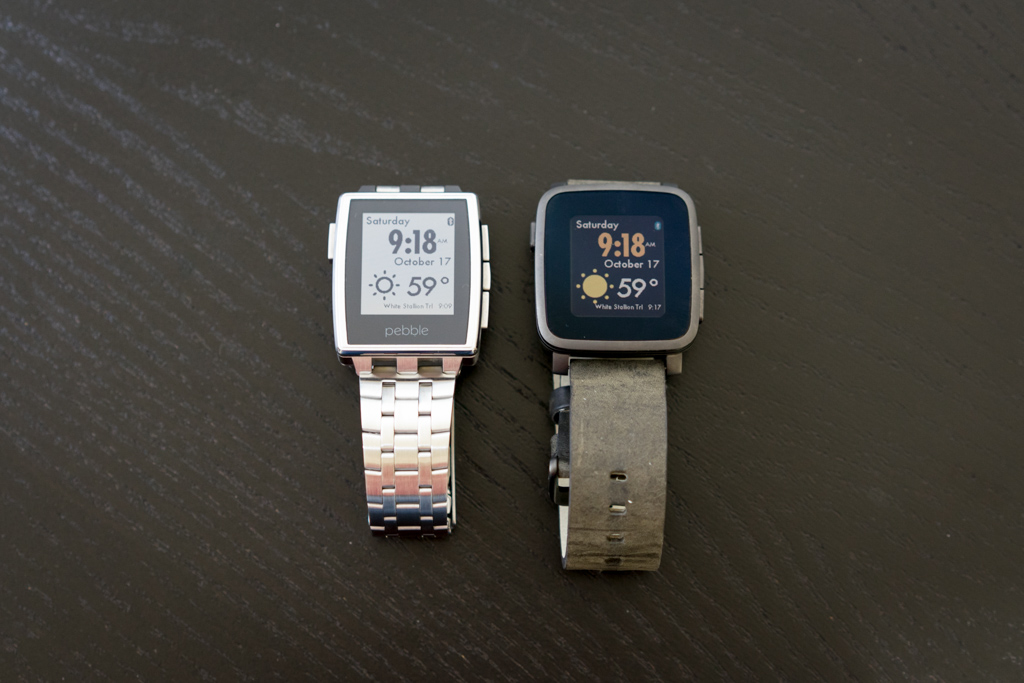 Pebble Steel
The Pebble Steel, although it didn't offer many software improvements with respect to the original model, presented a refreshed and more appealing design. You can definitely use this watch in a Corporate environment without looking out of place. The monochromatic screen is elegant and can easily be viewed both indoors and outdoors, contrast is just perfect. In my opinion, the watch looks great with either a metal band or a black leather band.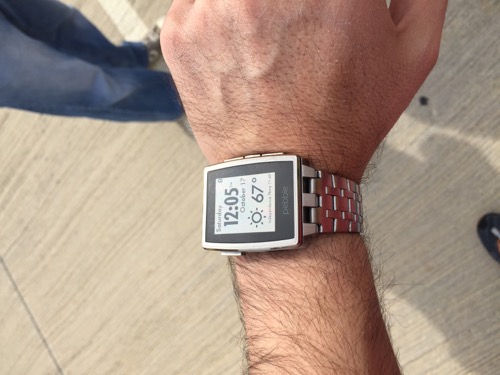 The software integration with iOS can be improved. The actual Pebble App works really well, but the experience quickly changes when you get into the settings section for each App or Watchface. It feels like an afterthought, each developer seems to come up with their own UI.
On the notifications front, there is (currently) no way to filter the notifications that go to the watch (it's either all or nothing). Also, there is no way to set vibration just for certain types of notifications.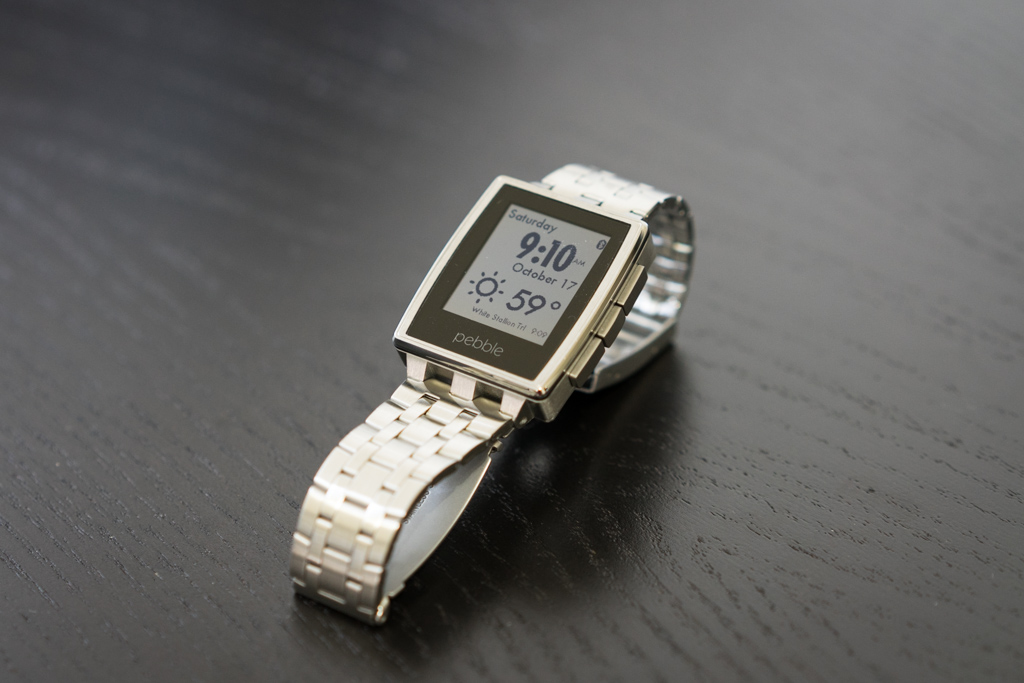 However, the watch performance is great: responsive and functional, with menus that make sense. What it does, it does it well. It's built like a tank and can be used while swimming, running or sleeping. That last part is key and usually underestimated: thanks to the 5 to 6 days battery life, you can wear it at night to track your sleep or just to use it as a vibration alarm in the morning. That is something you couldn't do with an Apple Watch because you have to charge it pretty much every night.
Pebble Time Steel Improvements
The Pebble Time Steel (PTS) is definitely faster than its predecessor. I'm not sure if this is because of hardware improvements, software optimizations or a combination of both.
On the software side, PTS ships with Pebble Timeline, which a very responsive interface showing events arranged chronologically. Pebble has stated this new interface will be made available to owners of the original pebble before the end of the year.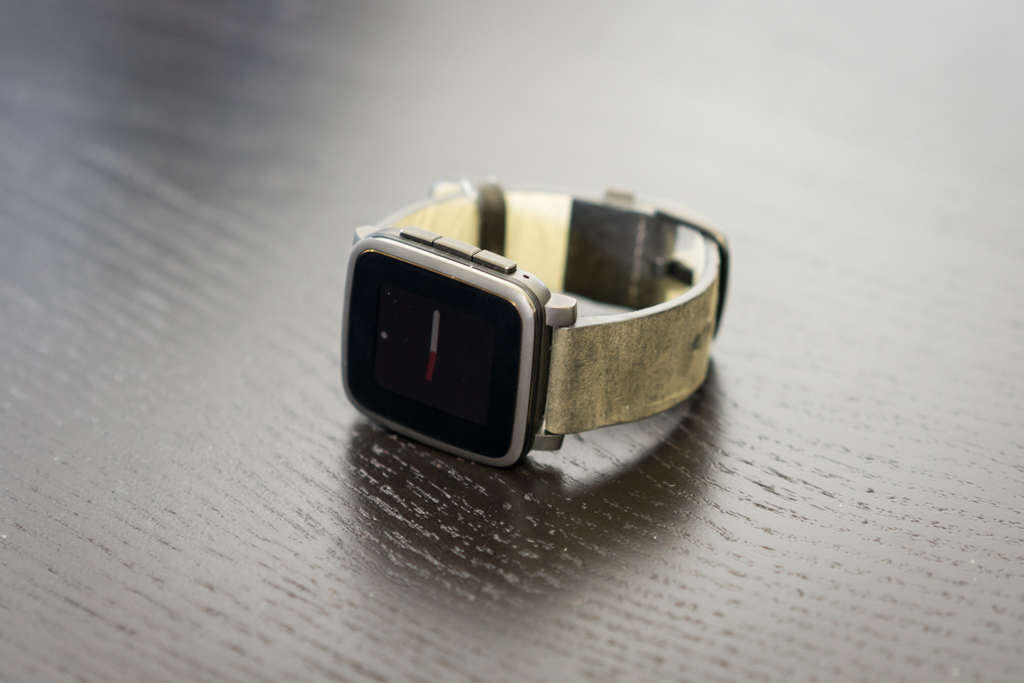 The watch design has been streamlined and is a depart from the boxy look of the Pebble Steel. It's thinner and made out of steel. It now includes a microphone and the charging port has been relocated to the back. With the new port on the back, it is possible to create Smartstraps with electronics built-in to improve the capabilities of the watch itself.
The battery now lasts up to 7 days, which is approximately an extra 2 days with respect to the Pebble Steel. This is probably one of the main advantages of Pebble watches. Not needing to charge the device on a daily basis results in an incredibly refreshing user experience I haven't had since the last cellphone generation before smartphones.
The PTS now includes an always-on color screen that can be seen both indoors and outdoors. But I'll talk more about it in the next section.
Pebble Time Steel Shortcomings
Although the PTS has a color screen, colors are dull and lack saturation and brightness, even after setting the display intensity to Blinding (highest setting). Unless the backlight is on, the screen is very difficult to see indoors, it doesn't compare to how legible and easy on the eyes both the Pebble Steel and original Pebble are under any condition.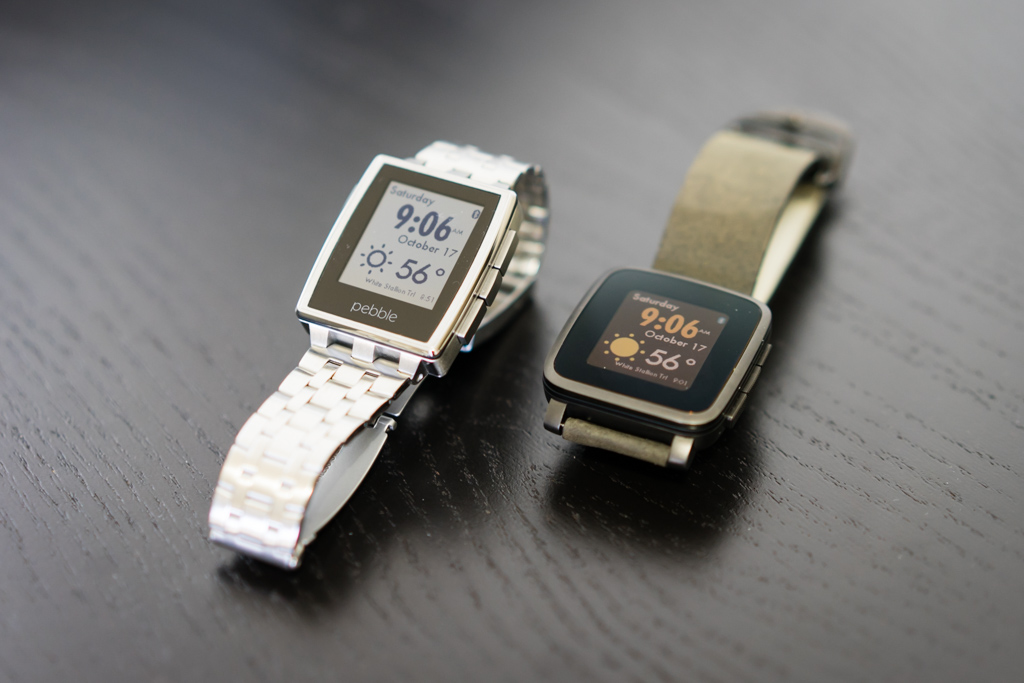 On the software side, although the whole Pebble Timeline concept is nice and responsive, some people may find the animations a little bit childish. Also, the software disjointed experience when accessing watch app settings hasn't been resolved.
Final Words
Pebble is a company I have huge respect and admiration for. I have backed their projects in the past, but I have to say I don't like the direction they are taking. It almost feels like they pressured themselves into putting out a low power color screen when the technology just wasn't there. The result, in my humble opinion, is less than optimum.
They really can't afford getting into the color screen/resolution battle, because is a battle they will lose. Screens like the ones in the Apple Watch, and Android Smartwatches are beautiful high resolution screens. They come with a huge tax on the device's battery life and are not the best looking screens outdoors, but the general public doesn't seem to have a problem with that.
Pebble should continue differentiating themselves from the rest of the market by capitalizing on what they do well: building smartwatches that can easily be used both inside and outdoors with an extraordinary battery life, without compromising any of those features. Although having a color screen in your wrist is nice, I don't really need it to see a text notification, and I definitely don't want to see pictures in such a tiny display (or draw hearts or scribble anything). That is why we have a smartphone in our pockets all day long.
I think Pebble's decision to include the Smart Accessory Port was a move in the right direction, and they should focus on driving attention to it. For me, the ideal smartwatch is something I wear on my wrist which is crammed with sensors, provides several types of vibrating notifications, it has legible text notifications under any condition and battery life is measured in days instead of hours. Until we get to that point, I'll keep using my Pebble Steel.