Background Story
If I had to say which type of photography I feel more inclined to, I think it would have to be travel photography. There is something about traveling and visiting other places that inspire me to grab the camera and take some shots. Unfortunately, most of my travel is for business purposes, and my business has nothing to do with photography. That has compelled me to travel light and pick my camera gear to be as efficient as possible. That is one of the reasons I switched to Sony's mirrorless system and the FE mount lenses.
Some years ago I started looking for the perfect travel tripod. I tried the Travel Angel by Benro, which is an outstanding little tripod, but I wasn't sure about using the relatively small ball head it comes with (back then, I was using a Canon DSLR with big glass). I also tried the Manfrotto Compact Photo Kit but wasn't as light and small. Finally, after trying a couple of their models, I settled with the 3 Legged Thing Punks-VYV Magnesium Tripod with Airhed Ball Head. Truly an amazing and versatile travel tripod, even more stable than their carbon fiber version.
But it wasn't small enough…
I mean, it's very compact and the magnesium alloy makes it very lightweight. It's still my favorite tripod and I take it with me for longer trips. However, when traveling with just a carry-on bag and other work-related equipment, every inch counts. I was willing to use some sort of table top tripod so save some space in my luggage. Most of the time you can find a flat, stable surface to support it while shooting.
Requirements
I searched for weeks for the ideal tripod that would fit my needs and requirements, which are:
Sturdy, capable of holding a DSLR.
Table-top design.
Capable of fitting a tripod ball head. Since the 3LT airhed is ARCA compatible, I don't need to take the ARCA plate off the camera, so it's always ready to go.
I couldn't find what I was looking for on the market, so I decided to make my ideal travel tripod myself.
The Final Product
Here is what I came up with: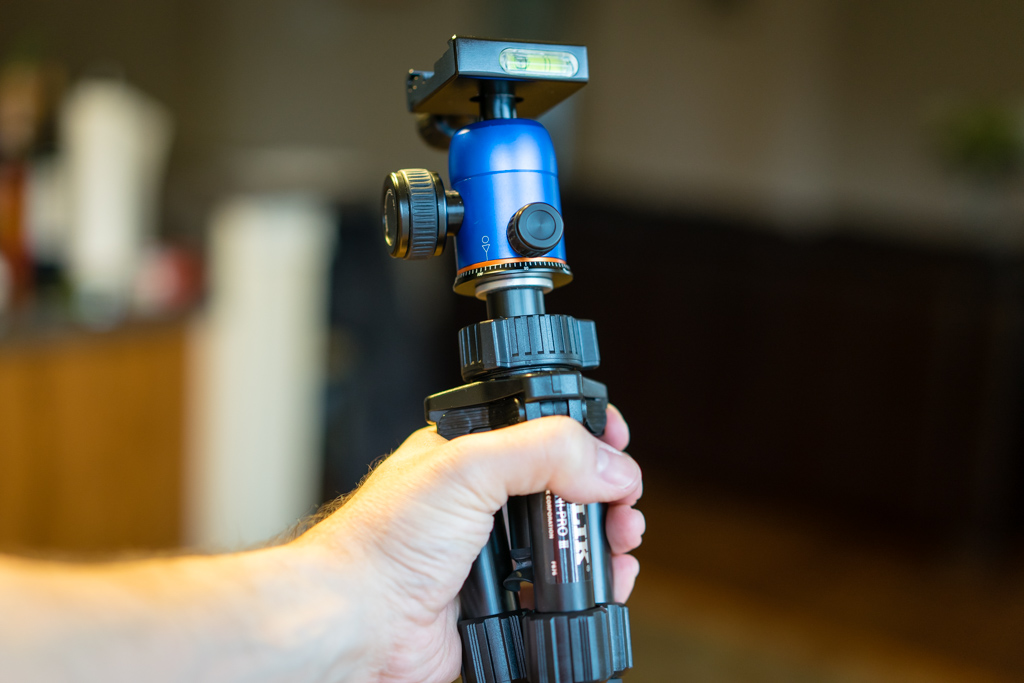 The small tripod is the Slik Mini Series tripod. Which is sturdy, stable and has a suction cup in the center column. Some people use the Manfrotto Pixi Mini Tripod, but i don't think it can hold a camera with a big lens (not than I'm planning to use it for that purpose, but it's nice to have the option). Also, there doesn't seem to be a way to attach a different head. The beauty of this setup is that I can use the exact same ball head I use in the 3LT tripod and hence, I never have to take the ARCA plate off the camera.
Also, per Slik description:
Besides traditional tripod use, the Slik MINI series tripods have another great feature: the ability to use the tripod as a "Chest-Pod" camera support! To use as a chest-pod, first loosen the locking collar around the center column, pull out (raise) the center column at least one inch and tighten. Then, with the legs spread, place the feet of the legs against your upper chest. Loosen the tripod head and position the camera so you can see through the viewfinder comfortably. This will better stabilize the camera and help avoid image-degrading "camera shake."
I wouldn't use it as a chest-pod to take long exposure photos, but it definitely helps stabilizing the camera.
The really key component of the setup is the Tripod Camera Screw Thread Adapter Converters, which allow you to screw the ball head into the small tripod's screw. That way, the ball head is securely attached and fully functional.
I have used it a couple of times and I'm very happy with the end result. You can tilt the camera sideways and the tripod remains stable enough.