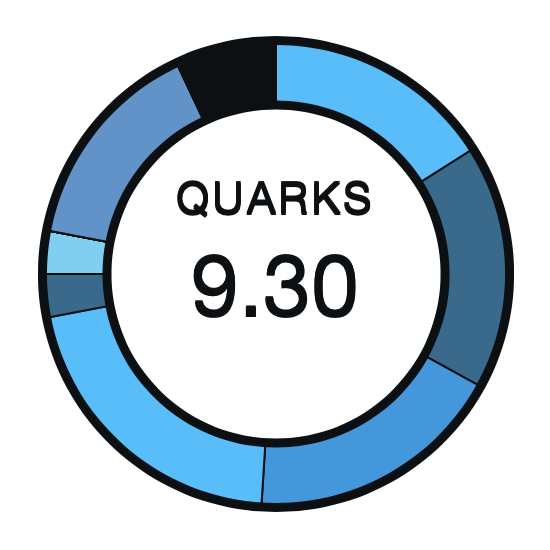 Quarks rating explanation here.
STM is an Australian company committed to making high quality, functional and nicely designed bags. I've reviewed several of their offerings in the past. Although I've always liked their bags (as a matter of fact, I'm currently using one of them on a daily basis), it's their iPad cases I'm really a fan of.
This is the third and last part of a 3-part review series covering some of their cases for the iPad Pro (here are Part 1 and Part 2). In this post, we'll be going over the STM Dux Plus for iPad Pro (9.7 in).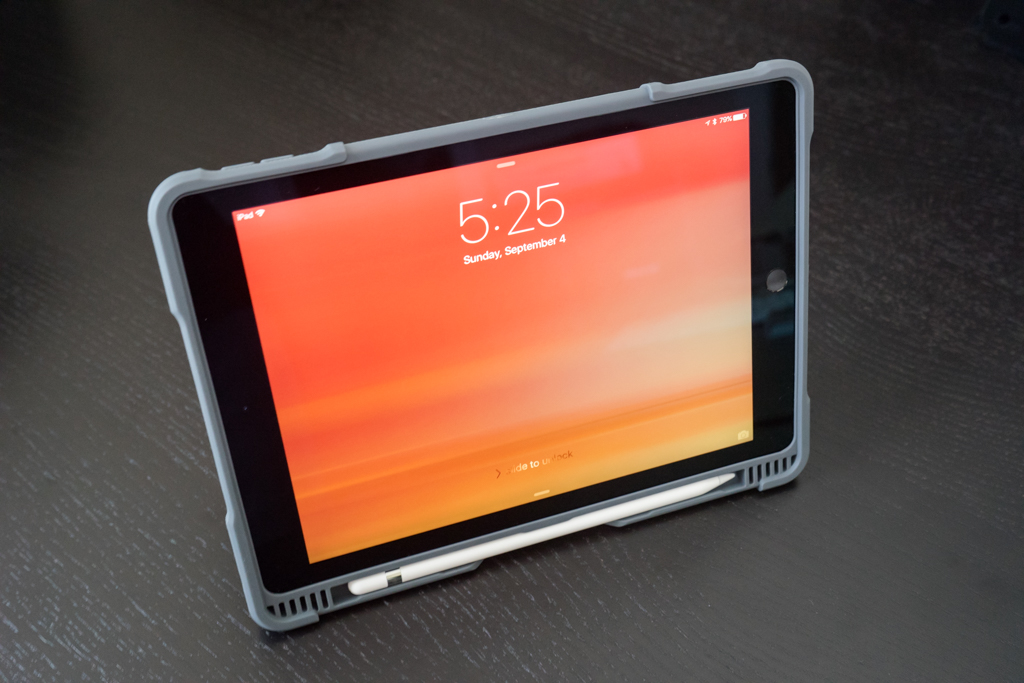 Hardware Design
Rating: 9.5/10
This is probably the best looking rugged case for the iPad Pro on the market. As a matter of fact, it's one of the best looking cases in general. It perfectly wraps the iPad around, covering buttons and leaving adequately sized openings for ports and speakers (i.e. virtually any lightning cable would fit, including the excellent non-Apple options that can be found on Amazon). Corners are reinforced to provide additional drop protection and the back is partially transparent.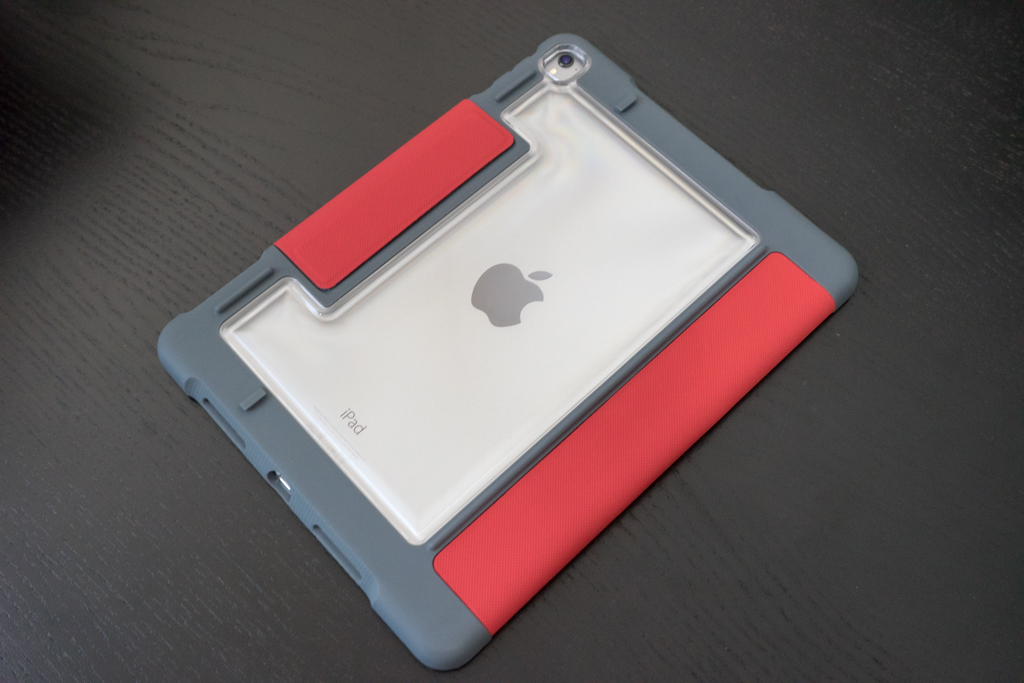 The lid's inner lining is made out of a soft material very similar to the one used by Apple on their Smart Cover. The outside, however; is made of a textured polyurethane which provides a surface easy to grab and extremely easy to clean with just a damp towel (as opposed to Apple's Smart Cover, which seems to be a grease magnet). The lid wraps around the case's edge and it's magnetically kept in place. It's fully compatible with the iPad's auto wake/sleep feature.
There is also a slot for Apple Pencil which fits snugly to the left hand side of the iPad. I thought this feature would make the STM Dux Plus considerable thicker or wider, but that's not the case at all. Also, when the Apple Pencil is not in the slot, the additional space on the left side doesn't get in the way and allows for easy maneuverability. You just forget it's there.
The only thing I'd change about the cases's design is the fixed Lid. A detachable one would have been compatible with some other STM's cases and would have provided an additional level of flexibility. However, I understand it was designed this way to keep costs down. Not a big issue, perhaps and opportunity for improvement.
Hardware Quality
Rating: 10/10
Quality is on par with all other STM products, Simply put: outstanding. The lid materials feel even better than what Apple uses on their Smart Covers, and that's not easy to achieve. The case itself is made of what seems to be treated/reinforced rubber. According to STM's site:
…(the case is made of) Super protective polycarbonate and rubberized bracket.
The case's material feels stronger and less prone to deformation than the TPU silicone-like material so commonly used on iPad cases. At the same time, it's flexible enough to allow for the iPad to be easily inserted and taken out without risk of scratches.
General Performance
Rating: 8.5/10
The STM Dux Plus provides outstanding protection to say the least. When in landscape mode, just like Apple's Smart Cover, it only allows for two operating modes: upright stand (for watching movies, for example) and typing mode. However, the iPad is held in position in a more secure way than with Apple's offering. When folded back, the lid is kept in position both magnetically and by inserting the top edge into two rubber wedges on the back. However, engaging the rubber wedges may take some practice.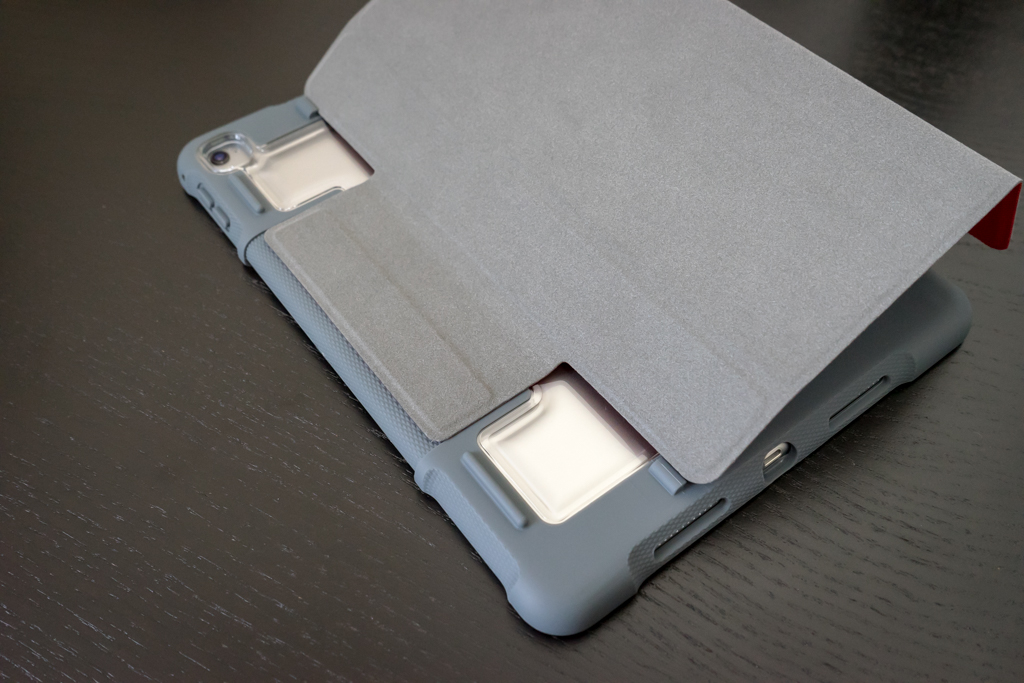 As indicated above, the lid is fully compatible with the auto Sleep/Wake feature on the iPad Pro. It looks like STM's team refined the design as it performs better than the STM Dux Ultra for iPad Air, which sometimes failed to put the iPad to sleep.
Even though the case wraps the iPad around, it doesn't muffle sound considerably. Buttons provide a nice feedback and are not too hard to press (which is a common issue on other wrap-around cases).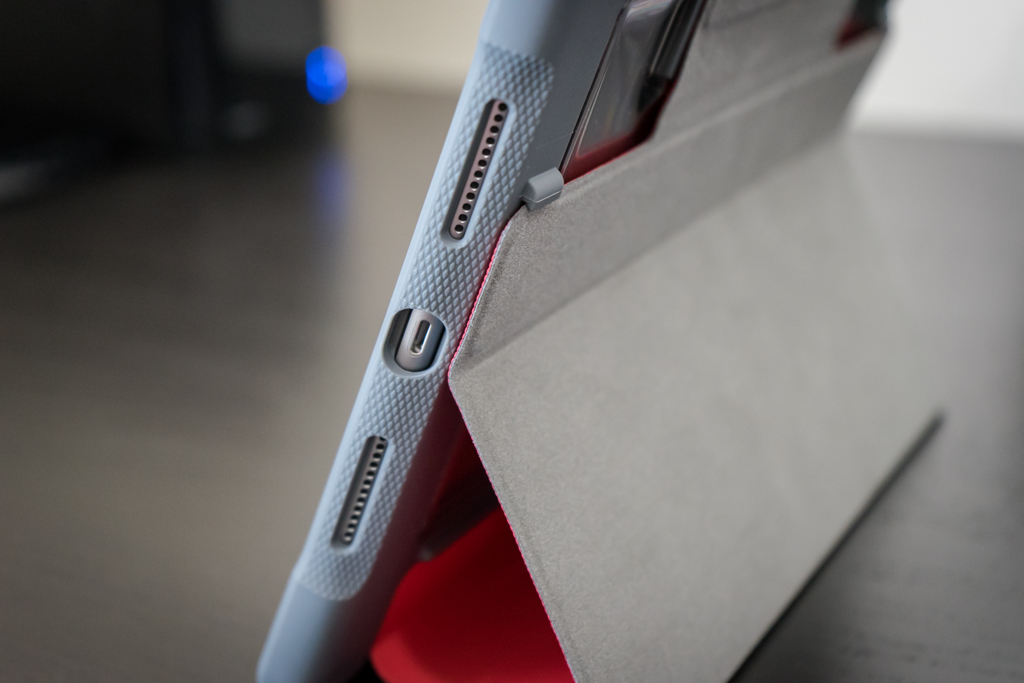 Price
Rating: 10/10
The STM Dux Plus retails for $59.95 on Amazon at the time of writing, which is an excellent price considering it provides excellent protection to the iPad Pro, it's rugged, extremely well constructed and better designed than other more expensive options.
Ease of Use
Rating: 8/10
There is nothing overly complicated regarding the general use of the case. Engaging the rubber wedges/stoppers on the back when folding the lid may be a bit challenging at first. Also, when in portrait position and the lid is completely folded back, it's not held in place magnetically like Apple's Smart Cover.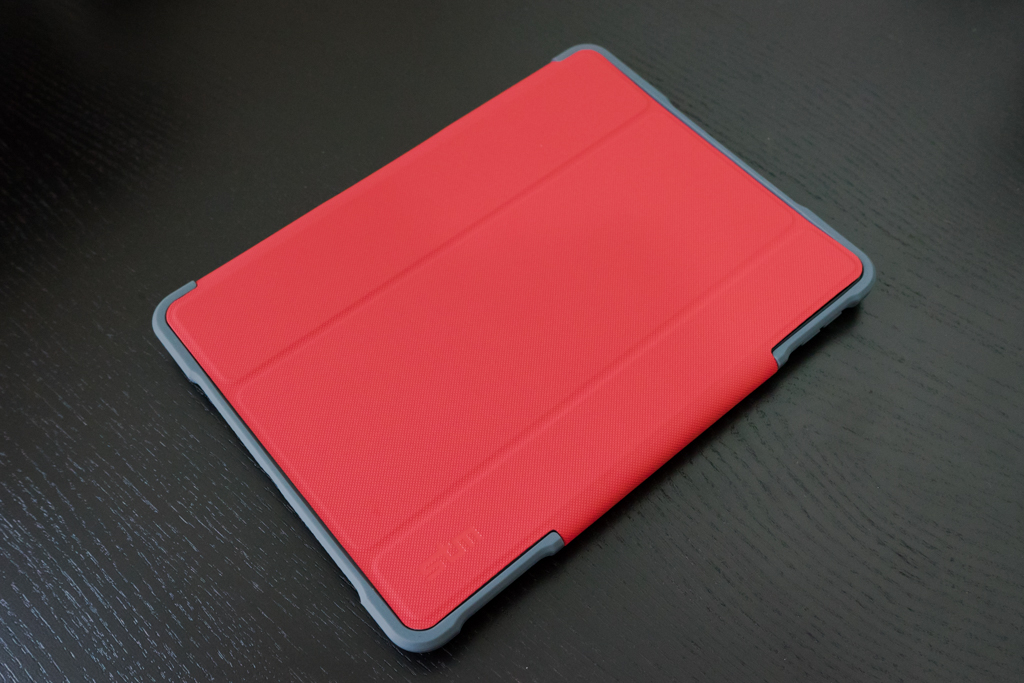 Other Pros
Rating: 7/10
This section is intended to give credit to features that set the reviewed device apart from competing devices. In the case of STM's Dux Plus, these are some of those features:
Both a case and a cover in one device.
Clear/transparent back.
Use of a more flexible and sturdier material than TPU or silicone.
Water resistant polyurethane cover.
Apple Pencil holder.
Amazon Reviews
Rating: 5/5
The STM Dux Plus has a rating of 5 out of 5 stars on Amazon with less than 10 reviews. At the time of writing, it hasn't been reviewed in either Adorama or Newegg, so so only the Amazon review rating has been accounted for to calculate the Quarks rating.