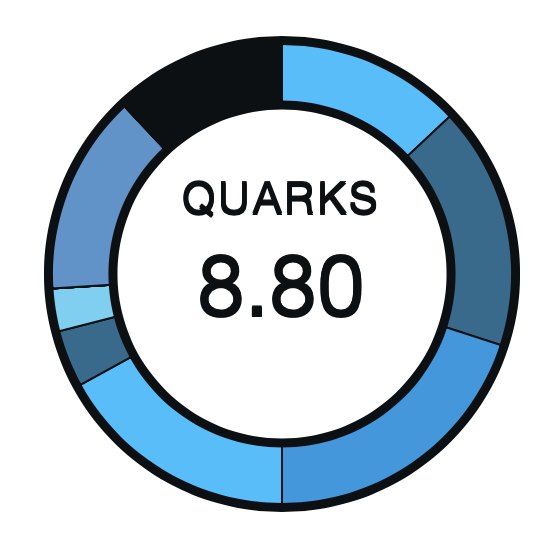 Quarks rating explanation here.
STM is an Australian company committed to making high quality, functional and nicely designed bags. I've reviewed several of their offerings in the past. Although I've always liked their bags (as a matter of fact, I'm currently using one of them on a daily basis), it's their iPad cases I'm really a fan of.
This is the second of a 3-part review series covering some of their cases for the iPad Pro (first part here). In this post, we'll be going over the STM Dux for iPad Pro (9.7 in).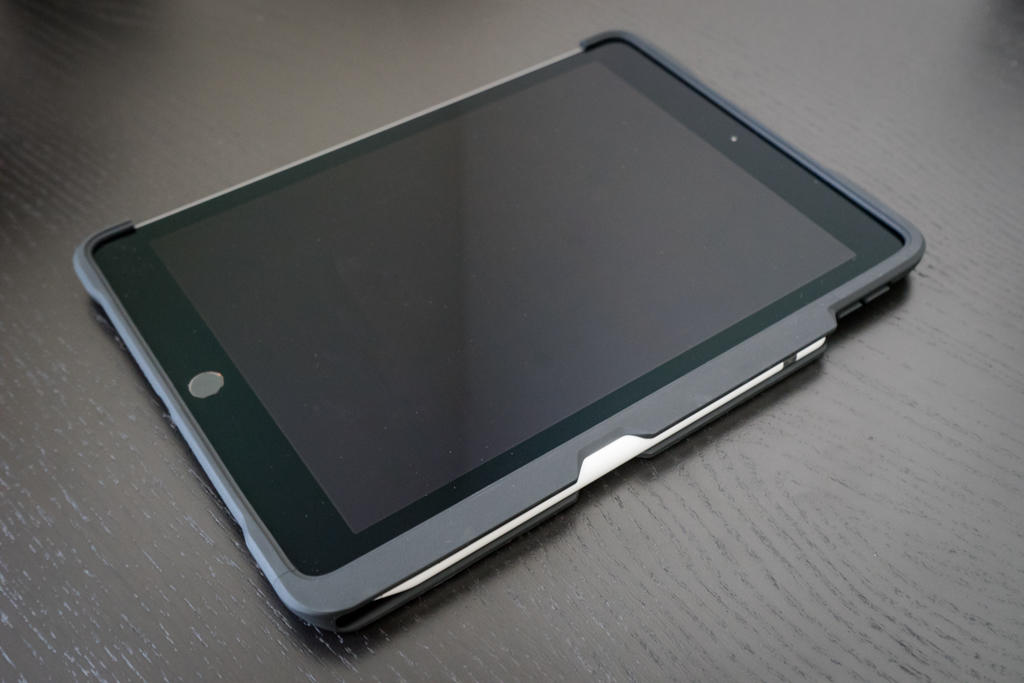 Hardware Design
Rating: 7.5/10
STM's attention to detail and excellent design has also been extended to the Dux for iPad Pro. This case doesn't come with a cover or protective lid as it's meant to be used with either a Smart Cover or a Smart Keyboard. Thus, there is a cutout on the left side exposing Apple's Smart Connector.
It perfectly wraps the iPad around, covering buttons and leaving adequately sized openings for ports and speakers (i.e. virtually any lightning cable would fit, including the excellent non-Apple options that can be found on Amazon). Corners are reinforced to provide additional drop protection. Per STM's description:
Drop tested to meet the U.S. Military Spec 810G durability tests.
There is also a slot to store the Apple Pencil. It's located along the right edge of the iPad instead of the left hand side as with the STM Dux Plus. This design decision comes at a cost: when the case is used with a Smart Cover, the extra width provided by the pencil holder makes it difficult to grab and raise the cover's edge. You need to almost stick your nails in and peel it off. Also, when the Apple Pencil is not in the slot, the right side of the case feels a bit flimsy (although the iPad is always kept securely in place).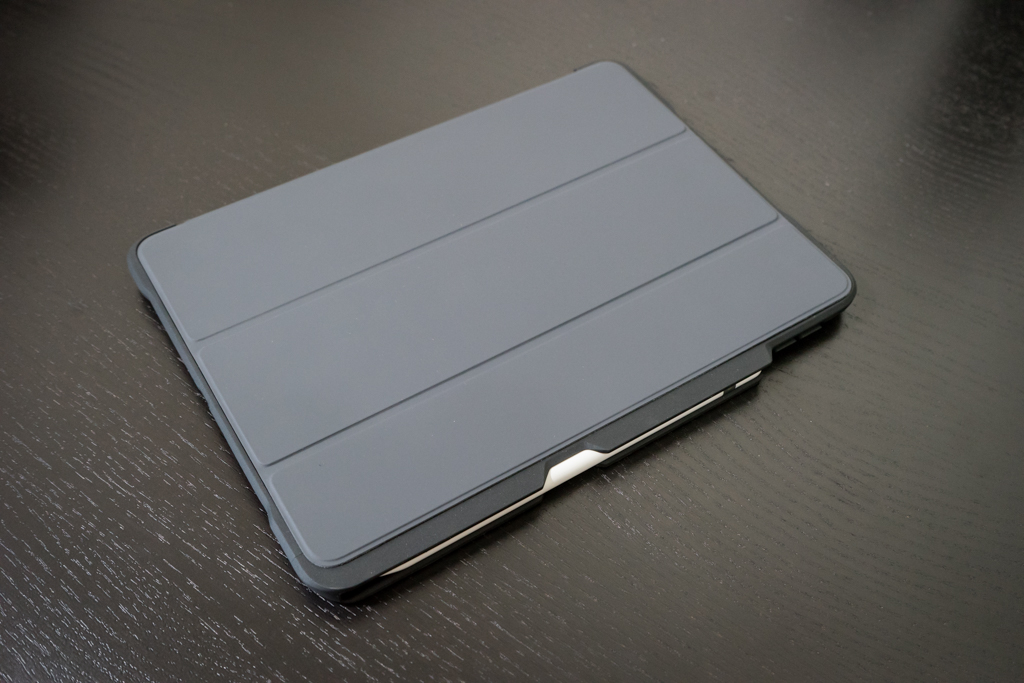 When the Smart Cover is in place, there is only a small gap exposing the iPad's back. This is testament of STM's attention to detail as other manufacturers usually leave a wider area exposed.
As seen below, most of the case's back is transparent, allowing to appreciate the iPad's excellent design and a welcome departure from the blank and plain back sides so common in other cases.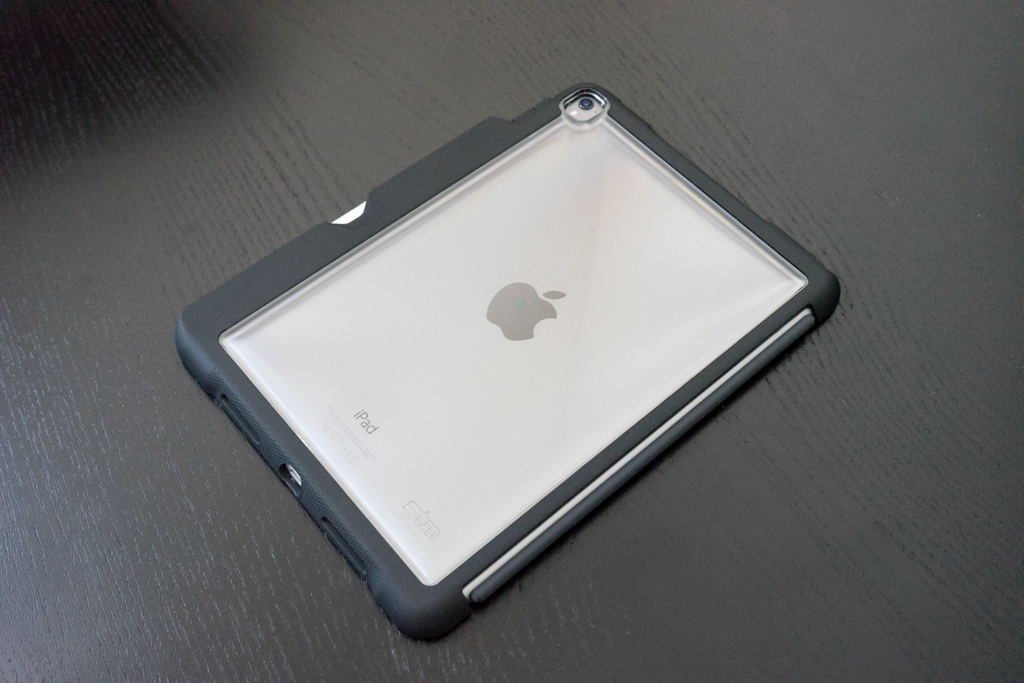 Hardware Quality
Rating: 10/10
Quality is on par with all other STM products, Simply put: outstanding. The case itself is made of what seems to be treated/reinforced rubber, which is the same material used on the Dux Plus. According to STM's site:
…(the case is made of) Super protective polycarbonate and rubberised bracket.
The case's material feels stronger and less prone to deformation than the TPU silicone-like material so commonly used on iPad cases. At the same time, it's flexible enough to allow for the iPad to be easily inserted and taken out without risk of scratches.
General Performance
Rating: 9/10
The STM Dux provides outstanding protection to say the least. It's extremely rugged without feeling bulky or heavy. Per STM specifications:
Drop tested to meet the U.S. Military Spec 810G durability tests.
Even though the case wraps the iPad around, it doesn't seem to muffled sound considerably. Buttons provide a nice feedback and are not too hard to press (which is a common issue on other wrap-around cases).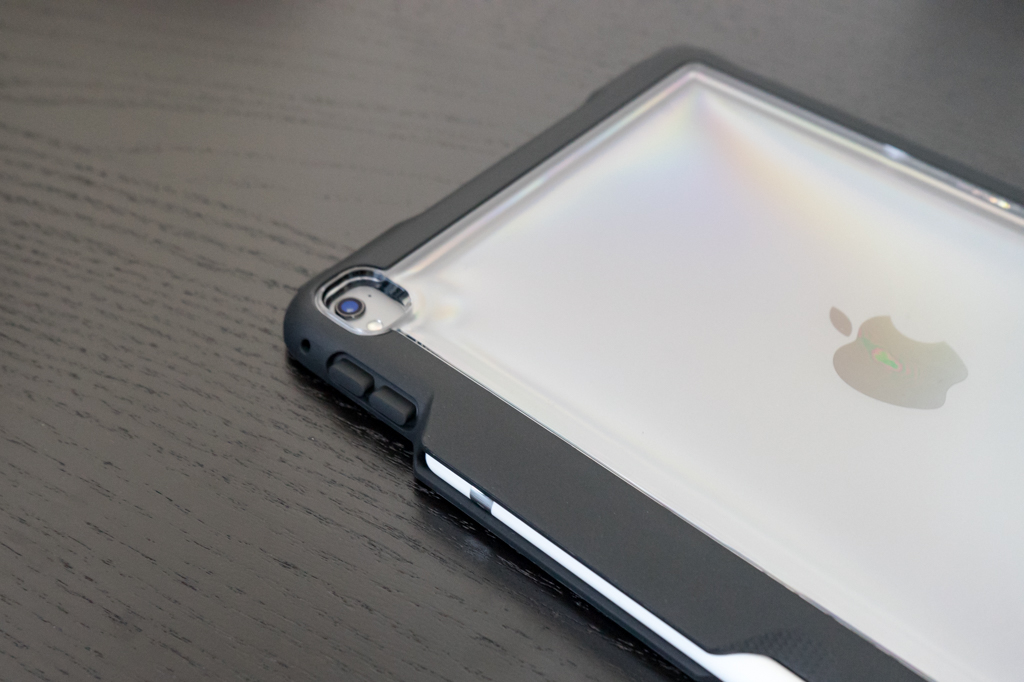 Price
Rating: 8/10
The STM Dux Plus retails for $49.95 on Amazon at the time of writing, which makes it a good value considering it provides excellent protection to the iPad Pro, it's extremely well constructed and better designed than other more expensive options. it's also cheaper than Apple's somewhat equivalent offering and provides better protection.
Ease of Use
Rating: 10/10
Since there is no lid/cover to deal with, using this case is pretty straight forward: just insert the iPad and you are good to go. Inserting and taking out the Apple Pencil is just as easy. At first, I thought I'd have to be extra careful not to let the pencil fall while carrying the case with one hand, but my fears faded away as soon as I started using it. Apple Pencil fits snugly in its designated place.
Other Pros
Rating: 7/10
This section is intended to give credit to features that set the reviewed device apart from competing devices. In the case of STM's Dux, these are some of those features:
Clear/transparent back.
Use of a more flexible and sturdier material than TPU or silicone.
Apple Pencil holder.
Amazon Reviews
Rating: 4.8/5
The STM Dux has a rating of 4.8 out of 5 stars on Amazon with 25 reviews. At the time of writing, it hasn't been reviewed in either Adorama or Newegg, so so only the Amazon review rating has been accounted for to calculate the Quarks rating.