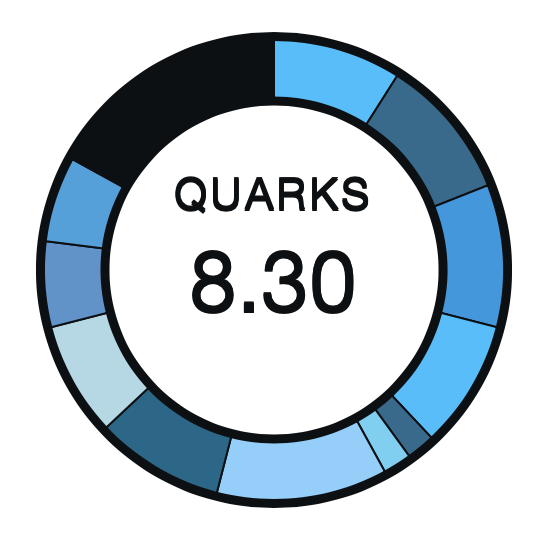 Quarks rating explanation here.
DJI is probably the most famous drone company in the U.S.. Their Phantom series of quadcopters have become the signature drone for aerial video and photography. The Osmo is their terrestrial offering, aimed at both videographers and photographers. Read on for a detailed review of this authentic device.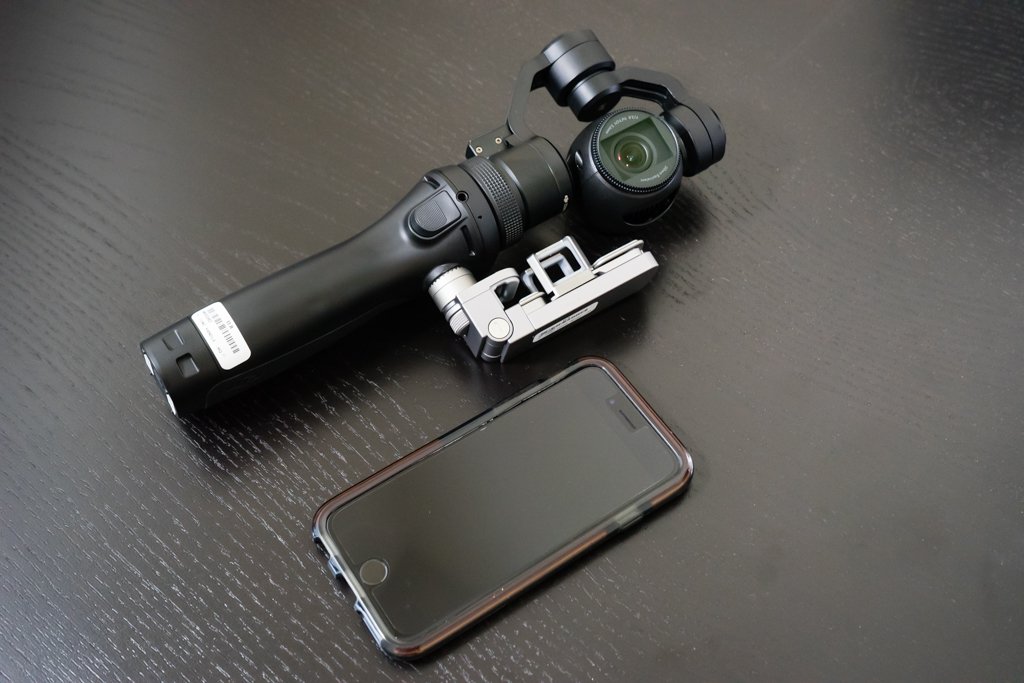 Note : I recognize this is a long post. Instead of summarizing Pros and Cons at the end, I've included scattered sentences in bold with key pieces of information to allow for quick reading.
Hardware Design
Rating: 9/10
Design is not simplistic or particularly elegant. Far from that. As a matter of fact, it looks and performs like the hand-held semi-autonomous robot you'd expect to see in a SciFy movie, and the nerd in me really likes it!.
Construction is mostly metal, including the spheric camera which seems to be made out of magnesium alloy. The frame and handle are made out of aluminum with the latter featuring parts made of hard quality plastic and a rubbery surface to provide a proper grip.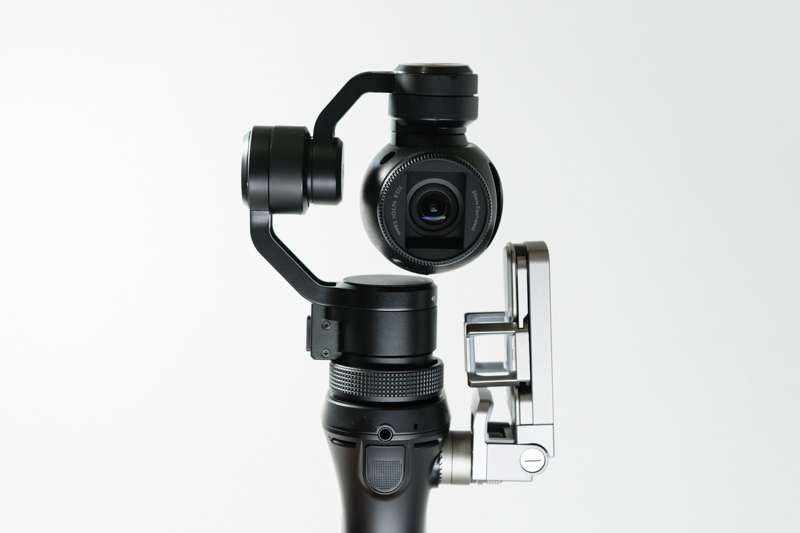 The phone clamp is also made out of metal and it's just one of the many accessories that DJI sells for the Osmo. There is a Z-Axis stabilizer, an X5 adaptor, external battery extender, a base and a tripod just to name a few. All accessories are described here.
The iPhone is grabbed securely by the adapter, so that you can freely move around without fearing to drop it. Actually, I which more car mount manufacturers adopted this design. There are buttons for moving the head (joystick), take a picture, start/stopping video recording, turn the device on/off in addition to the front trigger (more on that one later).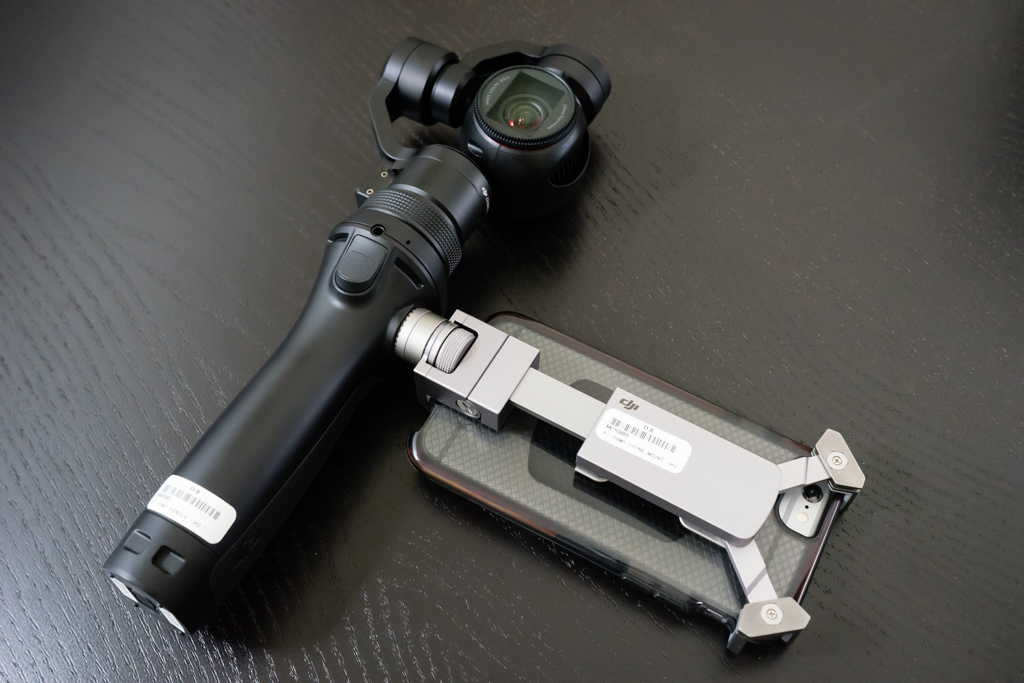 Since the two arms and handle rod move freely during use to stabilize the image, they need to be locked in place in order to store the Osmo in its case. That's perhaps one of the few criticisms I'd have on the design: you need to unlock the device in three different places before each use. I know it's part of the 3-axis stabilization system and there might be no way around it, but I'd prefer to do the unlocking in just one place and save time.
Hardware Quality
Rating: 10/10
As a result of its mainly metal construction, the Osmo feels solid and very well built. Not much plastic used on this device, you can see screws and bolts all over, movable parts are securely attached and move with just adequate friction (not too soft, not too hard).
DJI provides a case with the Osmo which is something that shouldn't be underestimated as most manufacturers are not that generous. It's a semi-rigid zippered case that allows for easy transportation. Since it opens flat, you'll have to set it on a table to take the Osmo in and out.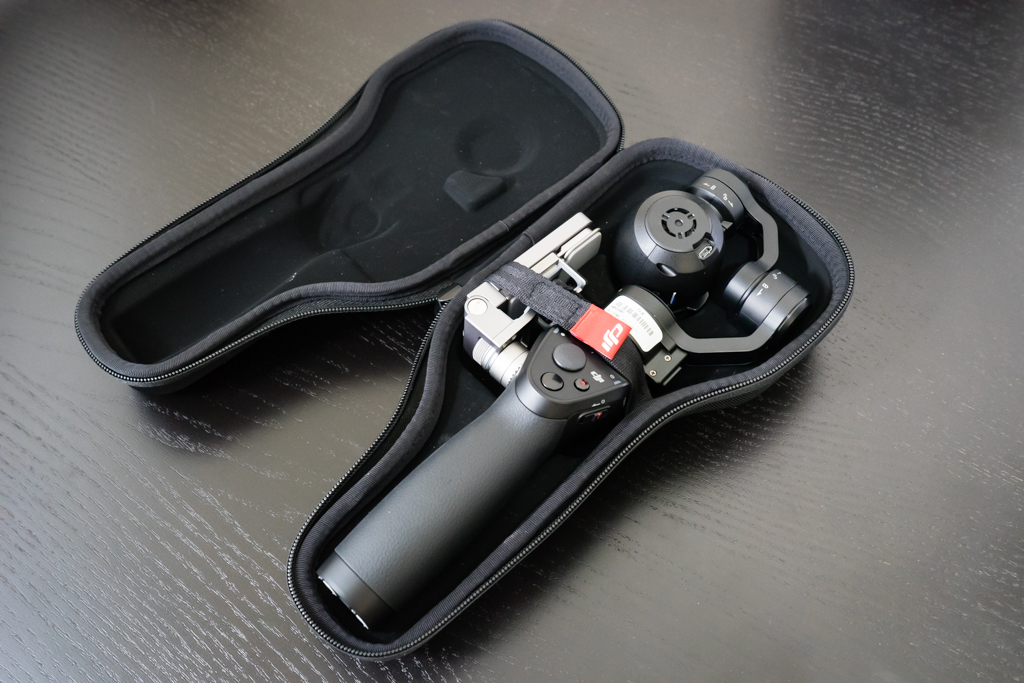 There is not much that can be criticized about the choice of materials. Everything from the handle to the Zenmuse X3 camera and even the case are top-notch quality.
General Performance
Rating: 8/10
Technically, the Osmo is a stabilized video camera, but it's actually much more than that. When I saw the videos online, I thought it's a weird combination of a video/action camera, a point-and-shoot camera and.. a non-flying drone. I really didn't know what to expect. But, once I opened the box, I couldn't stop using it.
As a Video Camera
First of all, let me clarify that I'm not even close to being a professional Videographer. Pretending to be one was a struggling endeavor. But that's the thing with the Osmo, you don't need to be a professional to produce nice videos. I'd say that with some practice you can get pretty professional results.
As seen below, the 4K video quality is superb (Although the video was downscaled to 1080p for web sharing purposes, it's mostly unedited, straight off the camera). Colors look vibrant and the camera nicely adjust the exposure when going from very bright scenes to darker ones. You can download the 4K version of the sample video here.
Once turned on, it creates a WiFi Network you connect to with your phone (an iPhone in the case of this review). Once connected, the DJI Go App can be fired up to start using the device. The Osmo can be operated by either panning from side to side or using the joystick button on the handle. Either way a smooth and silky panning action is accomplished.
There is also a trigger on front that can be used as follows:
- Double-Click: re-centers the camera.
_- Triple-Click : it engages selfie mode, in which the camera turns around to put you in the middle of the frame. It's one of the coolest features as it looks like the Osmo has life of its own. However, it's not that practical as the camera's minimum focusing distance is almost 5 ft, so not even Michael Phelps with a wingspan of 6'7" would get in focus on selfie mode with this camera.
- Long Press: When keeping the trigger pressed, the Osmo tries to stabilize the image no matter how you move your hand or in which direction you rotate it. This is by far my favorite feature.
Although there is an integrated microphone, the audio quality is not stellar. You are definitely better off connecting an external Mic to get better results. Also, the device is a bit noisy as there is a small fan that kicks in from time to time to cool the camera down. It gets hot pretty quickly as well.
As a Photography Camera
The Osmo's camera is capable of taking photos with 12 Megapixels resolution. It even gives you the option to save in RAW format (DNG files), which is a huge advantage for post-processing photos without losing much detail.
The camera is provided with a fixed 20 mm f/2.8 equivalent lens (94 degrees field of view). The lens is technically a rectilinear wide-angle, like the one used on DJI's drones. This means it doesn't give the image that fisheye effect I find so unappealing.
There are two photography modes I find very useful: Time Lapse mode and Panorama mode. The former allows you to take time lapse images such as light trails without using a tripod, just hand-holding the Osmo. This is a nice feature although I found the results to be hit and miss depending on how long you hold the camera.
The Panorama mode is similar to what the iPhone and other smartphones offer, but at better resolution and with better exposure control. Also, the Osmo does it automatically, you don't have to move around or move your hand in any way. Just select the Panorama mode, put the camera in front of you and hit the shutter. The Osmo sprints into action taking pictures, stitching them together and putting them on the phone's camera roll. There are options to create 180-degree or 360-degree panoramas.

One thing I wasn't thrilled about was the camera's low light performance. But this is expected given the small sensor size. A good thing is that the stabilization helps preventing images to be blurry and out of focus.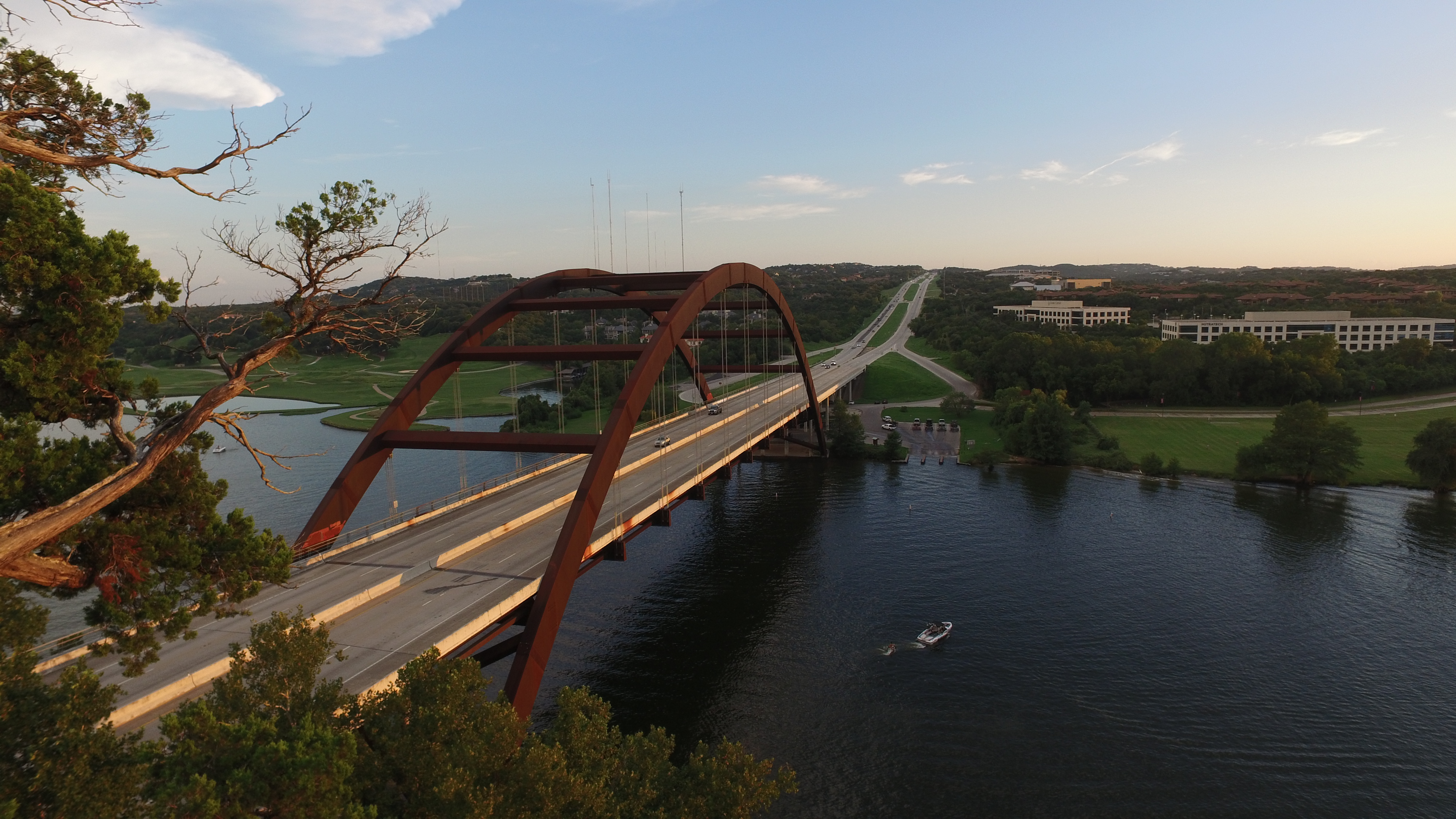 Battery Life
Rating: 6.5/10
The Osmo is provided with a LiPo battery (980 mAh / 11.1 Volts). This is the same kind of battery used on racing quadcopters and other DJI drones. LiPo batteries can become unstable if not handled appropriately (i.e. use provided charger only, store them in an adequately ventilated area, etc.). Per DJI's safety guidelines manual:
The Intelligent Battery is designed to stop charging when it is full. However, it is a good practice to monitor the charging progress and disconnect the batteries when fully charged.
Battery life is not great to say the least. I was able to get 45 minutes at most out of a single charge. You also need to take into account that your phone is also discharging while using the Osmo, so plan to travel with a charging cable or a reliable portable battery.
Software Design
Rating: 10/10
As seen in the screenshots below, software is very intuitive and nicely designed. There aren't unnecessary menus or buttons, just a tasteful and very responsive layout.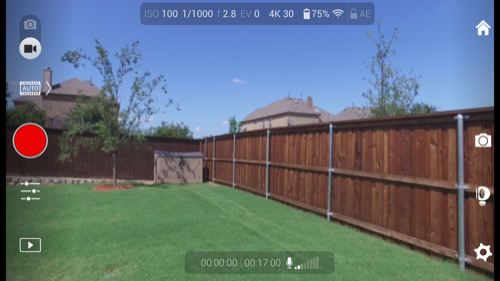 While on camera mode, Time-Lapse shots or Panoramas can easily be taken just by tapping on the mode icon. Settings are easily accessible through both modes (Video and Camera)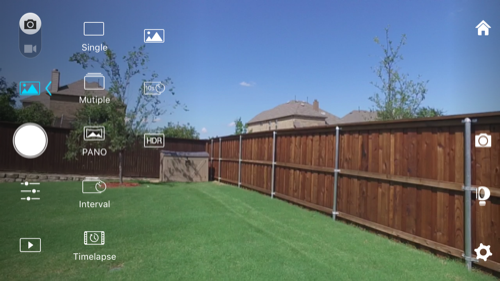 Software Performance
Rating: 8/10
The iOS App is responsive and well put together. Once connected to the Osmo WiFi network, connection is pretty reliable. However, turning on the Osmo and waiting for its WiFi network to come alive may take a while. On a few occasions it took more than a couple of minutes, so I had to turn it off and back on for it to respond. Keep that in mind as this is not exactly a device that you just turn on and is ready to go.
Interaction with the camera is fluid and there is no major perceivable lag (other than what you'd expect from a stabilized gimbal). The video feed is clear and detailed.
Ease of Use
Rating: 7.5/10
This is not a point-and-shoot device. Before using it, it should be unlocked in three different places (i.e. pivoting axes) and the camera lens cover should be removed. Then, you have to wait for its wireless network to be active and fire up the App on the phone to begin using it. The whole process can be a little tedious.
After the Osmo is ready, usage is very straightforward. It doesn't take any effort at all to get shake-free and smooth videos and photos.
Other Pros
Rating: 7/10
This section is intended to give credit to features that set the reviewed device apart from competing devices. Since the Osmo fits a niche of itself, there aren't many standalone products it can be compared to (the closest one would be the Yuneec Typhoon Actioncam. However, there are some additional features worth mentioning:
A wide range of optional accessories offered by DJI.
Effortless hand held panorama shots.
Tripod-free long exposures and time lapse.
Intelligent sleep mode to save battery life.
Outstanding iOS App.
Relatively portable.
Price
Rating: 7/10
This isn't a cheap device by any means, but you'd have to buy a stabilized gimbal (which I doubt would perform as well as the Osmo's) and a 4K action camera to get a similar device (i.e. you would lose all the extra features and the excellent iOS App). In the end, at $545 the Osmo is a great value. If you are an aspiring videographer, the Osmo is a no-brainer.
Other Reviews
At the time of writing, The Osmo has a rating of 3.9 out of 5 starts on Amazon (122 reviews) and 4 out of 5 stars on Adorama (4 reviews). Those ratings are a good reflect of the device's performance and have been factored in when calculating the Quarks rating.