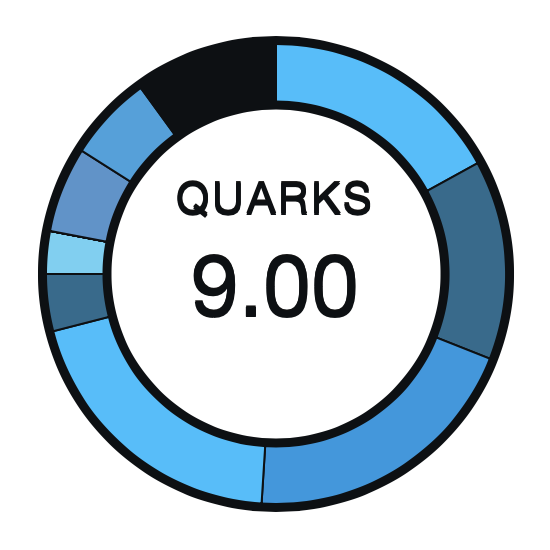 Quarks rating explanation here.
Sound Blaster has been a well known name since the golden PC era back in the 90's, mainly because of their widely used internal and external sound cards. Creative continues to be a big player in the gaming and audio industries, offering a wide variety of high quality audio equipment, headphones and gaming sets. The Gigaworks T40 Series II is their 2-speaker offering for desktop computers and laptops. Read on to find out how well they perform (spoiler alert: they are awesome!).
Hardware Design
Rating: 10/10
Creative has done and excellent job with the aesthetics of the Gigaworks T40 Series II speakers. Let's face it, desktop speaker design is not exactly an area where manufacturers constantly innovate, but Creative has put together a compelling, aggressive and minimalistic design.
As seen below, you can take the covers off to reveal the yellow accents on the speakers' membranes. The color contrast looks terrific, in my opinion. Move the slider left to right to see the difference.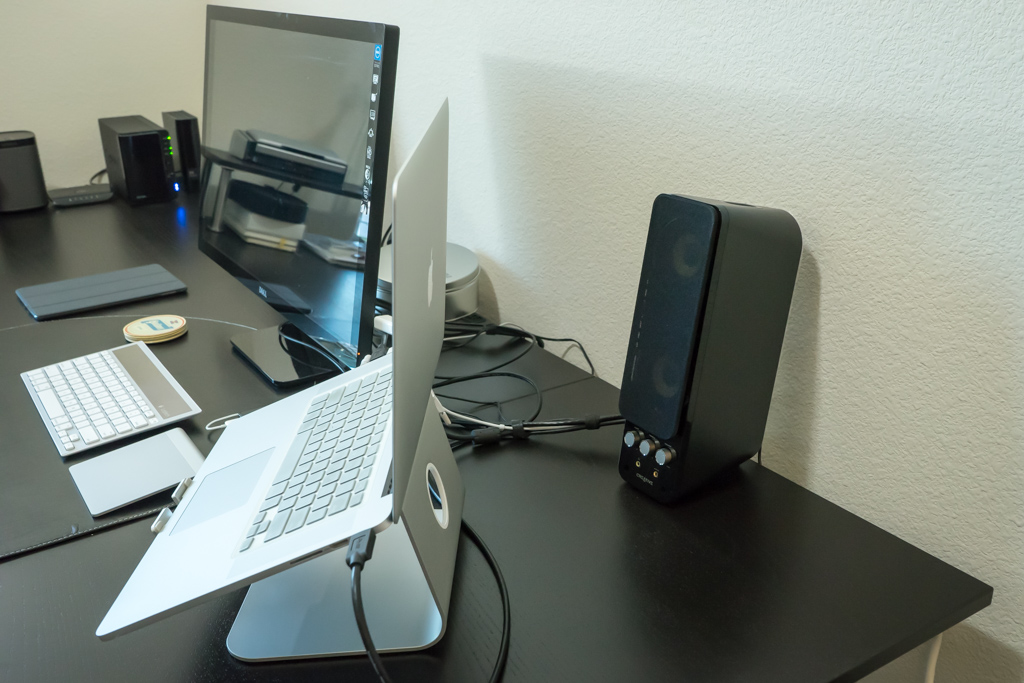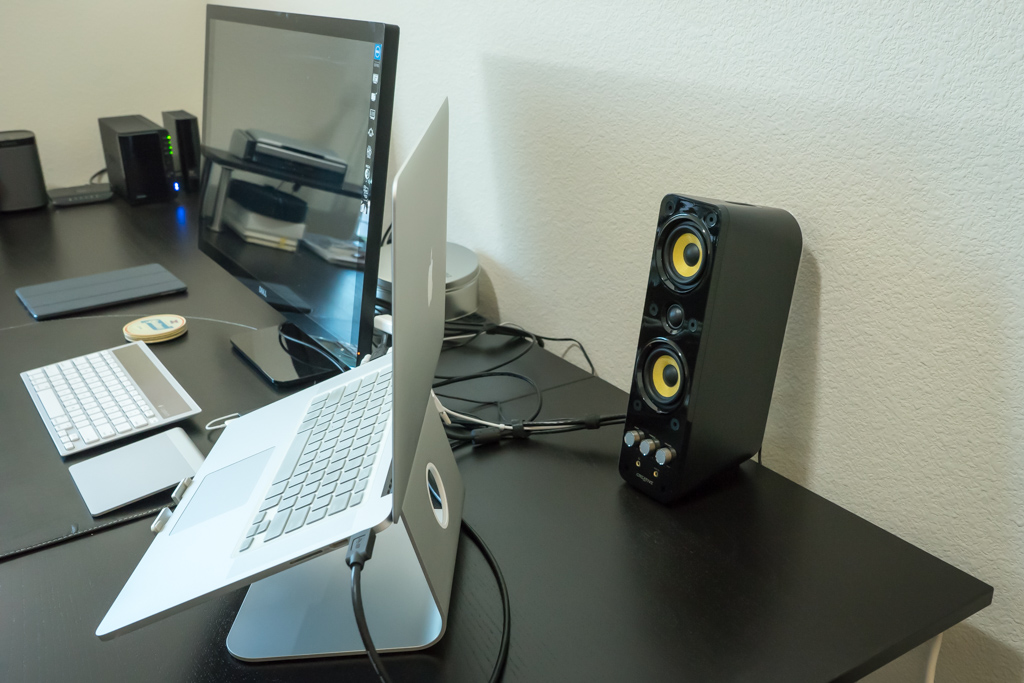 The sub-woofer is placed on top on both speakers, the right speaker has three buttons to adjust Bass, Treble and system Volume. I would say that's just the right amount of knobs before the speaker's face gets too crowded. I would say the only criticism I have is the fact that the cable between speakers may be on the short side.
Hardware Quality
Rating: 8/10
Although the speakers feel solid and well balanced, there is heavy use of plastic all around. It doesn't give them a cheap look, but I would have liked to see less glossy plastics and more metal.
Power and audio Cables are nice and thick, they almost feel rugged. The power supply is fairly small and easy to tuck beneath your desk.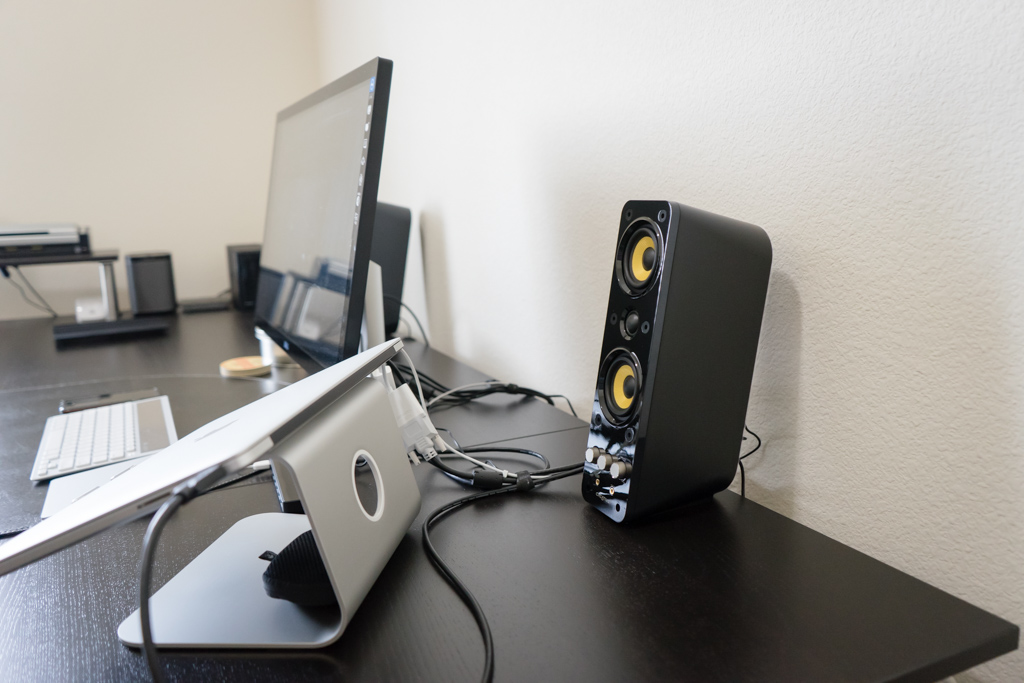 Although the speakers look better without the black nylon cover, it may be a good idea to leave it on as the yellow speaker membranes are very exposed and may get ripped.
General Performance
Rating: 9/10
I know so-called audiophiles will cringe at this statement, but the truth is Creative has done a great job tunning these speakers. Performance is nothing less than outstanding, having the bass port on top really helps filling the room without overwhelming the other frequencies. You can always fine tune Bass and Treble by playing with the knobs on the right speaker (seen below).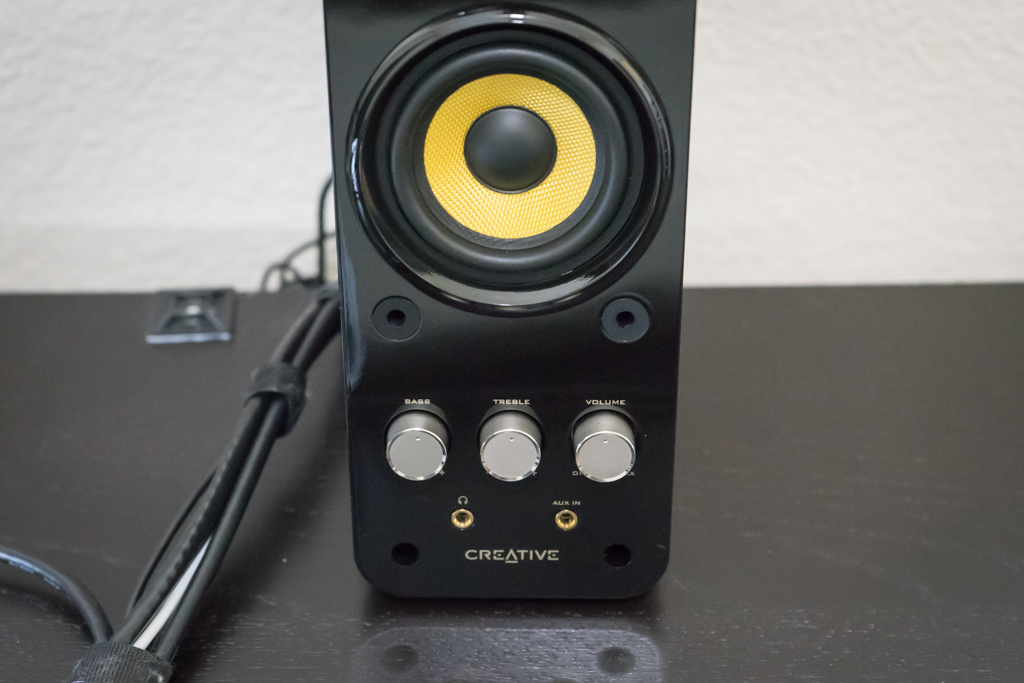 I used to have a relatively old pair of Bose Companion 2 speakers at my home office desk. I like their elegant design and most of all, their excellent audio quality. I did a quick sound comparison between the two with different music genres: Rock, jazz, Pop and instrumental. Although sound reproduction was pretty close, I'd say the T40's have an edge on the Companion's, especially on Rock. They also seem to be louder than the Bose Companion 2 (although loudness is not really something I focus or pursue on speakers).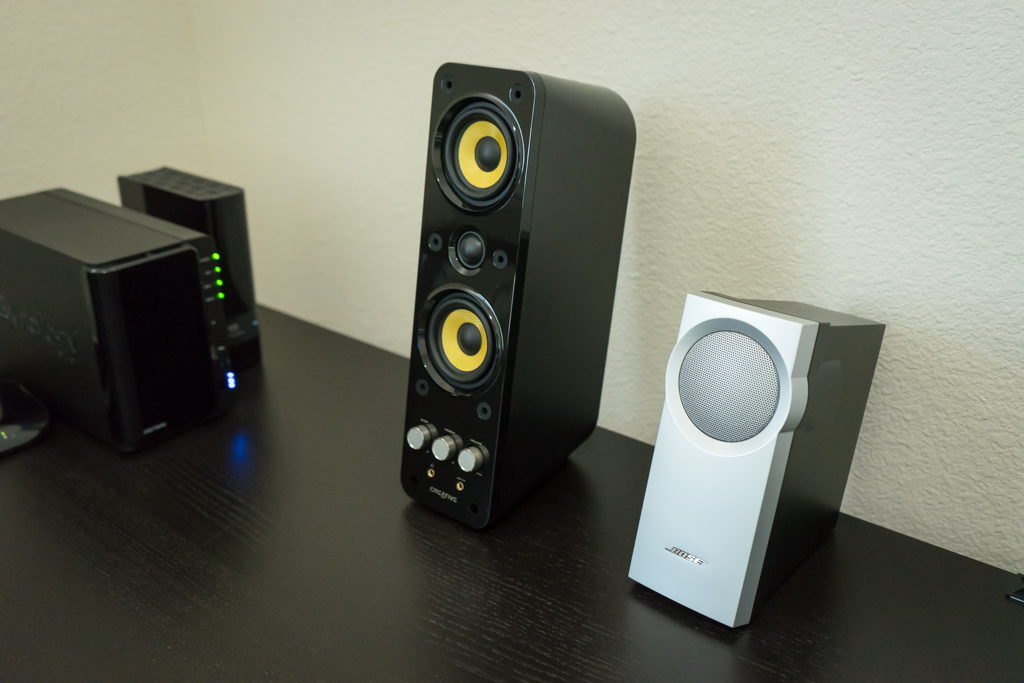 The only criticism I have is that there is a slight delay when beginning to play music. This happens all the time, when I hit play on the computer, it takes about half a second for the speakers to catch up with the audio coming out of the computer. It may not be a big thing, but it's definitely annoying.
Price
Rating: 9/10
The Creative Gigaworks T40 Series II retail for $113 on Amazon at the time of writing. Although they are definitely not cheap, it's an excellent value when taking into consideration the excellent performance and design.
Ease of Use
Rating: 10/10
The speakers are pretty straight forward to use, just connect them together through the included cable, connect the power supply and plug them in the computer's speaker output jack. Knobs have a setting-indicating dot, so operating them should not be a problem (as opposed to other digital turn around type knobs).
Other Pros
Rating: 8/10
This section is intended to give credit to extra features that set the reviewed device apart from competing devices. In the case of the Creative Gigaworks T40 Series II, there are several features that differentiate it from similar products, such as:
Knobs for bass and treble (in addition to volume).
Removable covers.
3.5-mm Line-In input.
3.5-mm headphone output.
Other Reviews
Rating: 4.3/5
The Creative Gigaworks T40 Series II have a rating of 4.3 out of 5 stars on Amazon with more than 654 reviews. Also, they rate with 4 out of 5 eggs on Newegg with more than 200 reviews. Since there are no reviews at the time of writing on Adorama, only the Amazon and the Newegg reviews have been considered when calculating the Quarks Rating.