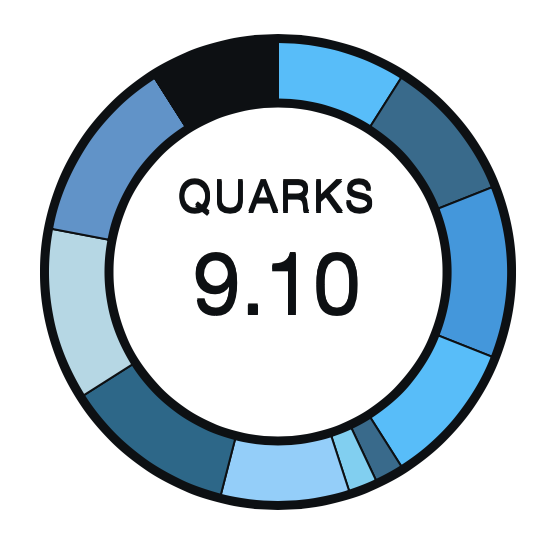 Quarks rating explanation here.
B&O Play (originally Bang & Olufsen) needs no introduction. The Danish company is well known for their tasteful and minimalistic Scandinavian design, quality products and excellent audio performance. Their products range from portable audio and standalone professional speakers to integrated sound systems. Visiting their website is almost like entering a futuristic portal featuring beautiful objects that more than producing sound, seemed to be made to just be stared at.
Hardware Design
Rating: 9/10
The H7 headphones are the wireless and improved version of the highly praised H6's. True to B&O's design, the headphones are elegant and minimalistic. Attention to detail is evident, from off color stitches in the band to carefully sanded metal surfaces.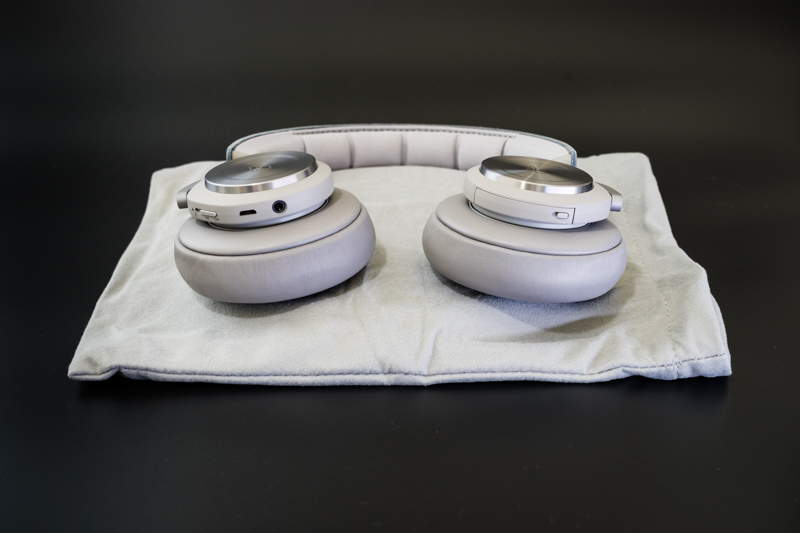 One of the main features is the replaceable battery. This is a huge advantage as batteries are perhaps the components that deteriorate the most in current consumer electronics. Having the option to change it greatly extends the effective headphones' lifetime.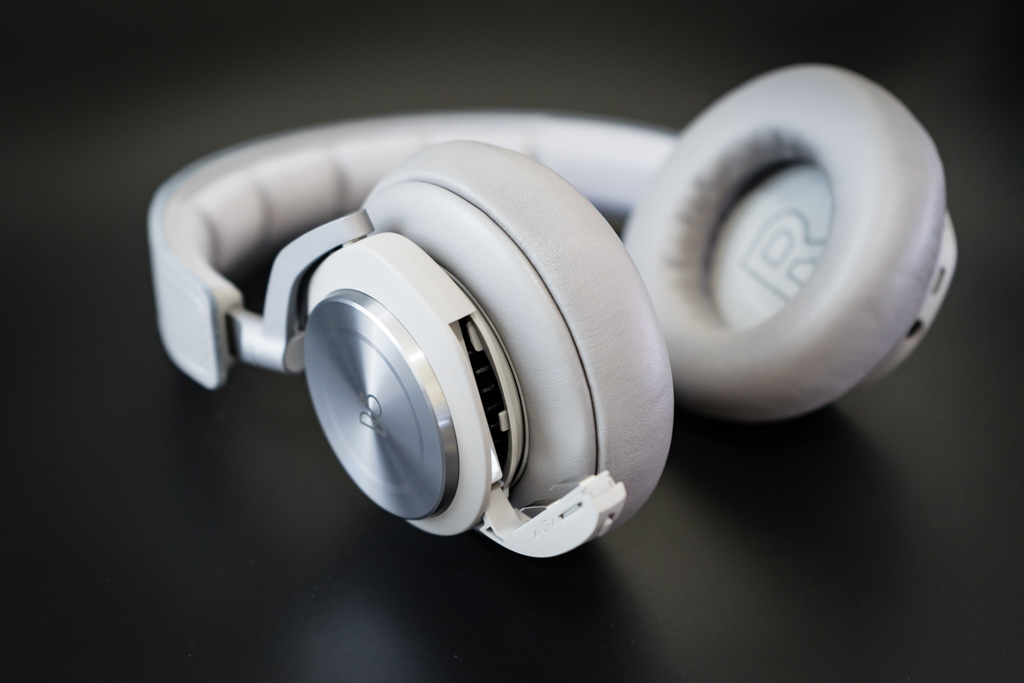 Ear cushions are fairly wide, so people wearing glasses don't get the eyeglasses' temples painfully pressed against the side of the head (common occurrence with on-ear headphones). Also, ear cups are relatively deep, so the inner lining doesn't rub against the outer ear.
In addition to having hardware buttons, the right ear cup has a touch sensitive surface that allows for controlling music tracks and incoming/outgoing calls (more on that later).
Although not fully collapsible, the headphones fold flat, making it easy to just toss them in the bag while commuting. Unfortunately, B&O Play didn't provide a case for carrying the headphones around, just a fabric pouch (as seen in the animation above).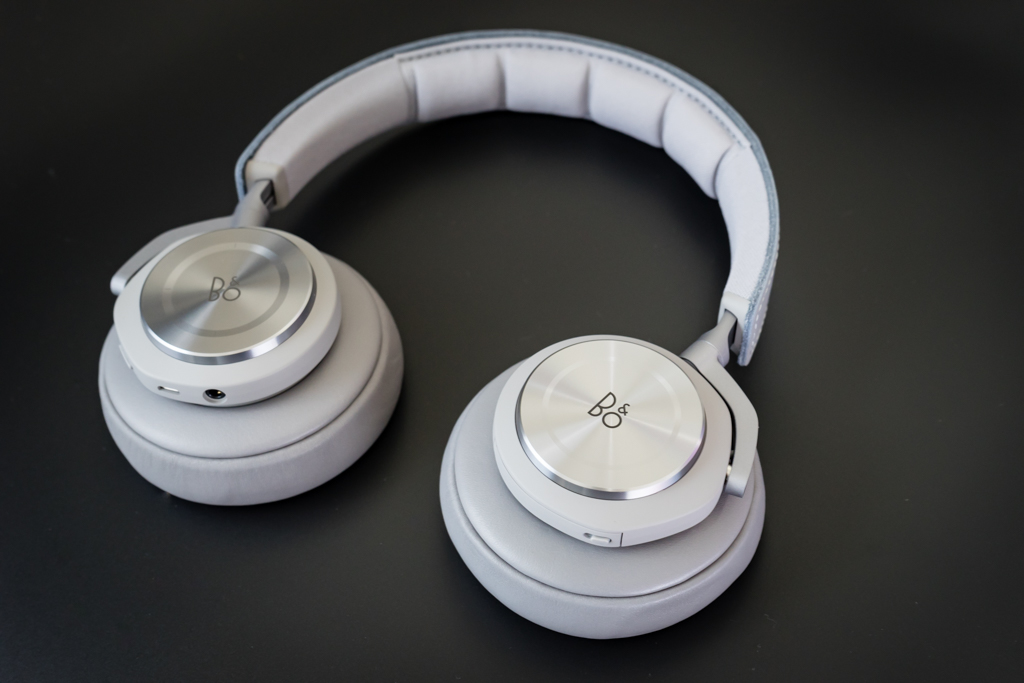 Hardware Quality
Rating: 10/10
Quality of materials is the best I have seen in years. I would go so far to say they are on par with the built quality of Sennheiser's Momentum Wireless 2.0, and that's not easy to achieve at all. The band and pivoting frame are made of aluminum while the driver housing is made of a combination of metal and hard plastic. That makes them a bit heavy (9.9 Oz), but not so much to make them uncomfortable to wear.
Surfaces in contact with the ears are made of very soft leather. There are nice, firm buttons to turn on/off the device and to enter bluetooth pairing (i.e. No press and hold annoying feature).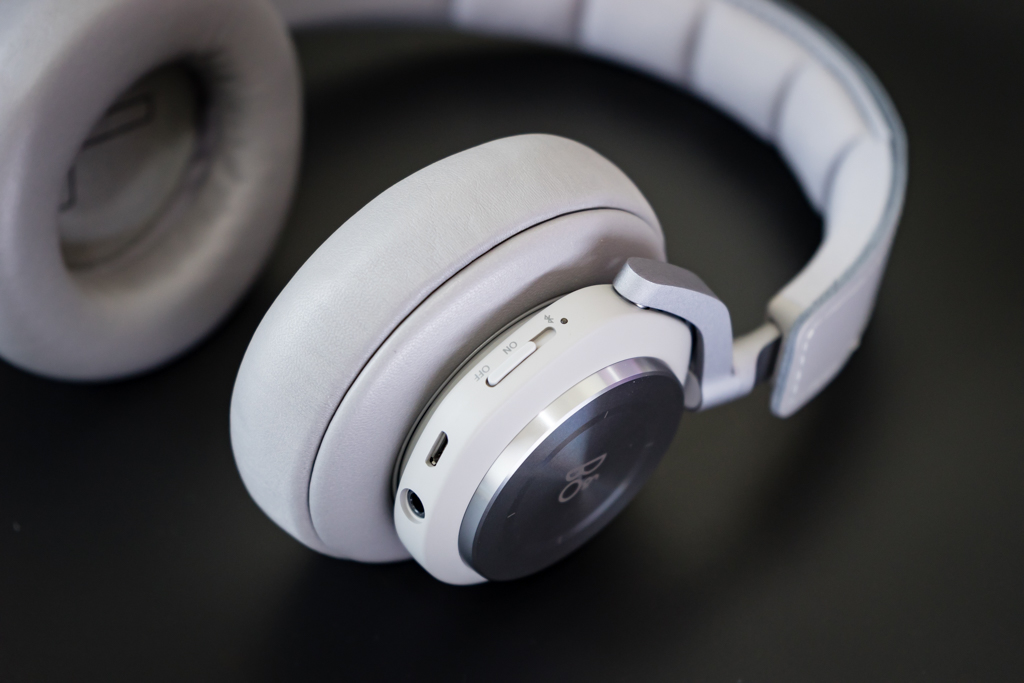 The band is adequately cushioned. It's wrapped in both leather (outer side) and soft fabric (inner side). The headphones feel extremely well built and solid, almost rugged.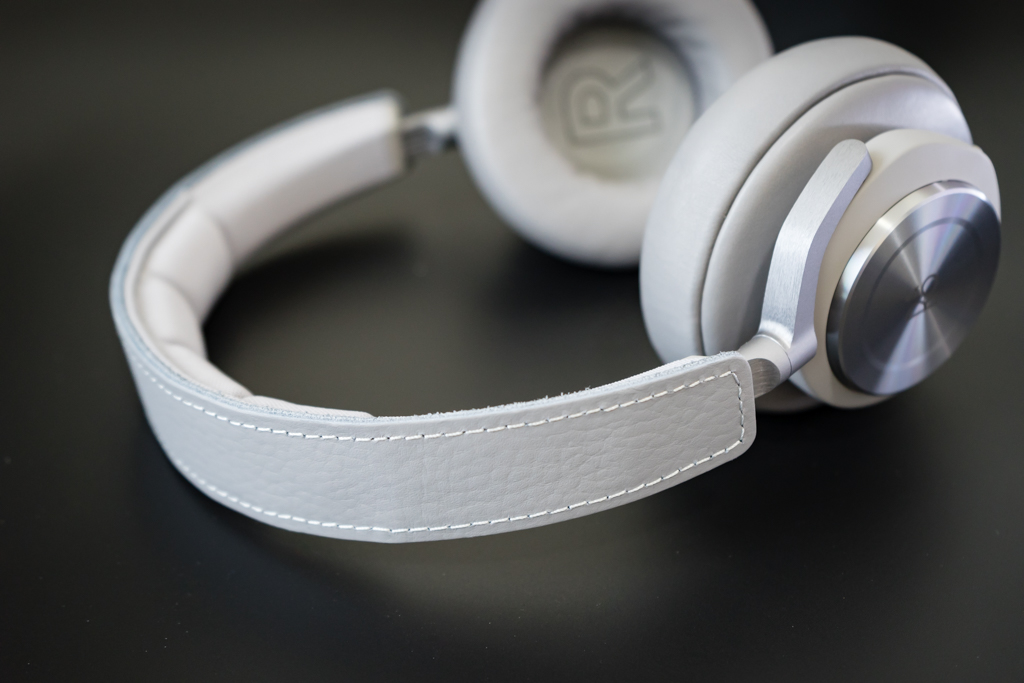 General Performance
Rating: 9/10
I tested the B&O H7 with high resolution audio. That is, music encoded at (at least) 96KHz/24 bit, which is effectively better quality than CD audio (and hence, better quality than both MP3 and AAC compressed lossy audio). The files were in either Flac format or Apple Lossless format and were played/decoded through a DAC capable of reproducing them at 96KHz/24 bit resolution.
I wanted to test the headphones with the cleanest audio source I could provide to rule out any quality issues or noise/artifacts that may be introduced. The whole arrangement may be overkill for mobile users because of the following reasons:
Currently, most mobile devices (including Apple's iPhone 6S) are not capable of playing high resolution audio through the headphone jack while keeping the lossless audio quality (iPhone 7 might have changed that by using the lightning port).
The most popular streaming services (e.g. Spotify and Apple Music) are not capable of streaming music at such high quality.
People are switching to wireless headphones and, at the time of writing, the highest quality that can be achieved through a bluetooth connection is equivalent to CD Audio. That's true only if both the player and headphones support the aptX audio codec.
Overall, the H7 is fairly balanced, no emphasis on either lows or highs. Mids are crisp and might be slightly pronounced. Sometimes low frequencies may seem a bit dull or soft (Seven Nation Army, or Demons by Imagine Dragons, for example). But that's not always the case, Princess of China (Coldplay and Rihanna) for example, which has notes all over the spectrum, is beautifully reproduced. Keep in mind, however; that sound performance can be customized using the Beoplay App (more on that later).
It's worth mentioning that there is no active noise cancellation feature, like in the Beoplay H8. Although the ear cups provide a good amount of passive isolation, having active noise cancellation as an option would be nice to have for long commutes or multiple hour flights.
The touch sensitive controls on the right ear cup control the volume, skip tracks and pause/play music. The volume control may be a bit difficult to master as the finger is supposed to be placed exactly on the slightly raised inner ring. The volume level is then controlled by moving the finger either clockwise or counter-clockwise, much like it used to be done on first generation iPods. I was a bit disappointed by the way this was implemented as I ended up pausing or skipping tracks quite frequently instead of changing the volume. There is definitely room for improvement on this department.
When used plugged in (i.e. wired mode), there is a noticeable change in sound performance. Somehow Lows, Mids and highs don't seem to be as well separated as when on wireless mode.
Price
Rating: 8/10
At $399, the Beoplay H7 isn't cheap. It's actually at the same price range as the Sennheiser PXC 550 (soon to be reviewed), which in addition to the H7's wireless capabilities, offers excellent active noise cancelling. On the other hand, the Beoplay H7 features an elegant design, top notch built quality and great performance. So, depending on what you are looking for, the H7 may be what you need.
Ease of Use
Rating: 8/10
Setting up the H7 to work with either your phone or computer is a fairly easy process. However, adjusting volume and pausing/playing songs may be a hit and miss due to the touch controls.
Other Pros
Rating: 6.5/10
This section is intended to give credit to extra features that set the reviewed device apart from competing devices. In the case of the Beoplay H7, there are some features that differentiate it from similar products, such as:
iOS and Android app for configuring sound profile.
Touch sensitive controls.
Replaceable battery.
Software Design
Rating: 7.5/10
Out of the box, the H7 didn't support B&O Play's iPhone app. it wasn't a big problem though, I just downloaded the latest firmware version to my Mac, connected the headphones through the included USB cable, and performed the update.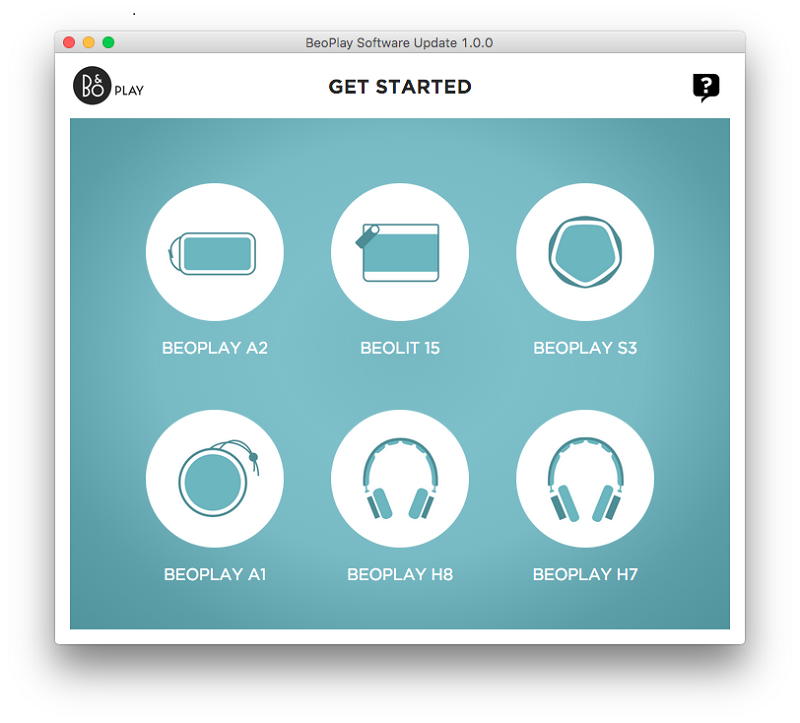 After the update was done, just firing up the app while the headphones are connected is enough for it to recognize them. True to B&O Play design, the app is minimalistic (just two screens) and elegant. It allows to play, pause, fast forward and rewind songs.
The App also allows adjusting audio reproduction. However, it does it in an oversimplified way. There is no actual equalizer. Instead, the user is offered a 4-quadrant graph with a small circle in the middle. The circle is supposed to be moved to one of the quadrants (Warm, Excited, Relaxed and Bright). The farther away form the center, the more prominent that feature is. There are also four presets: Commute, Clear, Workout and Podcast. I found this too limiting and a bit confusing. Although you can infer what part of the spectrum is being modified, it'd be easier to just allow to adjust Bass, Mid Range and Highs directly.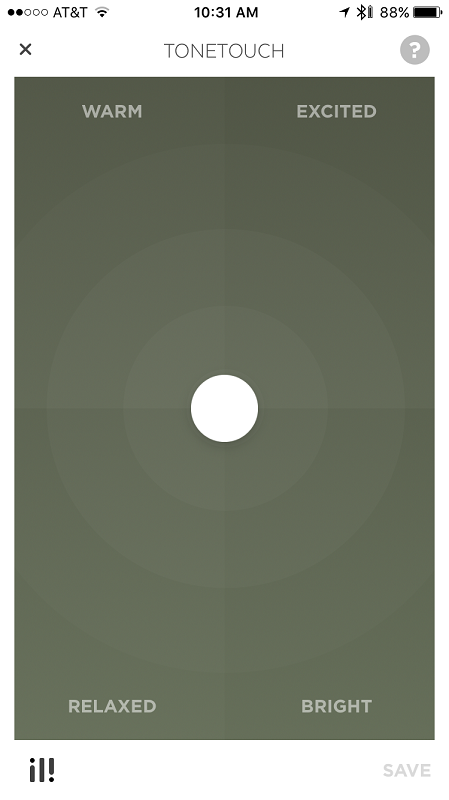 Software Performance
Rating: 10/10
The IOS App is well put together. it's fast, responsive and the audio adjustments are instantly applied. Sound settings made through the iOS App are kept even after the headphones are turned off and turned back on. Also, settings work through all music playing apps (Spotify, Apple Music, Deezer, etc.).
Battery Life
Rating: 10/10
B&O Play claims 20 hrs of battery life, and I'm glad to report it's a fairly accurate estimate, even after using them at relative high volume I was able to get upto 21.5 hrs of battery life. Also, spare batteries can be bought through their website,
Other Reviews
Rating: 4.2/5
The Beoplay H7 has a rating of 4.2 out of 5 stars with 74 reviews on Amazon. Since there are no other reviews in Adorama or Neweeg, only the Amazon's rating has been factored in when calculating the Quarks rating.