Quarks rating explanation here.
Internet connection while traveling has become a need more than a luxury these days. Staying connected while moving within the U.S. - or your country of residence - is not that difficult thanks to the data plans offered by cell phone providers. However, traveling overseas continues to be a test to our nerves and patience. Although it's not as irrationally expensive as before, cell phone providers still charge an arm and a leg for data connection. Just to give you a real-life example: two years ago, I was in Buenos Aires on vacation. I had data roaming deactivated from the beginning in my cellphone, but turned it on for less than 5 minutes to look up an address in Google Maps, then turned it off. The next morning I had an email in my inbox from my service provider letting me know that my data service had been cancelled for over-usage, and that my balance at that point was more than $520. The email also indicated I had to call them (to the U.S.) to reactivate the service. Needless to say, I was not happy at all.
Options do not abound. You could rely on (spotty) WiFi connection at hotels and airports. But that's just rolling the dice on you being able to stay connected. A good option I settled with for a while was buying local SIM cards in each country and carrying an unlocked phone with me. Although it's definitely the cheapest option, it comes with some disadvantages: buying credit in local currency to recharge the card, dealing with activation procedures in local languages and carrying two phones (or not being able to receive calls in your regular phone number if you have it already unlocked).
Enter SkyRoam
Skyroam is a relatively new service that offers unlimited data connection in more than 60 countries worldwide (as of early June 2015) for a flat daily fee. You don't have to fiddle with local settings, recharging or changing SIM cards. You turn on the Skyroam device and go!.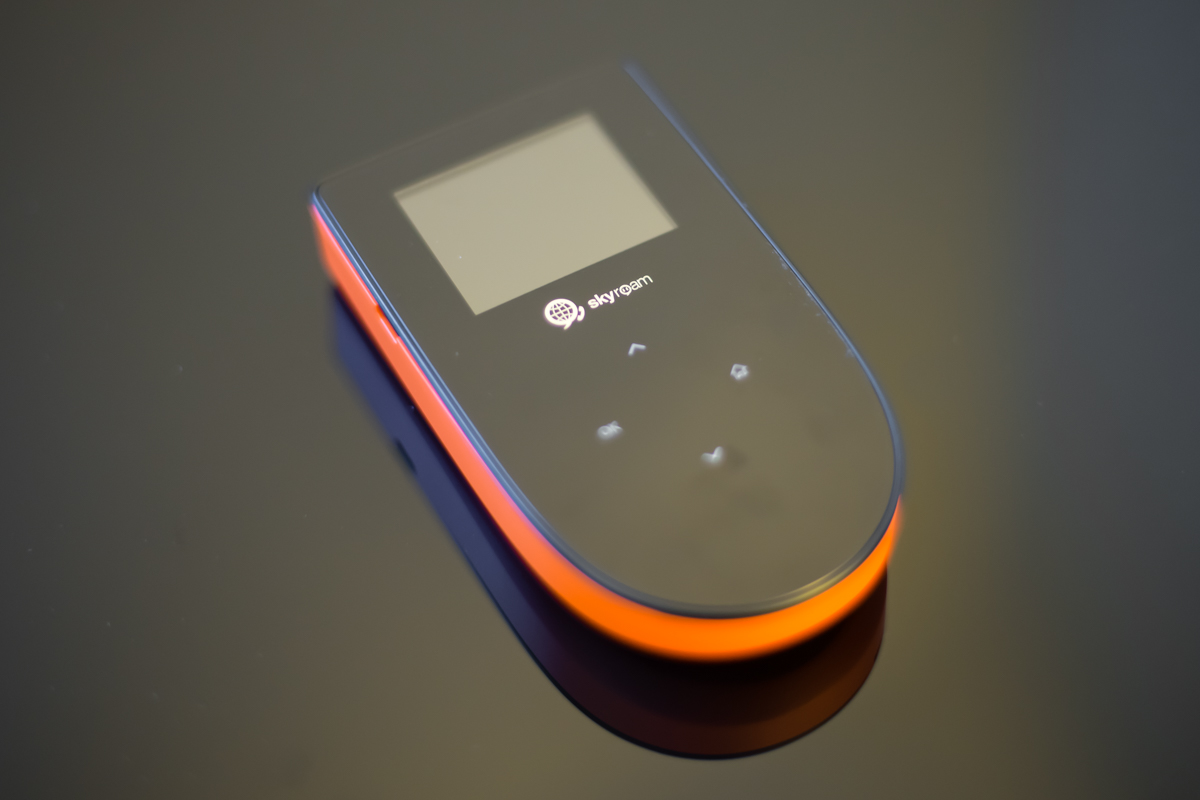 Skyroam hotspot differs from the traditional hotspot in that it gets you mobile wifi through a unique virtual SIM technology Skyroam developed and embedded into the it. This enables it to deliver wireless connectivity on demand in any country within your coverage area per partnerships with carriers from around the world. When coverage is added (as they do throughout the year) that means your hotspots global footprint expands. With other hotspots, you usually have to rent one per country or region and then return them when you're done.
Hardware Design
Rating: 10/10
Design is simple yet elegant and well thought out. The front of the device is provided with a smooth, flat glass-like surface. The top half is taken up by a color LCD screen, easily readable both inside and outdoors. The bottom half is occupied by four touch-sensitive controls (home, ok, up and down). The device vibrates when tapping on the controls, providing a nice tactile feedback. There is only one button to the side for turning on/off the device. The screen is dimmed some minutes after turning the device on. A quick press of the power button activates the screen backlight.
Hardware Quality
Rating: 8/10
The hotspot is made out of plastic, but doesn't feel cheap at all. I would say the choice of materials is adequate for the application. This is not a rugged device, so keep that in mind when taken it outdoors.
General Performance
Rating: 10/10
The quality of the wireless connection to Internet will obviously depend on what is offered by the local providers Skyroam has agreements with in each country. That being said, connection in remote areas of Greece was spot on, I was able to get 3G and 4G speeds without problems. I even took it up to a fortress almost 1,000 steps high (highest point in that part of Greece) and was able to tweet from there.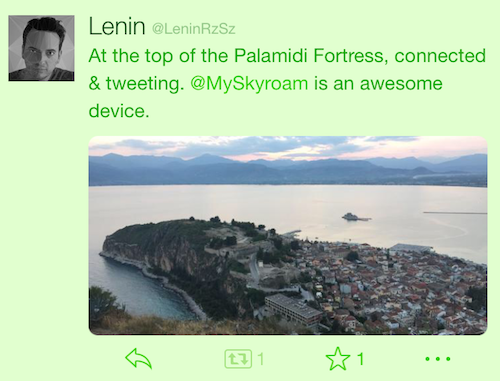 The WiFi network created by the device is pretty solid. I left it in my tent while taking some pictures with my iPhone in the beach about 80 ft from it, and had full reception.
Skyroam charges for 24-hr daypasses (i.e. the counter is not reset at 12:00 am). That's great because you can start consuming your data in the afternoon, for example, knowing that you will still have some extra hours on the same daypass the next day. Additionally, you can connect up to 5 devices to the hotspot, but keep in mind the bandwidth will be shared between them, so speed will decrease.
Additionally, Skyroam performs over-the-air firmware updates to the device. This is great as you don't need to be connected to a computer to get the latest firmware.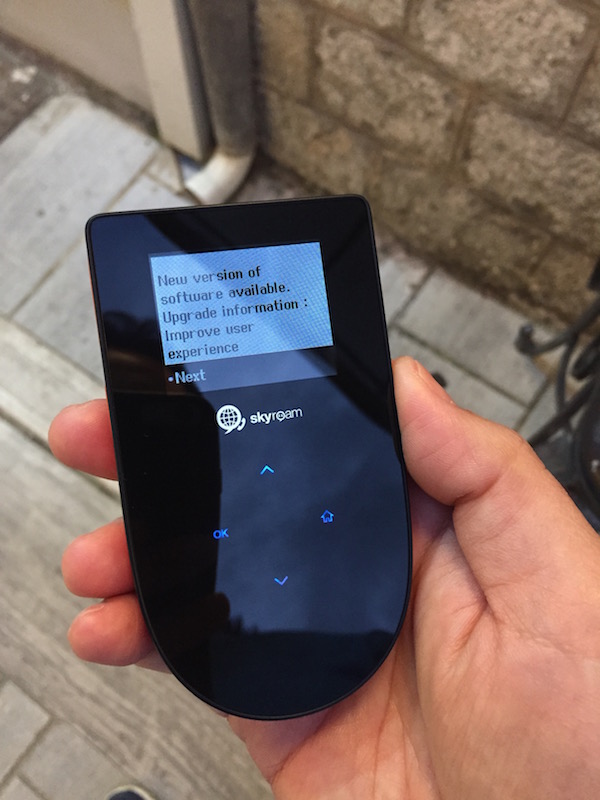 Price
Rating: 10/10
At the time of writing, Skyroam charges $125 for the hotspot device and $10 per day for the service (includes 5 daypasses with the initial purchase). You pay for the days you use the device, it's that easy. Also, If you buy more than five daypasses (and you should), you can end up paying $8 a day.
Although you can get connected for less money in some countries by buying local SIM cards, you would have to deal with local activation and configuration yourself. In my experience, that has never been a pleasant endeavor. I think Skyroam's price model is excellent for the service and convenience it offers.
Ease of Use
Rating: 8/10
Once configured, the device is dead simple to use. Just turn it on, wait for it to load, click on start and you are done. However, although the initial configuration is straight forward, it would be great if Skyroam indicated in their instructions that you will need a cellphone capable of receiving text messages to activate the service, since that's the way they send you the initial confirmation code. Skyroam let me know there is also an option to verify your account by email, but I didn't see that in the initial setup nor is indicated in the instructions sent with the device.
It's definitely not an issue if you register your account/device before leaving your country (like I did), but I can see it being a problem for some people that decide doing the initial set up while being abroad.
Other Pros
Rating: 10/10
This section is intended to account for features not usually found in similar products. In the case of the Skyroam hotspot, the following are key differentiating features you can't find anywhere else:
No contracts
No activation fees
No data caps
Virtual SIM card means you don't have to switch/return hotspots when moving between countries or regions.
As Skyroam expands its reach to more countries, you'll have access to data connection in those countries without needing to upgrade your hotspot.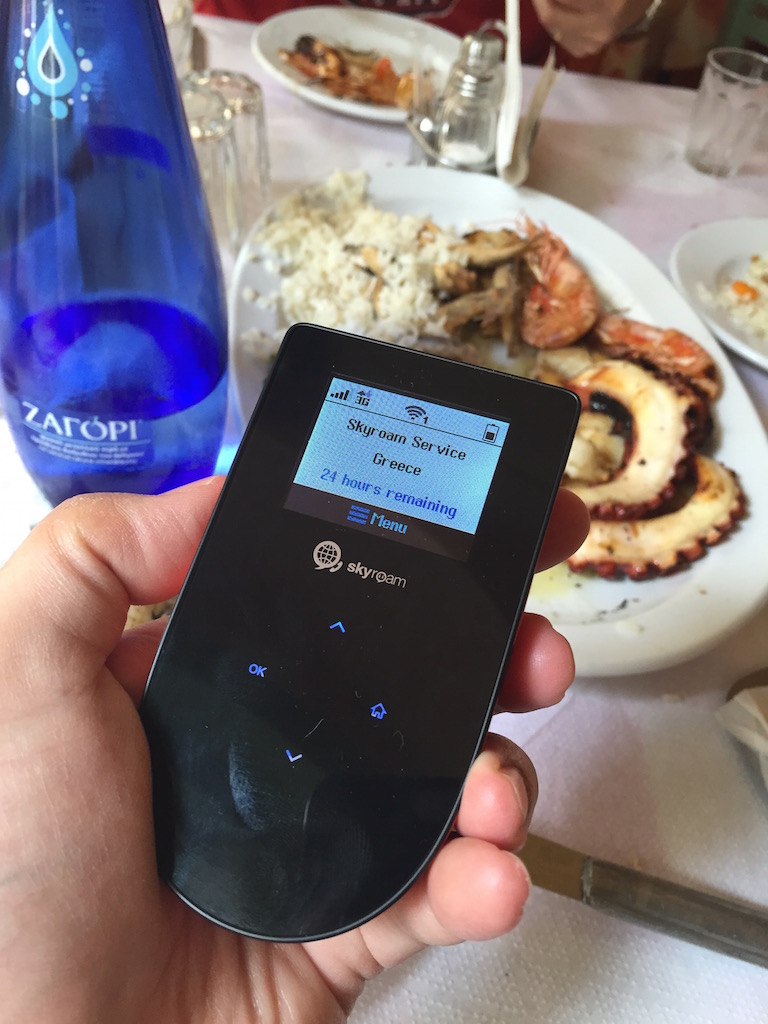 Software Design
Rating: 7/10
The firmware design in the device itself is great. Easy and straight to the point. The supporting website http://a.skyroam.com, however, is just too simplistic. It only has three options: Recharge, Registration and Enquiry. Being able to access a responsive website to check account balance and data consumption would be great (although, to be fair, you can check that on the device itself).
Skyroam also offers both iOS and Android Apps. I only tested the iOS version, and although the main screen is well laid out showing main menus to access both the device configuration and your account, the general design doesn't feel iOS native. Some menu options look out of place and in general it feels more like a Webapp.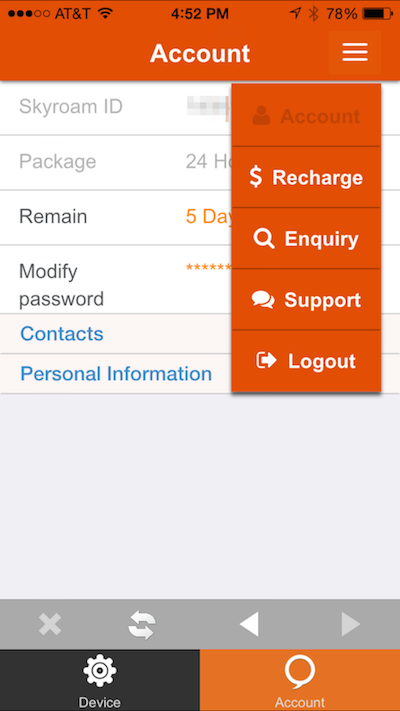 Software Performance
Rating: 8/10
When I first turned the device on, it was a little laggy. It would take too long for the button taps to take effect. I guess it had to do with the device registering the account and setting everything up for the first time. After that, everything worked just as expected. So, the device's firmware performance rates good.
However, the supporting website (http://a.skyroam.com), although not needed at all for you to use the device; performed fair. It was very slow no matter what time I accessed it.
The iOS App was also slow when changing screens and accessing different options. As indicated above, the experience was more like what you'd expect from a Webapp. I would recommend buying credit (i.e. daypasses) before leaving for your trip.
Battery Life
Rating: 7/10
Regarding battery life, your mileage may vary depending on your personal use. I used it for checking email, tweeting and texting in addition to the occasional web browsing with two iPhone 6 connected to it. No gps navigation or tracking nor video/sound streaming. Under that kind of usage, the battery lasted 2 days and sometimes just a day and a half. I must say I was expecting a little bit more than that. Thankfully, the battery is removable, and although I didn't see any links to buying batteries separately in Skyroam's website, it's nice to have the option.
Amazon Reviews
Rating: 5/5
At the time of writing, the Skyroam had a couple of reviews in Amazon. Although just a couple is not a representative sample, I decided to account for them as they seem legit.