Quarks rating explanation here.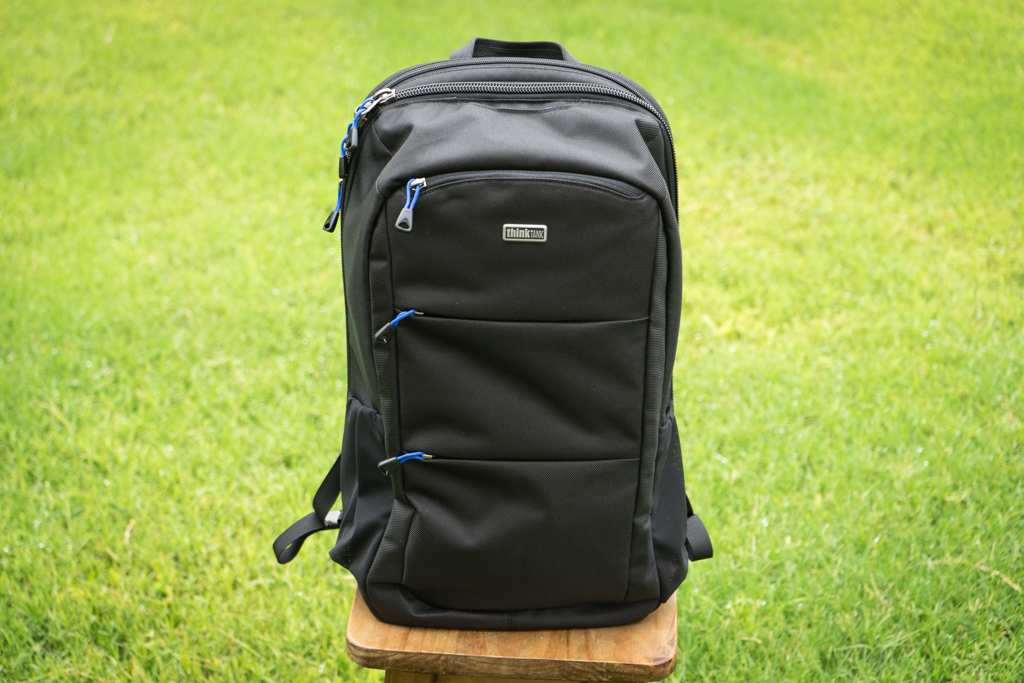 Think Tank is well known for their camera bags. I have reviewed a couple of their products before and they have never let me down. In fact, their Mover 30i was my main camera bag for several months. I even took it on a long trip to Asia last year.
Their Perception line is a new series of backpacks aimed at either mirrorless cameras or small DSLR cameras. The series is comprised of three backpacks varying in size: Perception Tablet, Perception 15 and Perception Pro. This review is for the latter one.
Hardware Design
Rating: 9/10
The Perception Pro backpack is the largest of the series. It accommodates one mirrorless body, lenses, a 15" laptop a 10" tablet and accessories. Even though we are talking mirrorless cameras, that's a lot of gear. But the funny thing is that this backpack doesn't look big at all. Actually, I didn't think I was going to be able to fit all that equipment, but I did.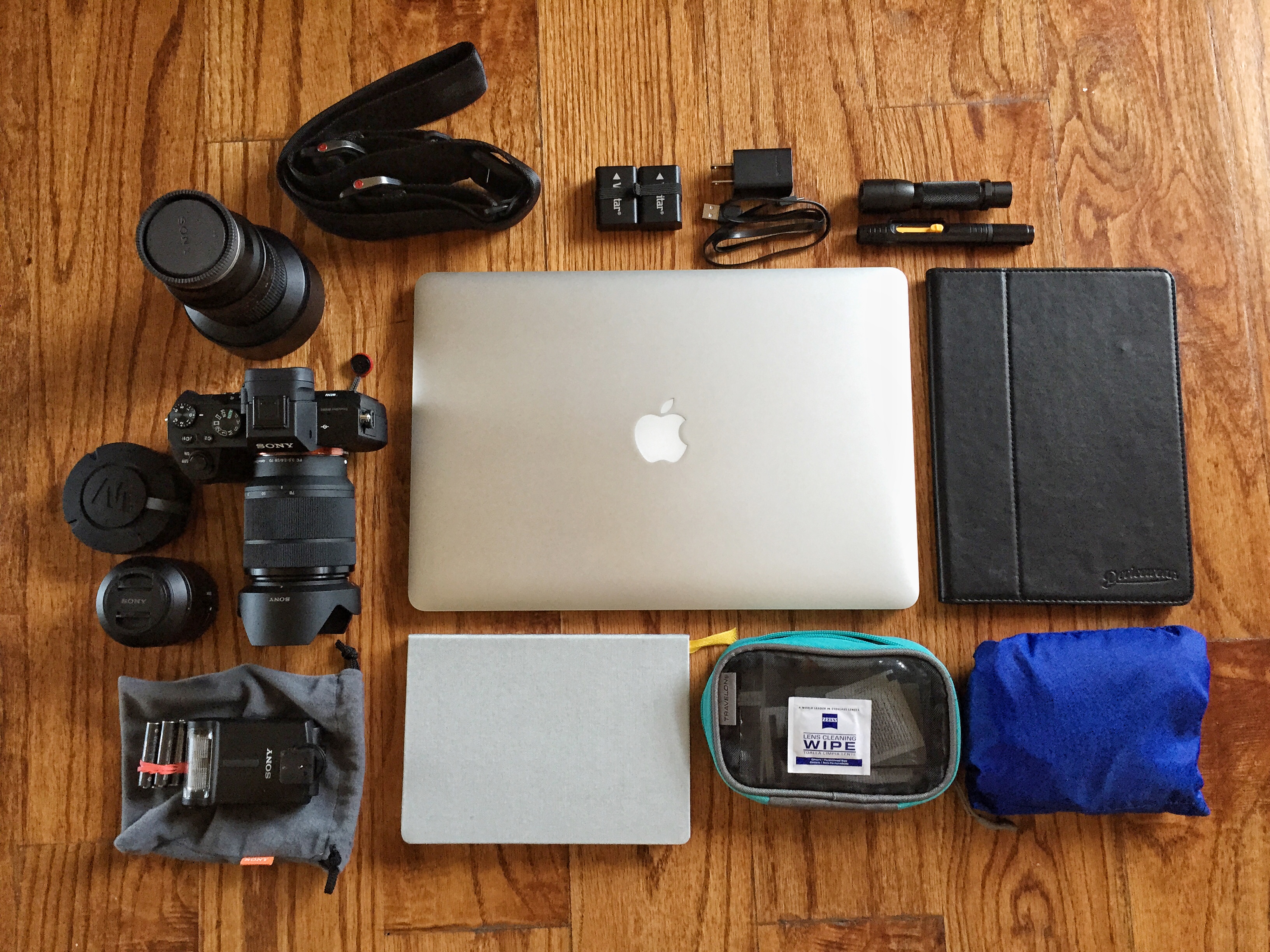 In the photo above:
Sony A7 II with 28-70 mm lens on (and lens hood).
Sony Zeiss 35 mm f/2.8 FE Mount lens.
Rokinon 14 mm f/2.8 Ultra Wide Angle LEns, FE Mount.
Weston Alpha Earbuds.
Sony HVLF20M, MI Shoe External Flash and batteries.
Peak Design Slide strap.
Macbook Pro Retina 15".
Extra camera batteries.
Camera charger and cable.
Nikon LensPen.
Baron Fig Confident notebook.
Think Tank rain cover (included).
Accessory pouch with: lens cleaning wipes, SD cards, white/black/grey cards, AA batteries, filters.
Actually, I could have included an extra lens and a couple more accessories (Giottos Air Blaster, for example), but didn't want to stuff it too much.
Design is minimalistic and elegant. I really hate backpacks with over-sized mesh pouches to both sides for water bottles. I was glad to not seeing that on the Perception Pro, only two almost-flushed pockets to the sides. Front pockets are big but also discretely laid out, you can hardly notice their zippers.
Discretion is something you want in a bag that carries thousands of dollars in equipment, especially if you travel a lot. This bag is the perfect combination of low key and elegance.
Moving inside, you will notice Think Tank has moved away from the classical grid layout for holding lenses and equipment in a vertical way. Instead, this model includes cinch cord pockets: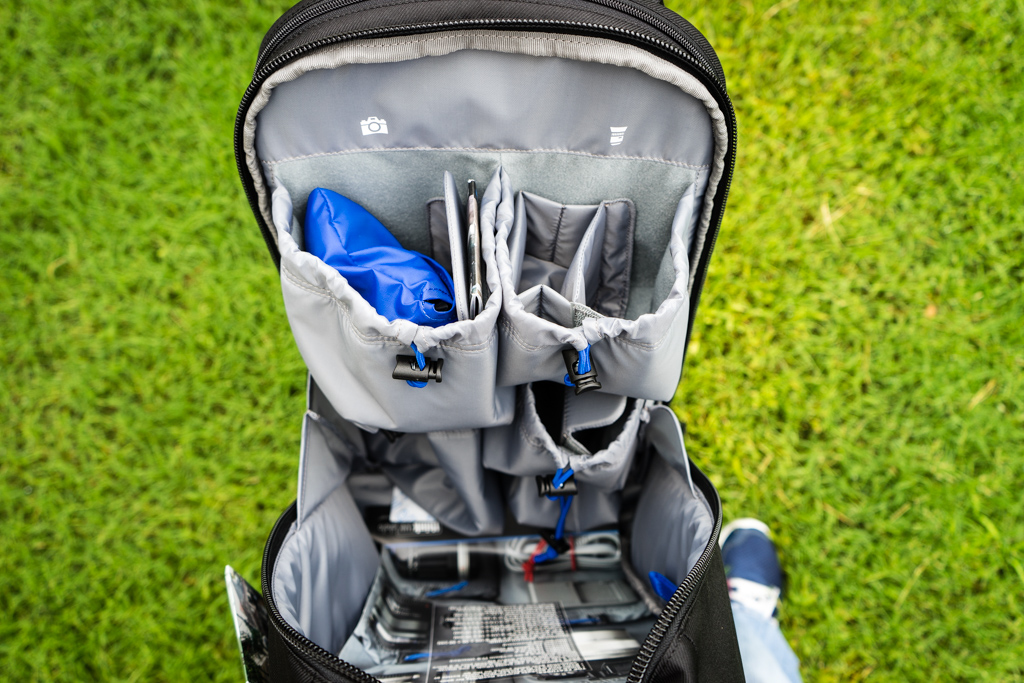 This is great as it allows you to access your camera gear by either laying the backpack flat horizontally (traditional way) or by just partially opening the zipper and accessing the pockets while standing vertically (great when you don't have much space to maneuver). There are also dedicated removable pockets for smaller items.
There is a hidden tripod-carrying attachment on the front of the bag. I prefer this design over the traditional Side Load because it makes it easier to distribute the load inside the backpack and allows for access to gear even when the tripod is attached.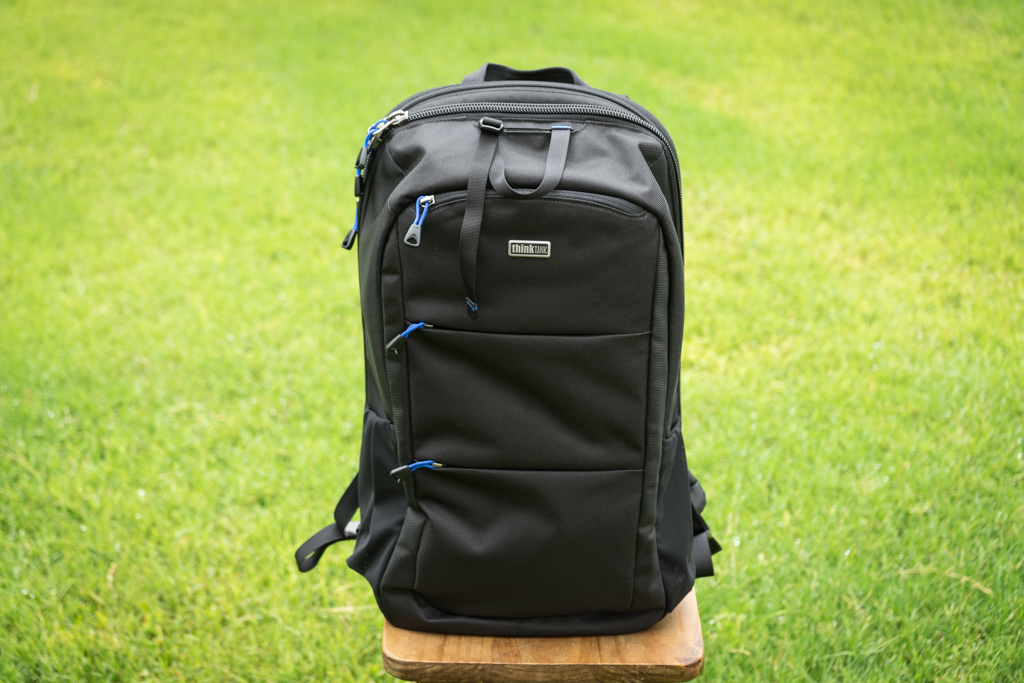 Last but not least, there is a seam-sealed rain cover included. However, it is not attached/incorporated into the bag itself like offerings from other manufacturers. Additionally, although the bag can stand on its own, it has no feet in the bottom, so it can easily be scratched or get dirty if you put it on the ground.
Hardware Quality
Rating: 10/10
As in all of their products, Think Tank uses high quality materials for both the interior and exterior. From their website:
Exterior: For superior water-resistance, all exterior fabric has a durable water-repellent (DWR) coating, plus the underside of the fabric has a polyurethane coating. It is also constructed with 600D twill, YKK® RC zippers, 320g dry-flow air mesh, nylon webbing, and 3-ply bonded nylon thread.
Interior: Removable closed cell foam dividers, polyurethane backed liner & dividers, 200D polyester, laminated non-woven backed nylex liner, 2x polyurethane coated nylon 190T seam-sealed rain cover, and 3-ply bonded nylon thread.
In the excerpt above, I've highlighted in bold some key features that help provide adequate cushioning and protect your equipment from the elements.
When lifting the backpack for the first time by its handle, I noticed how sturdy and solid it felt . It even stands up on itself when it's loaded, which is not an easy endeavor for a bag carrying a computer, an iPad, a camera and several lenses.
General Performance
Rating: 9/10
The backpack is really comfortable and padded in the right places. You'll notice the zippers in the main compartment go all the way down, but the compartment doesn't open flat. It's kept at about 45 degrees by side fabric stoppers/guards. This is actually good as it prevents your gear from accidentally falling down if you forget to pull up the zippers or if the bag is accidentally open. However, it makes it harder to reach the bottom of the bag. Perhaps some sort of side buckles would have been a better option. In any case, it's not a big issue.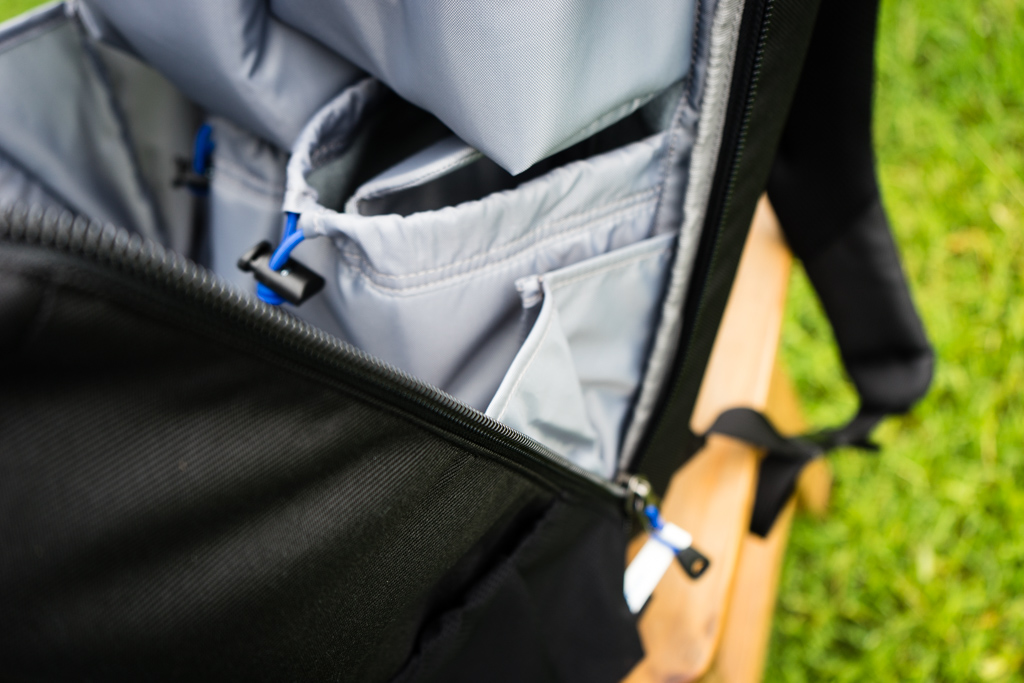 Price
Rating: 10/10
Think Tank bags are quality products, usually priced at a steep price. However, I must say the Perception Pro is really an excellent value at $150. I've seen camera bags costing much more than this one without offering all the pockets, extra features and elegant design this backpack has.
Other Pros
Rating: 10/10
This section is intended to account for features not usually found in similar products. The Perception Pro is very well designed and unlike most camera bags out there, it can be used as you regular day-to-day laptop backpack.
If you swap your camera gear with your regular office stuff and rearrange the pouches, it won't be out of place in a regular corporate work environment (I've been taking it to work for the last couple of weeks). It's really surprising that not many camera bags can be used this way. I was on the fence to buying a laptop bag for this very purpose, but not anymore.
Amazon Reviews
Rating: 4.3/5
Amazon reviews have been used to calculate the Quarks Rating.
Newegg Reviews
Rating: 4/5
Newegg reviews have been used to calculate the Quarks Rating.