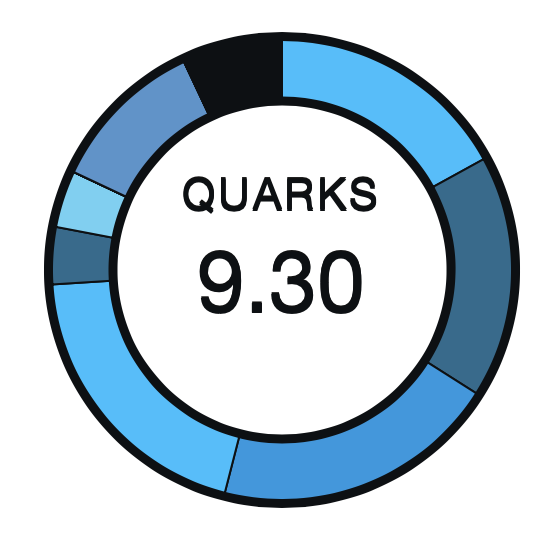 Quarks rating explanation here.
I have been lucky enough to have used a wide variety of headphones, ranging from really cheap ones to relative expensive ones. The term relative is key here, as some people may consider a $350 price tag to be high, whereas others may consider it an entry level price for premium audio. I am in the former group, I'm definitely not and audiophile and therefore, you won't see impedance graphs or attenuation tables in this review.
I will try to be as concise and objective as possible, and will focus not on the technical aspects of the headphones, but in their real-life performance when hearing certain music genres. I'll try to compare their performance with other well known headphones I have used in the past to provide a frame of reference.
I have to thank Mathew Ward as I wouldn't have gotten these earbuds if it wasn't for his thoughtful recommendation and help. He put up with my flood of questions and has been kind enough to recommend other audio products. He is one of the most knowledgeable audiophiles out there. You can read his articles for Macworld and TechHive here and here.
Background Information - Westone
Westone, although probably not as mainstream as other manufacturers, is a highly specialized company which manufactures a wide range of audio products such as high-end in-ear monitors for professional musicians and audiophiles, clinical and audiological custom earpieces for hearing healthcare, hearing protection supplies and even products for industrial and military applications.
Westone Music Products invented the first in-ear musicians' monitor. The company originally designed and manufactured the E1 and E5 for Shure. Westone also co-developed and manufactured the early Ultimate Ears brand by Jerry Harvey, and custom-fitted in-ear musicians' monitors (more information here).
Hardware Design
Rating: 10/10
These are over-the-ear earphones. I must say I prefer this design as they usually stay in place easier, are less likely to fall and are less intrusive, especially if you run the cable behind your back.
Westone is advertising the Alphas as the first cross-over earphones that can be enjoyed in any environment: from the gym and outdoors to the office, and I completely agree with that statement. They are built out of magnesium with a replaceable and discretely reflective cable, a 3 button control system and mic. You'll also be ready for adverse weather conditions with the IPX-3 weather resistant rating.
Overall, the design is functional, stylish and tasteful. You don't see such balanced combination very often.
Hardware Quality
Rating: 10/10
Westone's choice of building materials is testament of their attention to detail and quality: The magnesium unibody design is durable and extremely lightweight, surfaces in contact with the outside of your ear canal are soft to the touch, the loop that goes over the ear is reinforced and the cables are very sturdy.
The quality of materials extends to the case and even the packaging. The former is a solid hard plastic, matte and soft to the touch.
General Performance
Rating:9/10
Sound Quality is where these earphones excel. The phrase I am hearing notes and detail in songs that I've never heard before… May be a cliché, but it applies unequivocally to the Westone Alphas. it's not just about clarity in the Mids, they are capable of producing strong and clean bass that doesn't drown the other parts of the spectrum. Highs are exceptionally detailed as well. Just make sure you are using the right foam tips and that they are adequately placed in your ear canal.
The Westone alphas easily blow the Shure SE215-K Sound Isolating Earphones out of the water in every category, from sound quality to comfort and fit. I also compared them with the RHA MA750i Noise Isolating Premium In-Ear Headphones which are within the price range and have excellent reviews on Amazon. Although RHA's offering sounds great, the Westones are still better in my opinion.
Price
Rating: 9/10
The Westone Alphas were originally priced at $250 in Amazon, but they are currently around $150. Although they are worth that much, I'd like to see them closer to the $100 price range to compete with other popular headphones.
Ease of Use
Rating: 10/10
Like I mentioned at the beginning of the review, I prefer the over-the-ear fit and I'm really used to it, so using these earphones was extremely easy. Other people may prefer the classical in-hear hanging style. If that's the case, you can go with the Westone BetasWestone Betas, which are pretty much the same earphones meant to be used in a more classical way.
Additional Features
Rating: 10/10
This section is intended to account for features not usually found in similar products. The Westone Alphas have several characteristics that make them stand out from the competition:
Comfort: I was able to wear these on a 16+ hr flight with no ear pain of any kind (which is quite uncommon). I wouldn't be able to wear the Shure SE215-K for more than 2 hrs.
Reflective cable.
Rugged case.
Amazon Reviews
Rating: 3.8/5
The Amazon rating at the time of this rating is 3.8 stars, mainly because of some issues related to sweat getting into the remote control when people use them to workout. I use them to enjoy music while traveling or working in my computer, and have no plans to use them in the gym or when running (wired headphones are just a hassle to deal with in those conditions). If your user-case is the same as mine, grab them while you can. These earphones are extremely underestimated.