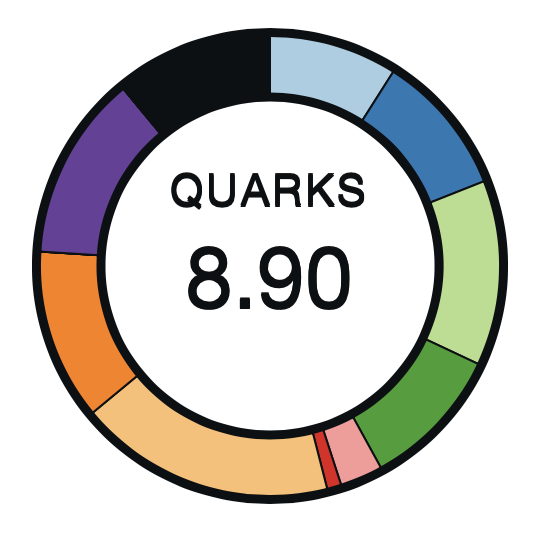 Quarks rating explanation here.
Update: Checkout the end of this post for a referral code to buy a Sonos player and get a free BRIDGE.
The way we listen to music has evolved in recent years. Although we may still have big music libraries either in physical media (CD and/or DVD) or stored in our hard drives, we have recently shifted to streaming services because of the advantages they offer. Services like Spotify and Rdio have allowed us to get instant access to huge amounts of music content at affordable prices without filling up the available storage space in our mobile devices.
Sonos connected speakers allow you to stream music from either a long list of services or from your computer. With the right configuration, you could even stream from smartphones, although it wouldn't be the ideal arrangement.PLAY:5 is the top of the line product in their wireless speakers category. In this review I will also compare it to PLAY:1, which is the entry level speaker.
Hardware Design
Rating: 9/10
Sonos design has always been sober, minimalistic and functional and PLAY:5 is not a departure from the concept. Although there is nothing wrong with that, and it's indeed a tasteful design, for some it may seem too sterile. This is obviously a very subjective matter, but I actually prefer the general cylindrical look and feel of the PLAY:1.
A nice touch is that they have embedded the power supply inside the speaker enclosure (and this is true for both PLAY:5 and PLAY:1), so it doesn't clutter electrical outlets.
Although all Sonos speakers have an Ethernet port in the back to allow wired connections, only PLAY:5 (and 3) have an audio input port. This is great if for instance, you wanted to connect an Apple Airport Express so that you could use AirPlay from an Apple mobile device (by the way, that would be the only way you could use AirPlay with the Sonos system as it's not directly compatible with that technology).
Hardware Quality
Rating: 10/10
Sonos speakers are made out of quality materials: strong, heavy metal and hard durable plastics where needed. They didn't cut corners on QA or presentation either. Everything from packaging to the case enclosure and buttons is built with sturdy and durable materials.
General Performance
Rating: 10/10
This is where this product shines. The PLAY:5 integrates five speakers (including a subwoofer) with five dedicated digital amplifiers. The result is a deep crystal-clear room-filling sound. It's hard to put in words the sound that comes out of this device, you really have to experience it. Cranking the volume up to the top doesn't produce any distortion and and it will surely upset your neighbors.
Although not the main focus of this review, I really have to say that the PLAY:1 is truly a little sound beast. It's not as powerful as it's bigger siblings, but clarity in mids and highs, deep bass and room-filling sensation is still there. Definitively a really nice and potent alternative if you are looking to buy your first Sonos.
One of the main Sonos differentiators is the capability of building your speaker network around the house. You can do this by using your current WiFi network (which is a recent added feature) or letting the Sonos system build its own proprietary wireless network completely independent from your current one by using either the SONOS BRIDGE or the SONOS BOOST. The advantage of this option is that you minimize interference to your current WiFi network and you don't have to do any configuration in your router. I went ahead and tried this option, and I must say I was really impressed, connection was rock solid.
Price
Rating: 8/10
Sonos products are truly premium products, and so are their prices. It's not that they aren't worth the hefty price, it's just that it can be a deterrent for people to buy into their system. If you wanted to get a couple of speakers, a bridge and perhaps get your current Home Theater receiver hooked into the network, that would easily put you upwards $1,000.
Ease of use
Rating: 10/10
Once the system is configured, it's dead simple to use from any of the apps (see below). Or you can just press the play/pause button in any of the speakers to resume or stop music. If a particular speaker is part of a group, pressing the button would resume/stop playing on all the speakers in that group.
Software UI Design
Rating: 10/10
Sonos has also put a lot of thought into designing the companion apps on all platforms, especially the iOS app.
Sonos has updated the app regularly since the iOS 7 release, improving consistently upon the previous version. Design is simple, tasteful and functional. The same goes for the Mac app.
From any of the apps, you can create groups of speakers, so that the same music is played in all of them at the same time, or you may want to just stream different music to each speaker. If you bought the PLAYBAR along with the subwoofer and four additional speakers, you could even set up a surround system powered by Sonos. Really neat stuff, although I think the price of such system would be exorbitantly high.
Software Performance
Rating: 7/10
The apps are very responsive in both Mac and iOS. Playing music, grouping speakers and navigating among streaming services is easy and intuitive. Some months ago, when I only had PLAY:1, from time to time the iOS app would not recognize the speaker in the network and I would have to redo the setup process, but that hasn't happended since the last app update.
I must say, though, I've had problems when streaming from Spotify. A song would finish prematurely and then the next one in queue would immediately start. All without fading, jittering or any appreciable loss in sound quality. I contacted Sonos and did all that they recommended, but the problem persisted. To be fair, I'm not sure if the culprit is the Sonos software or the Spotify service, as I wasn't able to reproduce the problem with any other streaming service or when playing from my iTunes music library off my MacBook Pro.
Amazon Reviews
Rating: 4.4/5
The Amazon rating at the time of this rating is 4.4 stars over 2,606 reviews. This is really impressive and you don't see that kind of rating pretty often in Amazon. I think it fairly reflects the overall performance and quality of this product.
Referral Code
If you are interested in buying a Sonos player, you can click here to get a free BRIDGE with any purchase. Checkout the link for details.