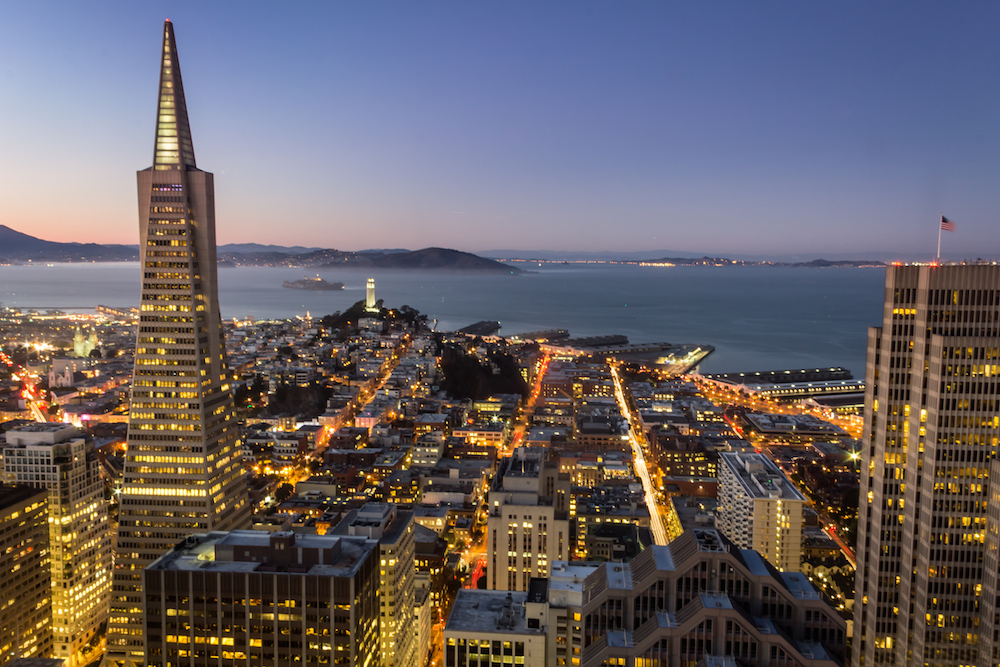 San Francisco is one of my favorite places. It's a hectic city with a lot to offer: nice weather (although some people consider it to be on the chilly side), multi-cultural environment, excellent food, great wine, an always informal attitude towards life (and sometimes business), nature beauty, great nearby towns. I could really go on and on for paragraphs. One of its most appealing features is the architecture though, that's why I always bring my camera and tripod when I'm around.
I took this photo in the downtown area, looking to the bay. I chose this point of view because you can see several city icons like the Transamerica Pyramid, Coit Tower and Alcatraz. However, it took me a while to get this shot, more than half a year!. My first tries were in the summer of 2013, I was in the area on business and took this one at that time. Although the fog in the back and the golden sunset light are the best attributes of that shot in my opinion, it was precisely the fog what prevented me from getting the shot I wanted after dusk. Fast forward seven months and I'm on the same spot giving it another try. Finally, on the second and last night of my trip, I was able to capture the photo above. Although there are a couple of things I would have done differently, I can now say that I'm satisfied with the result.
You can buy prints here.