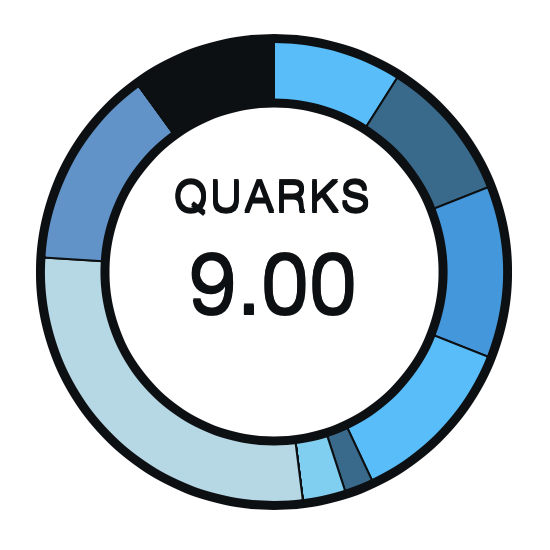 Quarks rating explanation here.
Sound Blaster has been a well known brand since the golden PC era back in the 90's, mainly because of their widely used internal and external sound cards. Creative continues to be a big player in the gaming and audio industries, offering a wide variety of high quality audio equipment, headphones and gaming sets. The Sound Blaster Roar Pro is their flagship portable Bluetooth Speaker. Actually, it's much more than that, read on to find out how well this little device performs.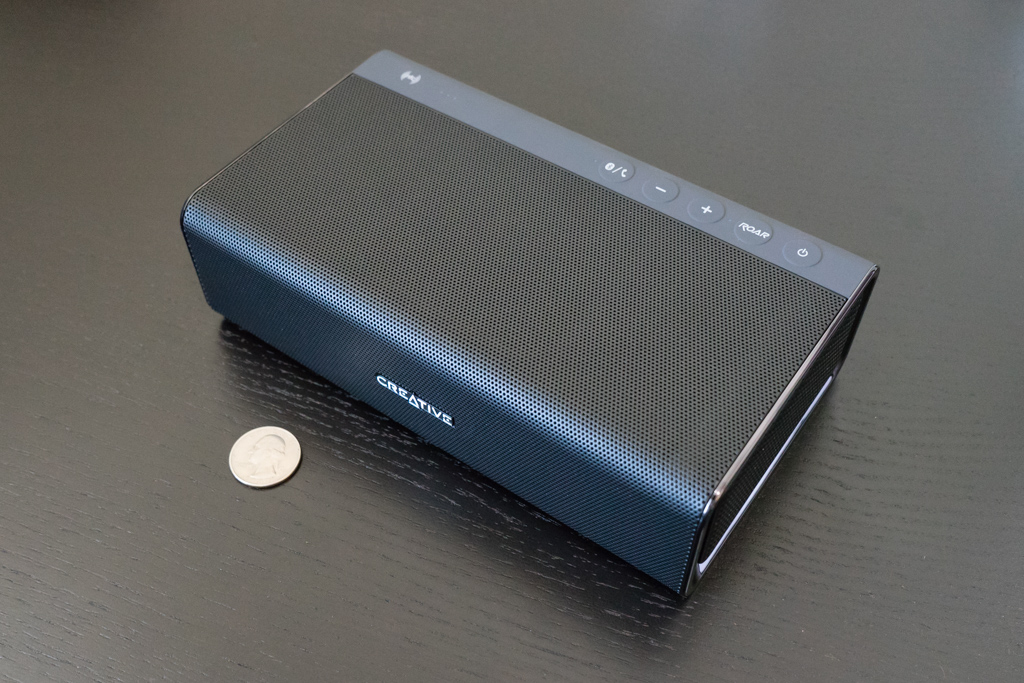 Hardware Design
Rating: 8.5/10
Design is, for the most part; sober and elegant. The actual speakers are placed behind a metallic mesh that wraps around the device's top and three sides. As seen below, there are five buttons on the top side: Bluetooth connection/Calls, Volume Down, Volume Up, Roar and Power.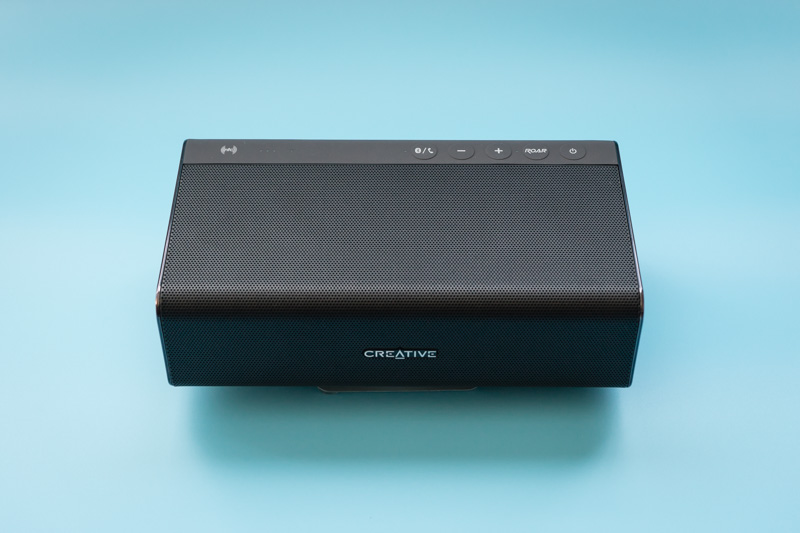 On the back, the Sound Blaster Roar Pro gets a bit crowded, and that's probably one of the few criticisms I have. As seen in the picture below, the following arrangement can be seen from left to right:
Power port.
3.5 mm Aux in port.
USB charge out port
Micro-USB port for charging the device and connecting to a desktop computer
Micro SD card port.
The ports above are followed by the following control clusters and buttons:
Voice/Room recording controls.
Audio Controls (for audio stored on SD card only).
Audio profiles (warm, neutral and energetic) switch.
Tera Bass button.
Toggle switch for selecting audio input (Bluetooth or micro SD card).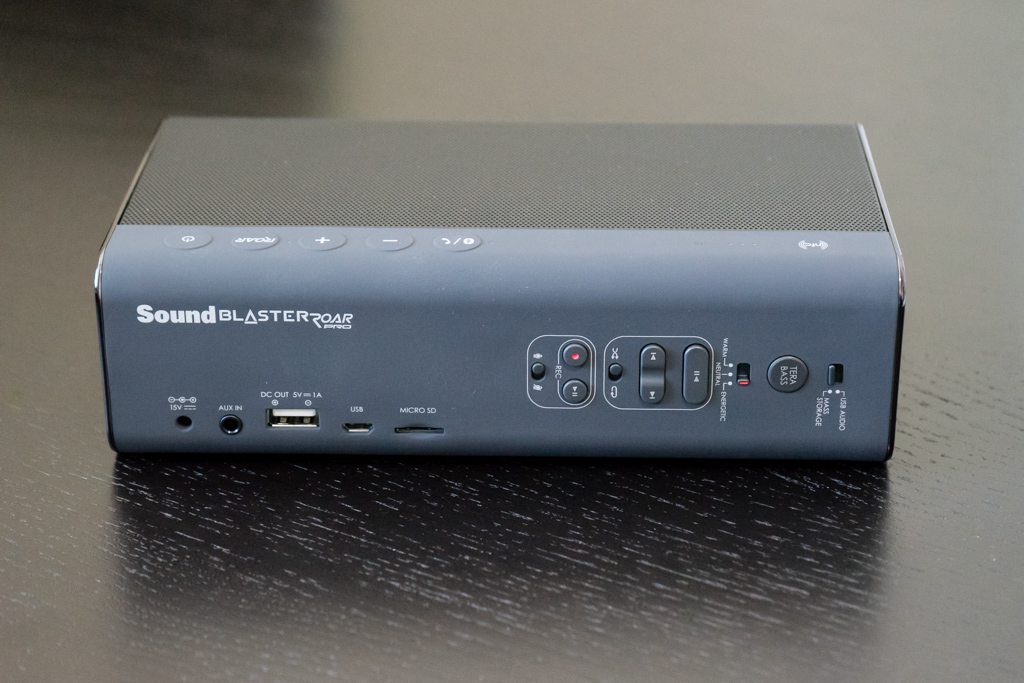 The Sound Blaster Roar Pro is provided with two speakers in one side, a subwoofer put on top and a couple of passive radiators on the sides. All of them are hidden behind the metal grid. There are three LEDs on top showing battery charge. I would have preferred an OLED screen or at least 4 LEDs to have a better idea of the actual battery level.
Hardware Quality
Rating: 10/10
Surfaces are a mix of a rubberized hard plastic, shiny and matte metal. There is very little that can be criticized about the choice of materials, the whole package feels tremendously solid and well designed. Even the buttons provide a satisfactory tactile feedback.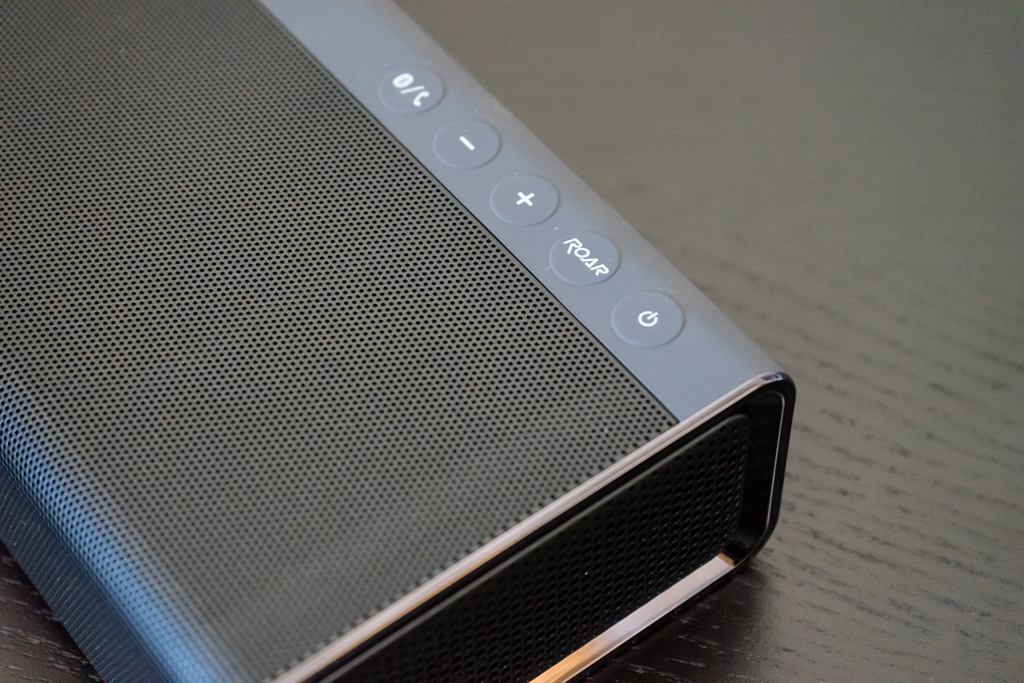 General Performance
Rating: 9/10
The Sound Blaster Roar Pro is provided with two speakers, one subwoofer and a couple of passive radiators fed by two dedicated amplifiers: one for lows and mids and one for highs, so that higher frequencies don't get easily drown in the spectrum.
The audio performance is very good. Sound separation is just OK, but that's typical of Bluetooth speakers. However, using the aptX codec (with a MacBook Pro) seemed to help in this regard. Also, mid range performance seemed a little bit off at first, but that was quickly remedied by pressing the Roar button. I would say, performance is comparable - if not better - than the Bose Soundlink III performance]bose_sliii_amzn. It's really that good. When playing out of the micro SD cardm(instead of Bluetooth), performance is a little bit better, in my humble opinion.
Note that in order to get an added boost out of the Sound Blaster Roar Pro (per Creative's manual), the included power adapter should be used, especially when using the Roar feature.
Creative also offers an optional accessory, the Sound Blaster iRoar Mic. It's a USB rechargeable bluetooth microphone that can be paired/connected to the Roar Pro.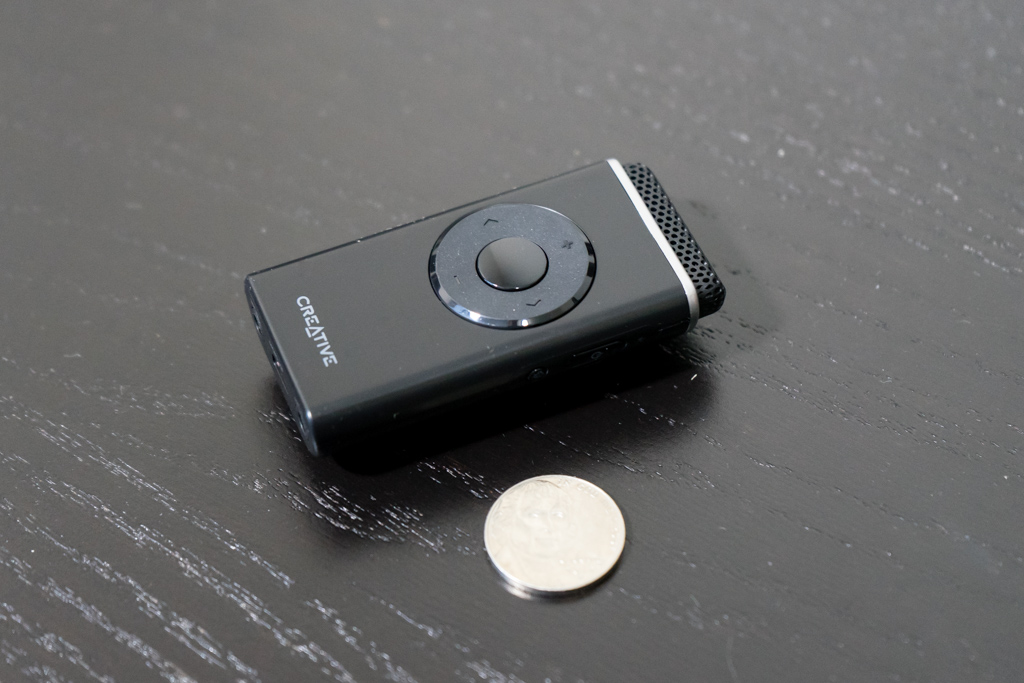 When I received this Mic, I didn't think much of it and was under the impression its use would be very limited. Boy, was I wrong. First of all, it can be your personal Public Address(PA) System at home. Combined with the Sound Blaster Pro, becomes a portable Karaoke machine, if you are into that sort of thing (but let's face it, who isn't after a couple of drinks!?). It also can be the best thingy ever!, according to my 4-yr old.
In addition to the expected, power and mute buttons, it's provided with a D-Pad controlling sensitivity and volume. In the bottom, almost hidden, there is a couple of the 3.5-mm jacks for connecting an external Mic and/or an auxiliary signal, which makes it a very versatile device.
Price
Rating: 9/10
The Sound Blaster Roar Pro retails for $199 on Amazon, which is an great price considering the device's excellent performance and versatility. Note that the iRoar Mic is not included in the package. However, you only need it if you are interested in the PA System feature.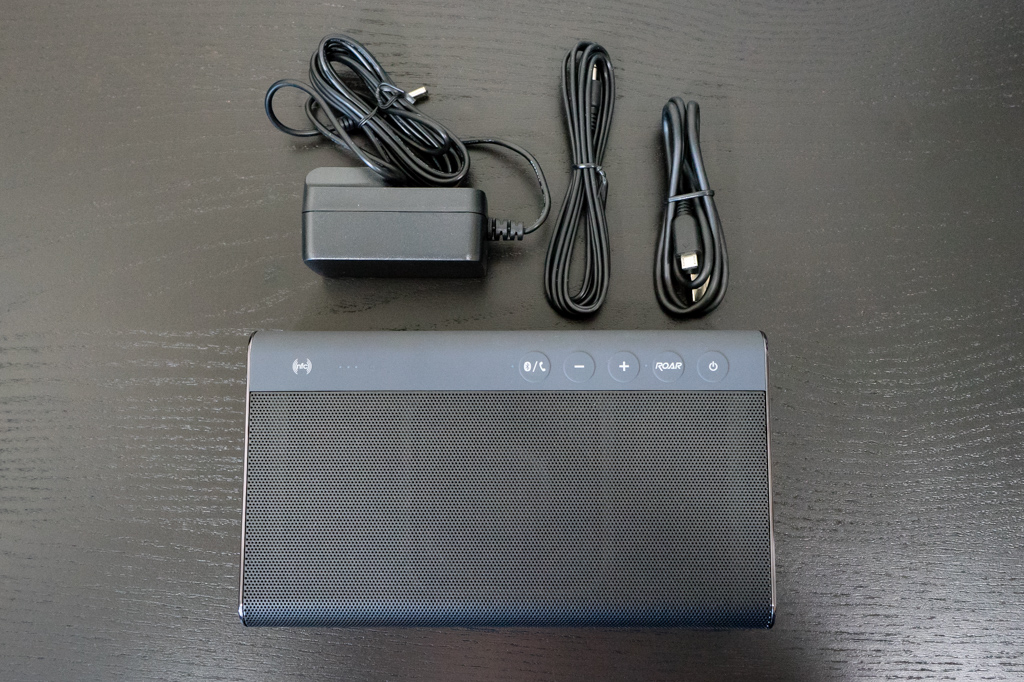 Ease of Use
Rating: 7/10
Although the Sound Blaster Roar Pro is fairly easy to use once you get familiarized with it, the amount of buttons on the back and the tuning options can be a bit overwhelming at first: Roar setting, Tera Bass, Audio Profiles, etc. Also, there is little information about the specific technical adjustments made to the audio by some of these features.
It is understood that packing all these features in one device comes with some trade offs, but Creative could have done a better job streamlining options.
Other Pros
Rating: 10/10
This section is meant to give credit to extra features that set the reviewed device apart from competing devices. In the case of the Sound Blaster Roar Pro, there is a plethora of features that differentiate it from similar products, such as:
Near field communication (NFC) for pairing capable Bluetooth devices.
Answering phone calls through the device.
Option for using a mass storage divice (micro-SD slot) for playing music instead of using a Bluetooth connection.
Microphone and capability for recording sound into the micro-SD card.
Public Announcement (PA) System capability (through the use of optional iRoar Mic).
Battery Life
Rating: 8/10
I was able to get a little over 5 hours and 20 minutes of music through a Bluetooth connection at about 50% volume before the battery went dead. Although it's not a bad figure, it's definitely below Creative's claimed 10-hr autonomy. However, since the device can be used plugged in, and as mentioned above; it's more powerful that way, I'm guessing that's how it will be used 90% of the time.
Other Reviews
Rating: 4.6/5
The Sound Blaster Roar has a rating of 4.6 stars out of 1,598 reviews on Amazon at the time of writing. That rating truly reflects the device's performance, design and added features. There are no reviews available on either Newegg or Adorama, so the Amazon rating is the only one that has been factored in when calculating the Quarks rating.