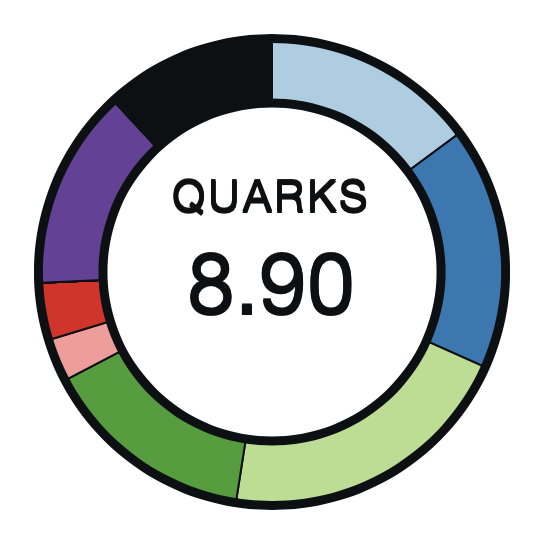 Quarks rating explanation here.
Bellroy is a company that specializes in designing and manufacturing thin, beautiful and extremely functional wallets. The Elements Travel is part of their Elements series designed to withstand the harshest environments while keeping the good looks. Read on for more details, pros and cons associated to this particular model.
Hardware Design
Rating: 8/10
Design is something that Bellroy gets right, and this wallet is the perfect example. Even the packaging is tasteful and well thought-out!.
The wallet is compact and provided with plenty of pockets for travel essentials. You can fit:
Up to 10 cards.
Passport (in a nice and clearly designated compartment).
Boarding passes.
Some currency bills.
Micro travel pen with refill (provided by Bellroy, which is a nice touch).
Bellroy also includes a small slot for a SIM card and even one for a door key. Those are the pockets I would you use the least. Even when traveling overseas and using multiple SIM cards, I wouldn't put just one in this wallet. I rather have them all in the same place. However, I guess is nice to have the option.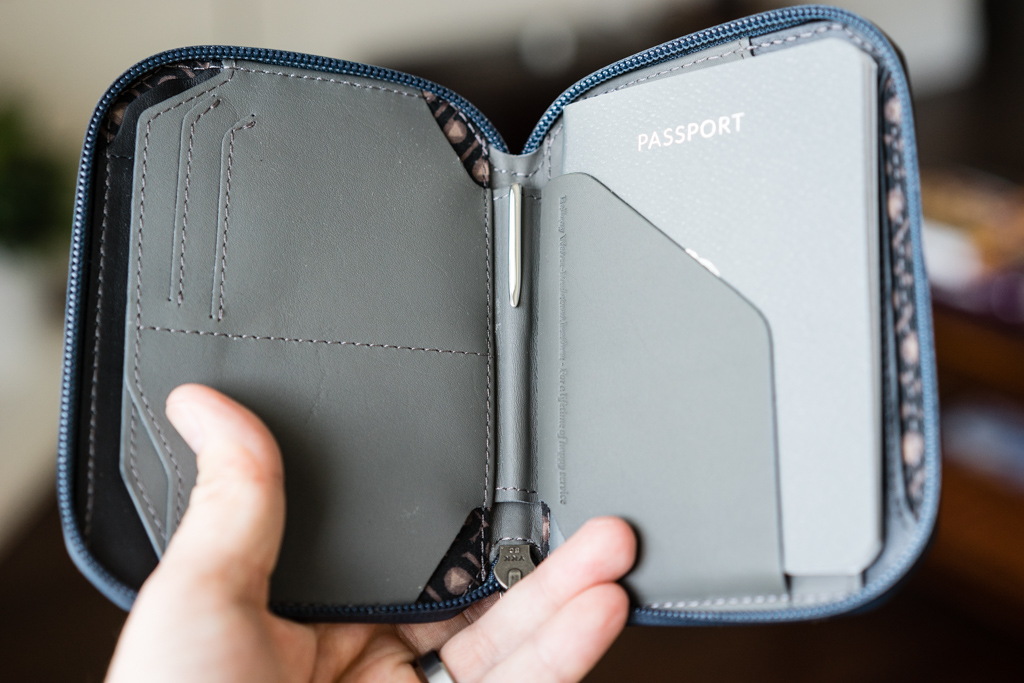 One feature immediately apparent is the water-resistant zipper. The zipper seems to be provided with and outer plastic layer adhered on top, resulting in a tight closure that prevents water and dust from getting inside.
The Bellroy brand is imprinted in one of the sides, unfortunately you can hardly see it. At this price range, Bellroy could have gone with the nice metallic owl logo they have included in other wallets.
Moreover, when the wallet is held with the imprinted brand name side facing the user, and then it's opened, the inner slots are upside down, which could result in the passport and other documents falling down. This might be a minor thing, but it's definitely something that Bellroy needs to correct.
Hardware Quality
Rating: 10/10
The two main features that will jump to your attention are Bellroy's water-resistant all-weather treated leather and the water-resistant zipper. There is little ythat can be improved regarding quality on this wallet. Everything from the stitches to the inner slots and fabric lining used are of the highest quality. Most parts of the wallet are made out of leather. Even the smell is great!.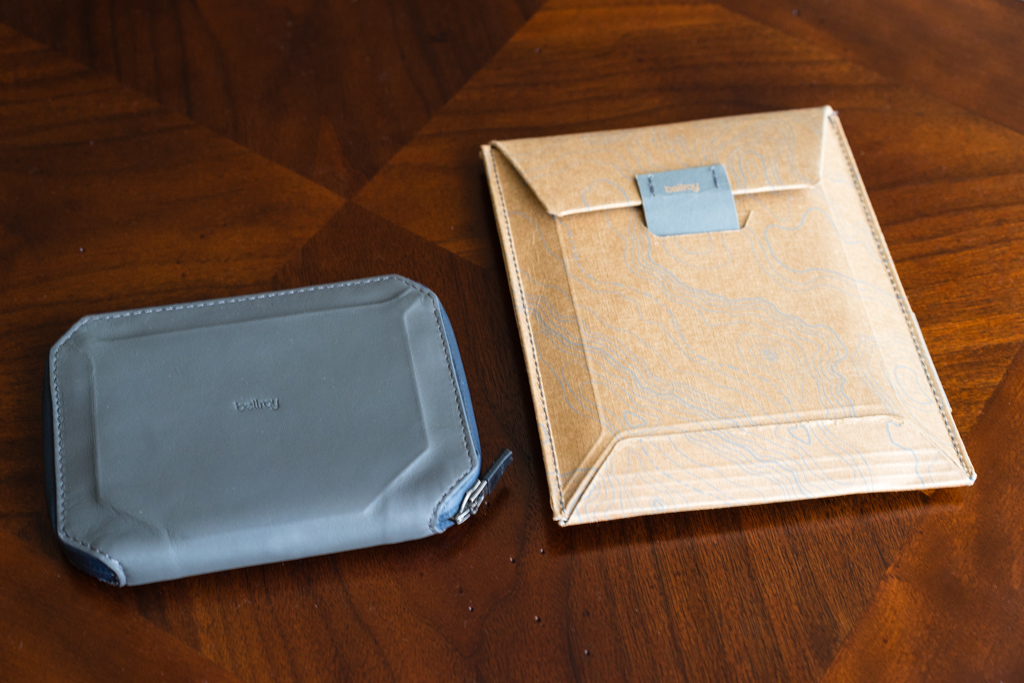 General Performance
Rating: 10/10
The travel wallet performs wonderfully for what it was designed to do. I've taken it to my last trips and pulled it out while raining, tossed it in my shoulder bag and carry-on luggage, put it in my jeans back pocket and sat on it for hours with no visible degradation. I recognize these are pretty mundane activities and I still need to put it through its paces, but I get the feeling this wallet can withstand some heavy duty usage without looking out of place in a corporate environment. This is something that not every manufacturer can pull off.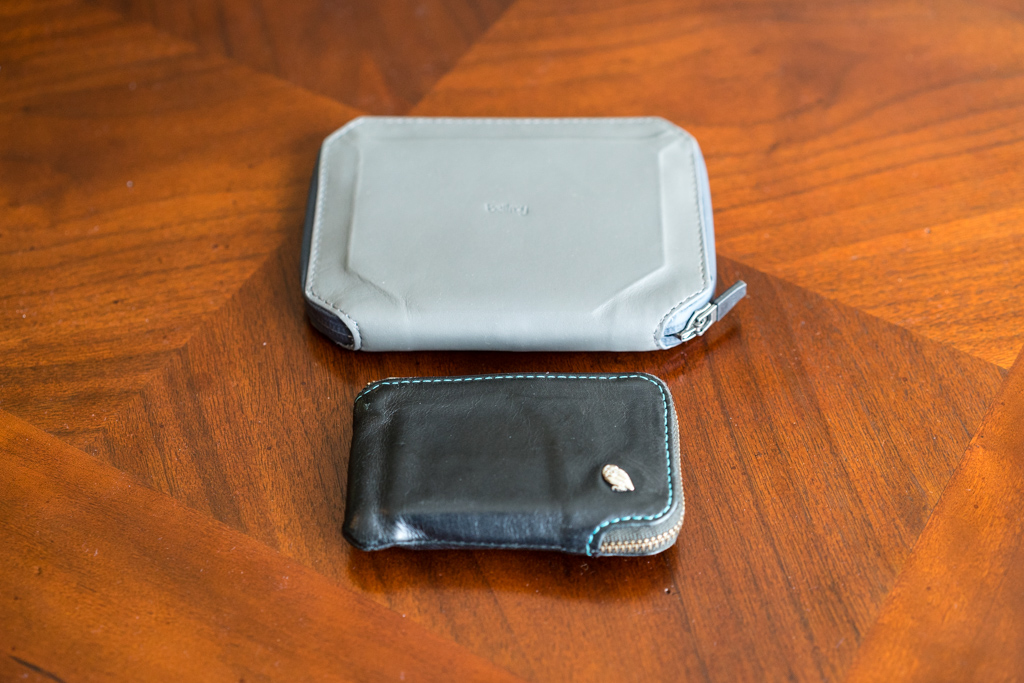 Price
Rating: 7/10
Although we shouldn't expect the combination of quality materials, beautiful design and functionality to come at a cheap price, I still think it's just a tad too expensive. The sweet spot, in my opinion, would be somewhere between $90 and $100.
Ease of Use
Rating: 8/10
Cards fit snugly inside the leather slots, which is expected given the wallet's size and construction materials. This is not necessarily a bad thing. However, opening and closing the wallet can be cumbersome because of the water-resistant zipper. Sometimes it gets stuck midway and you have to yank it to make it go though.
I contacted Bellroy on the matter, and this was their response:
Thank you for the feedback about the zips, it seems to be the most common feedback we receive. However, after a little time it seems to become smoother to unzip and zip, you just have to break it in a little, like a pair of new shoes :)
I tend to agree with the comments above as I've noticed the zipper doesn't get stuck as often, but time will tell how long it takes for it to break in.
Other Pros
Rating: 10/10
This section is intended to account for features not usually found on similar products. The all-weather treatment of the Bellroy Elements Travel Wallet is definitely something that sets it apart and deserves recognition.
Amazon Reviews
Rating: 4.6/5
The Bellroy Elements Travel wallet has 4.6 out of 5 stars on Amazon at the time of this writing. This rating has been accounted for when calculating the Quarks Rating.