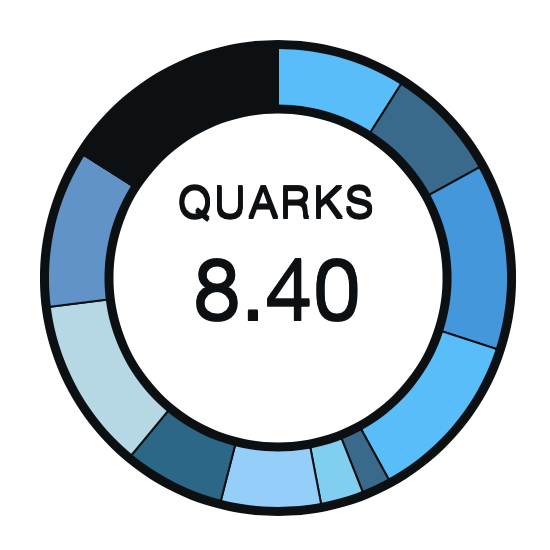 Quarks rating explanation here.
Sound Blaster has been a well known name since the golden PC era back in the 90's, mainly because of their widely used internal and external sound cards. [Creative][creative_site] continues to be a big player in the gaming and audio industries, offering a wide variety of high quality audio equipment, headphones and gaming sets. The Sound Blaster E5 is their flagship portable High Resolution USB DAC & Headphone Amplifier. Read on to find out how well it performs.
Hardware Design
Rating: 9/10
The Sound Blaster E5 is designed to last. Although it's a bit larger than similar products, like the Fiio Alpen 2, it's actually lighter than most of its competitors. Input and output connections and buttons are well laid out easily reachable. Here is a list of the buttons and audio inputs/outputs the Sound Blaster E5 is provided with:
On/Off and pairing button.
SBX On/Off button.
Gain setting button (Low and High).
Two (2) 3.5mm audio outputs.
Full digital (Optical Toslink) audio input (line in, mic).
Full digital (Optical Toslink) audio output.
USB Host input.
Micro USB (for charging purposes).
There is a volume knob (a highly underestimated feature in current portable amplifiers) which also serves as a play/pause button. There is also three battery charge indicating LED lights.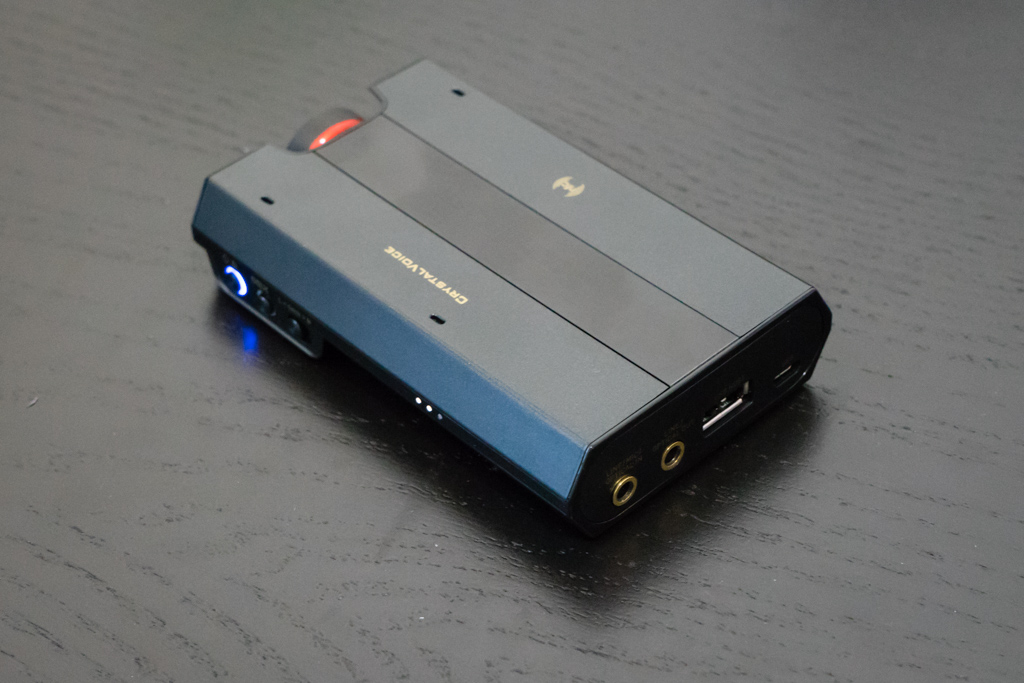 The LED lit on/off button also controls the bluetooth pairing process through a 2-second press. Since the device is supposed to be turned off by pressing and holding the button for 4 seconds and, while you are doing it you are also blocking the button light; it may be hard to tell if the device is turned off or if it just entered bluetooth pairing mode. Not a big thing, but something to keep in mind.
The bottom of the device is provided with a rubberized lining which covers the entire surface and prevents the amplifier from sliding on flat surfaces or scratching other devices when placed on top of them. This is testament of thoughtful design on Creative's side.
Although there are 3 small LED lights showing battery charge, I would have liked to see a more descriptive way of showing it (small OLED screen, perhaps?).
Hardware Quality
Rating: 8/10
The Sound Blaster E5 is made out of a combination of metal and plastic, but mostly plastic. Although this doesn't make it particularly solid or sturdy, it makes it very lightweight. The volume knob feels metallic and provides nice tactile feedback.
Creative also included a sturdy base (nice touch), USB cable and even a Toslink optical digital cable. The red USB cable is nice and thick, unlike the ones usually provided by other manufacturers.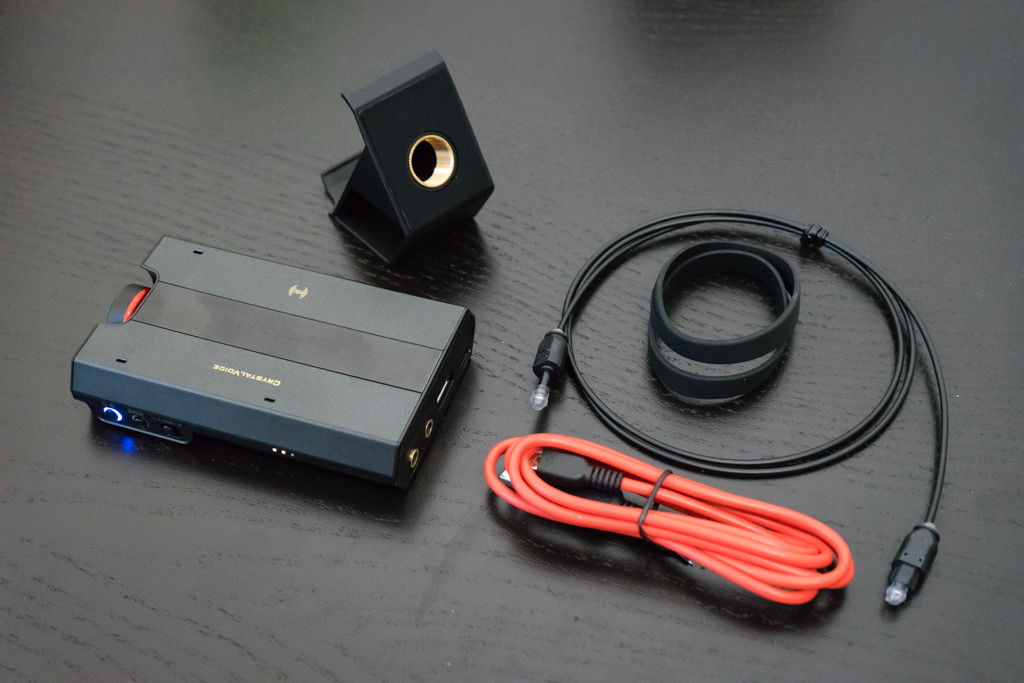 General Performance
Rating: 10/10
The Sound Blaster E5 handles digital to analog conversion and amplification nicely. It was able to handle high bitrates (192 kHz) and 24-bit data with aplomb. It produced clear mids, crisp vocals and deep low frequencies. However, performance can easily be adjusted by using the included equalizer (more on that later).
The E5 can handle high impedance headphones up to 600 Ohms, which not many portable DACs/Amps can do (Fiio Alpen 2, for example). There is a toggle switch on the side to choose between relative low impedance headphones (16 Ohms to 300 Ohms) and high impedance headphones (300 Ohms to 600 Ohms).

An important feature that should not be underestimated is the ability of taking digital audio through the USB port, decode it and send it to the headphone output(s). This can be done on both desktop computers and mobile devices like the iPhone, which recognizes it as an external DAC as soon as it is connected. Not all DACs/Amps are this versatile.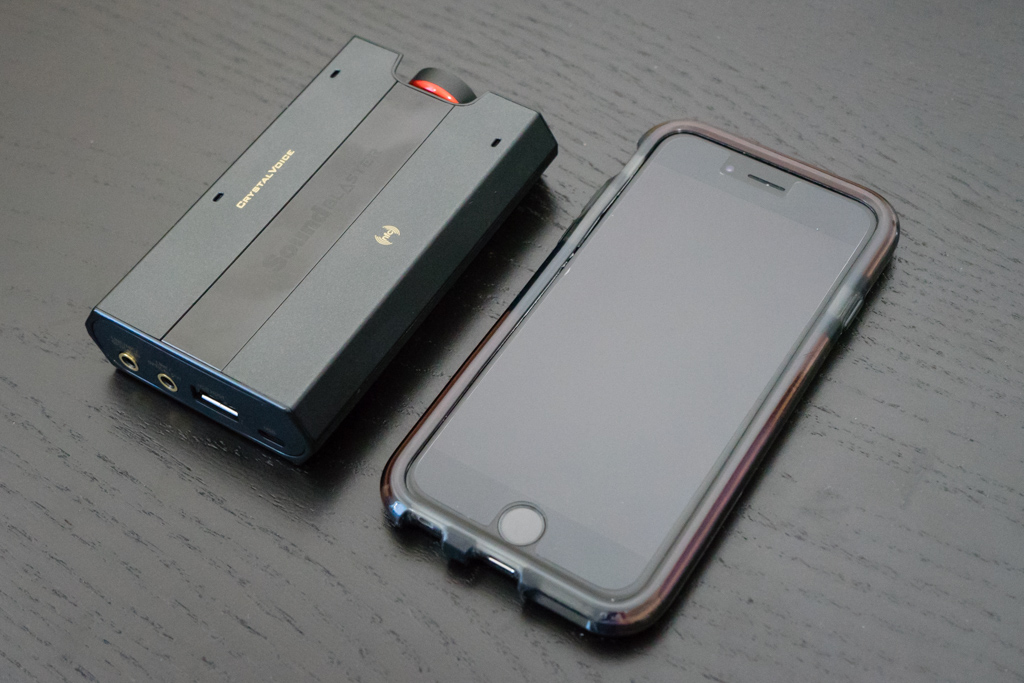 Additional Features
Rating: 10/10
This section is intended to account for features not usually found in similar products.The Sound Blaster E5 does a great job as a standalone DAC/Amp, but it can do much more than that:
It's provided with three microphones, two of which are active at any given time depending on its orientation (i.e. landscape or portrait mode). This allows for recording audio in stereo.
Optical digital audio input and output.
Bluetooth capability with aptX audio codec, so that music can be streamed at CD-like quality.
Rechargeable battery.
SBX Pro Studio/Surround. It features an algorithm that provides spatial audio enhancement to the sound source (more information here).
Free iOS App.
Software Design
Rating: 6/10
Creative has provided a free iOS (and Android) App for managing the Sound Blaster E5. Just think about that for a minute. You can manage all settings, choose and create listening profiles, activate/deactivate SBX ProStudio and much more, through an App in your phone. It doesn't get better than that!. You need to first pair the E5 with your phone since the connection is made via Bluetooth, but that's a fairly simple process.
However, the App's graphical interface feels dated (pre-iOS 7 design), it hasn't been optimized for the iPhone 6 screen and menus and settings are not laid out in a user-friendly way. The Mac App didn't look much better either. There is definitely room for improvement.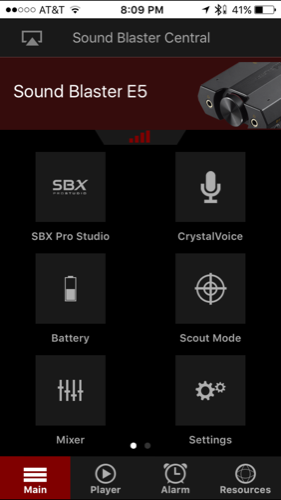 Software Performance
Rating: 6/10
I had some issues when trying to connect to the Sound Blaster E5 via bluetooth from my iPhone (version 6). Apparently, there are connectivity issues with iOS 9. Thankfully, the issues were remedied by the latest firmware update on April 2016.
The overall software user experience was not the best. The interaction with the device was lackluster, it almost felt like a (very slow) Web App. Changing screens took several seconds in most cases. However, it got the job done and offered a degree of versatility that no other portable amplifier in the market can offer at this time.
Battery Life
Rating: 10/10
The Sound Blaster E5 is equipped with a 3200mAh battery. I was able to confirm Creative's claims on battery life, as the device had enough juice to go for about 8 hours on a single charge, even using Bluetooth connectivity on and off during that period to change the device's settings.
Price
Rating: 9/10
Although the device is not exactly cheap, it presents an excellent value for the price. There is no other device in the market as versatile and full featured as the Sound Blaster E5. Creative also offers the Sound Blaster E3, but for the price difference, the E5 is the way to go.
Ease of Use
Rating: 8/10
The use of the mobile App adds an extra layer of complexity to the Sound Blaster E5, but once you get the hang of it, it's fairly easy to use. Also, you don't need to use the mobile App or pair the device with your phone in order to use it. The app is just the door to more advanced features.
Other Reviews
Rating: 3.8 of 5
By the time of this writing, the Sound Blaster E5 has a rating of 3.8 stars out of 381 reviews on Amazon. As there are currently no reviews in either Newegg or Adorama, that's the only rating that was used to calculate the Quarks Rating.
Summary
Pros
Nice design and excellent built quality.
Bluetooth connectivity with aptX codec.
Soundblaster SBX surround technology.
Volume knob instead of buttons (excellent tactile feedback).
Lighter than expected.
3 microphones (2 functioning at a time).
Mobile App for changing settings and advanced features.
Stand and aux cables included.
Cons
a bit larger than offerings from other manufacturers.
lackluster software experience.