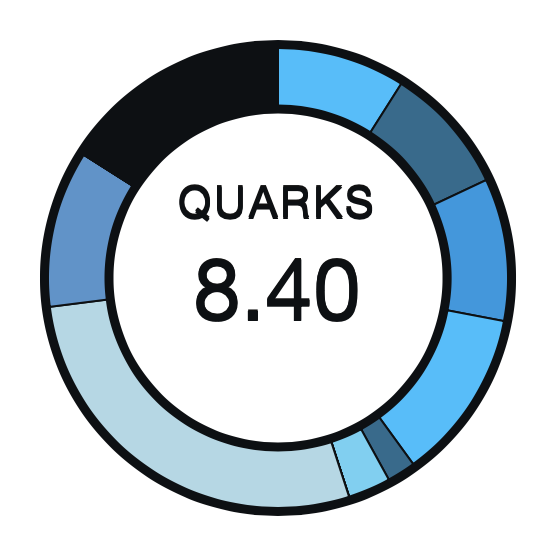 Quarks rating explanation here.
Creative is a big player in the gaming and audio industries, offering a wide variety of high quality audio equipment, headphones and gaming sets. The Creative iRoar Go is their new flagship portable Bluetooth Speaker and the evolution of the Roar breed. Read on to find out how well this little device performs.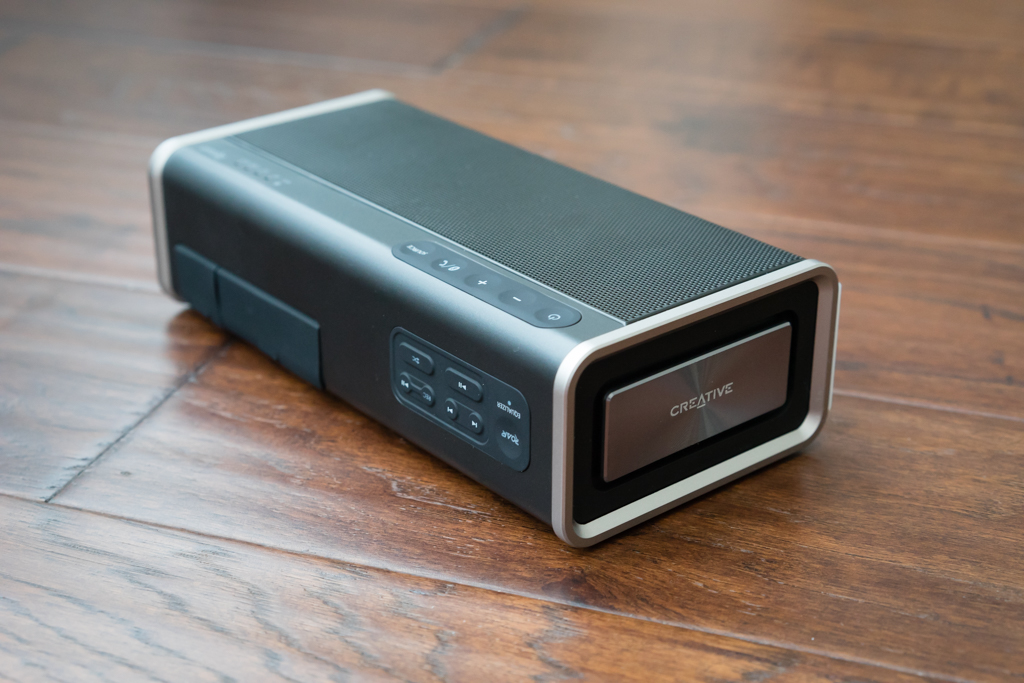 Hardware Design
Rating: 8.5/10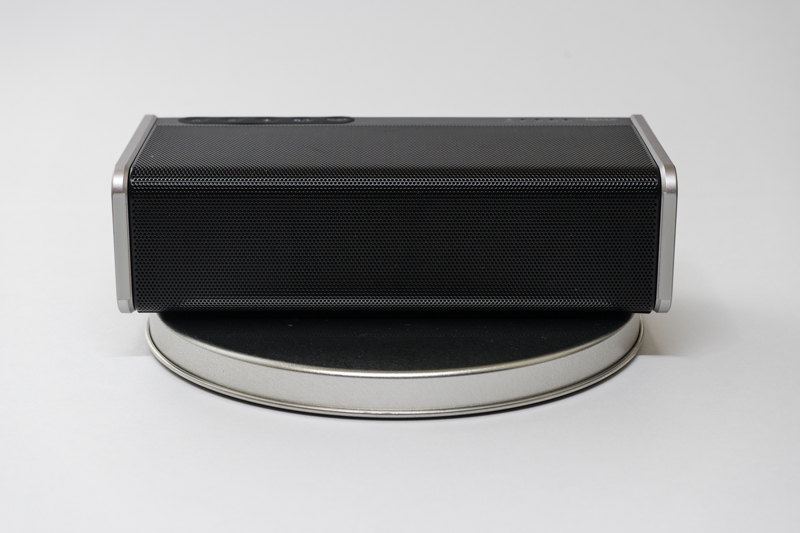 Like the other speakers in the Roar line, the iRoar Go is elegantly designed, no bright colors or superfluous edges/curves. Although very similar to the 2015 model, the Roar Pro, there are some key differences: for starters, the iRoar Go is 40% smaller and 25% lighter than its predecessor (the picture below may serve as reference). Additionally, Creative has provided the iRoar Go with an IPX6 rating, which makes the speaker water-resistant. So it can be taken to the pool or the beach (although, I'd keep it away from sand).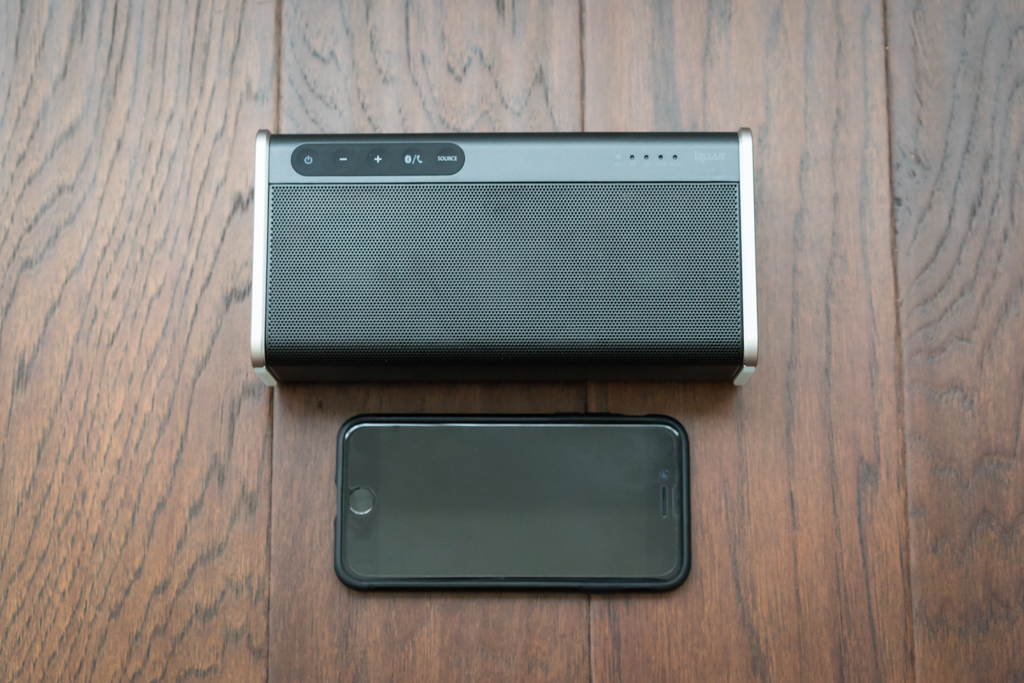 Creative kept the five driver configuration from previous models, which is remarkable given the small size. The drivers are placed behind a metallic mesh that wraps around the device's top and bottom, and the sides are now beautifully machine-finished. As seen below, there are five buttons on the top side: Power, volume down, volume up, Bluetooth connection/calls and input source.
On the back, there is a plethora of buttons and ports. Fortunately, in order to improve its water resistance, several less used ports are covered with a rubber lid. Music can be controlled from either the transmitter device (i.e. phone or tablet) or through the buttons on the back of the unit. However, this flexibility comes at the expense of having a fairly crowded back side.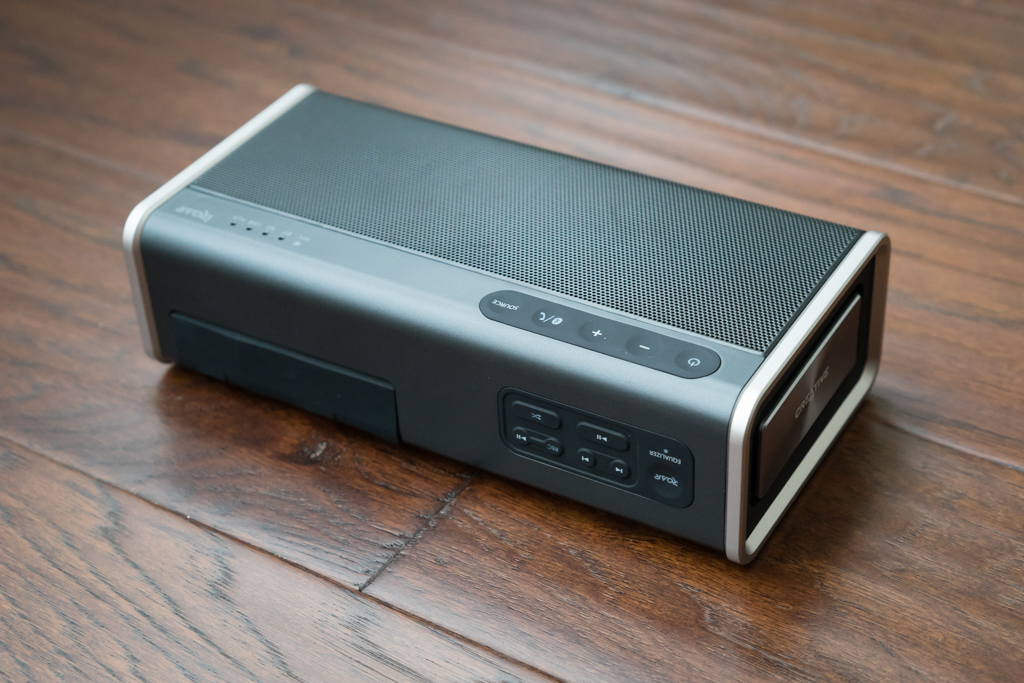 The passive radiators , located on the left and right sides, are especially mesmerizing. Not because of the chrome finish which makes them look great, but because of the way they move when producing strong bass.
Hardware Quality
Rating: 9/10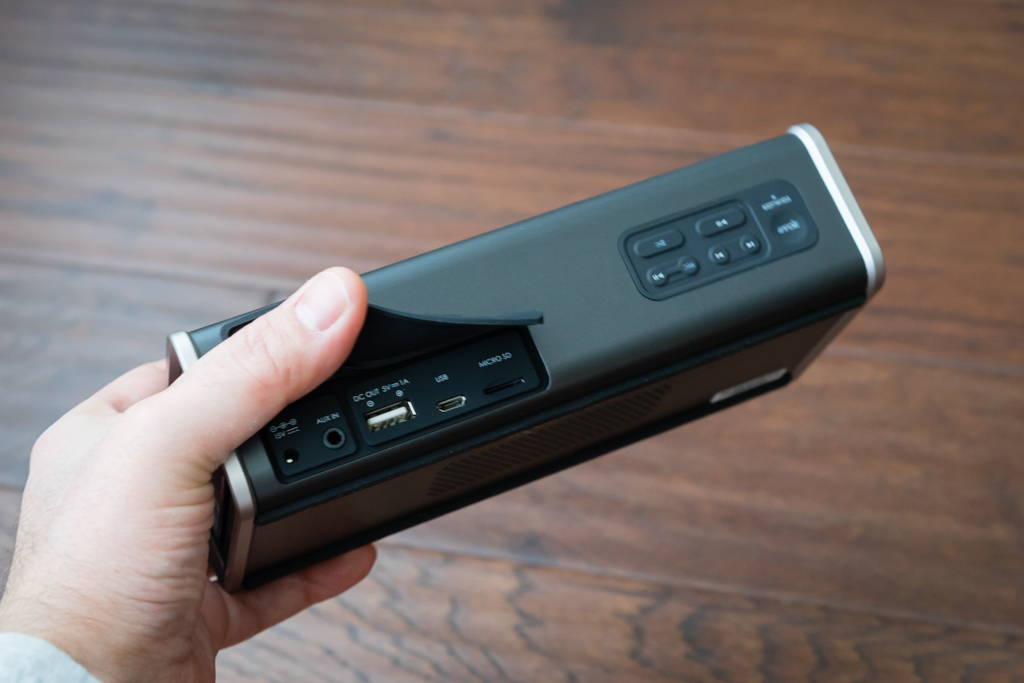 Although the iRoar Go is small, it feels tremendously solid, almost rugged. Surfaces are a mix of a rubberized hard plastic and metal. Buttons are soft and provide a satisfactory tactile feedback and even the ports' rubber lid feels sturdy. Creative has included a power supply with several international adapters that can easily be swapped. Cables are long and thick, with sturdy connectors. All in all, there is very little that can be criticized about the choice of materials.
General Performance
Rating: 8/10
Just like its predecessor, the Sound Blaster Roar Pro, the iRoar Go is provided with two speakers, one subwoofer and a couple of passive radiators fed by two dedicated amplifiers: one for lows and mids and one for highs, so that higher frequencies don't get easily drown in the spectrum.
Audio performance is similar to the Roar Pro's, but I wouldn't say it's as good. Sound separation is just OK, but that's typical of Bluetooth speakers. However, using the aptX codec (with a MacBook Pro) seemed to help in this regard. Mid range performance seemed a bit muddy at first, but that was quickly remedied by pressing the Roar button. __I would say, performance is comparable toBose Soundlink III's. However, when cracking the volume up to the max, distortion can be a bit of a problem. Although not overwhelming, it can be noticed (which wasn't the case with the Roar Pro).
Creative has implemented a SuperWide Stereo Imaging technology in this speaker, which is supposed to widen the sound stage. I must say, it definitely delivers. It's really impressive the bold and solid sound that comes our of this little speaker.
Price
Rating: 9/10
The iRoar Go retails for $199 on Amazon, which is an great price considering the device's excellent performance. Compared to Bose's competing product, it is more versatile, has a lower price and comparable performance. Definitely a winner.
Ease of Use
Rating: 8/10
Although the iRoar Go is fairly easy to use once you get familiarized with it, the amount of buttons on the back and the tuning options can be a bit overwhelming at first. That being said, Creative did simplify operation and streamlined some options when comparing the iRoar Go with the Roar Pro.
Other Pros
Rating: 10/10
This section is meant to give credit to extra features that set the reviewed device apart from competing devices. In the case of the iRoar Go, there is a plethora of features that differentiate it from similar products, such as:
Near field communication (NFC) for pairing capable Bluetooth devices.
Water-resistant. IPX6 rating keeps it safe from water splashes.
Answering phone calls through the device.
Option for using a mass storage divice (micro-SD slot) for playing music instead of using a Bluetooth connection.
Microphone and capability for recording sound into the micro-SD card.
Bluetooth 4.2 and NFC.
Auxiliary in port.
Excellent battery life.
Battery Life
Rating: 8/10
I was able to get a little over 8 hours and 30 minutes of music through a Bluetooth connection before the battery went dead. Although 8 hours may be enough for most days at the pool or during day trips, it's definitely below Creative's claimed 12-hr autonomy. On the plus side, the device can be used while charging, so for longer trips you'll need to be close to an electrical outlet.
Other Reviews
Rating: 3.5/5
The Creative iRoar Go averages 3.5 stars (out of 5) from 5 reviews on Amazon at the time of writing. There are no reviews available on either Newegg or Adorama, so the Amazon rating is the only one that has been factored in when calculating the Quarks rating.