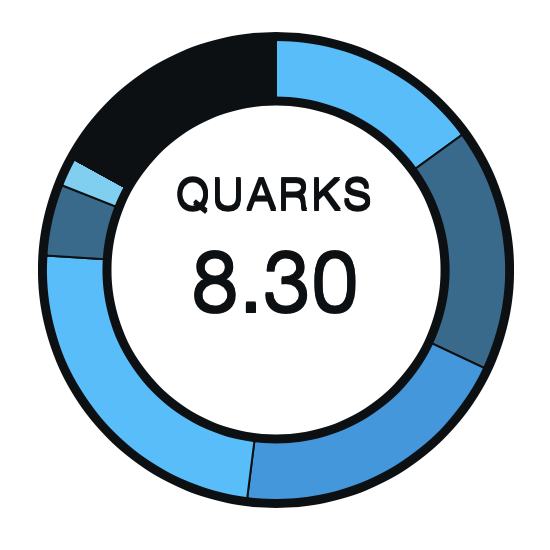 Quarks rating explanation here.
Hardware Design
Rating: 7.5/10
The DT240 Pro do not deviate from Beyerdynamic's sober and tasteful design. I would have liked to see more modern lines or glossy/metallic accents, but it's obvious Beyerdynamic is aiming for the pro community with this release.
The headphones are very comfortable. Also, being so lightweight makes you forget you have them on. At first, I thought they were on ear headphones, but they are actually over the ear, as they wrap your ears completely when wearing them. Although I didn't have any problems, I can see people with larger ears feeling the cups' cushioned area rubbing against the outer ears (much like on ear headphones).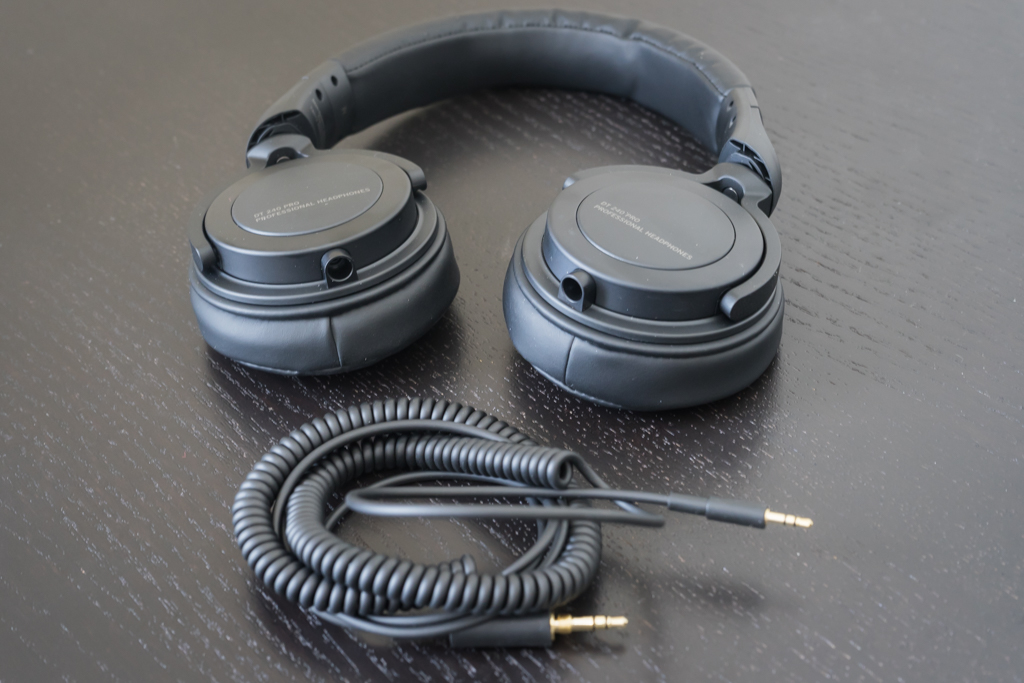 The DT240 Pro are wired headphones. The audio cable is coiled, which - to my surprise - helps incredibly well keeping it out of the way. Also, the headphones are provided with a 3.5 mm headphone jack on each cup. This is great at it allows you to move the cable out of the away regardless of where the audio source is located (i.e. to your left or your right).
Hardware Quality
Rating: 8.5/10
The DT240 Pro is made almost entirely of plastic . The only metal parts would be the head band (which is mostly concealed) and the ear cup frames (which seem to be made out of anodized aluminum). However, they don't feel cheap at all. Certain areas are provided with a nice rubberized texture, it reminds me of the Bose Quiet Comfort 35.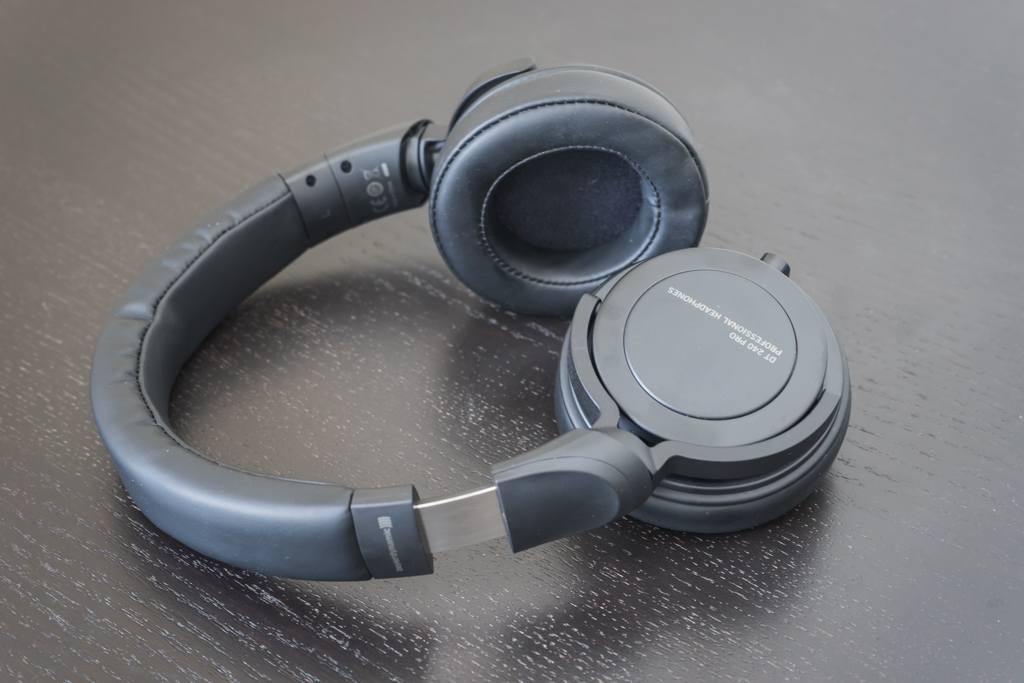 The cushioned areas on the head band and ear cups are provided with a very soft leather surface (If it's not leather, it feels just like it). Ear cup rotation is very smooth and the head band provides a satisfactory click when being adjusted.
The cable is just the right thickness: not too thin so it doesn't feel sturdy, and not too thick so it would be overly heavy and difficult to handle.
General Performance
Rating: 8/10
These headphones were tested with high resolution audio. That is, music encoded at (at least) 96KHz/24 bit, which is effectively better quality than CD audio (and hence, better quality than MP3/AAC compressed "lossy" audio). The files were in either FLAC format or Apple Lossless format and were played/decoded through a DAC capable of reproducing them at 96KHz/24 bit resolution.
The whole arrangement may be overkill for mobile users, as currently many mobile devices are not capable of playing high resolution audio through the headphone jack and keep the lossless audio quality. Moreover, most popular streaming services in the U.S.(e.g. Spotify and Apple Music) are not capable of streaming music at such high quality. However, I wanted to test the headphones with the cleanest audio source I could provide to rule out any quality issues or noise/artifacts that may be introduced.
The sound signature of the DT240 Pro is almost flat, I would say. It slightly emphasizes lower frequencies (the rest of the spectrum seems to be fairly flat). Low and mid bass is bold, without being too accentuated. Mids and highs are not as crisp and natural sounding as those on the T90 or the T51i, but those headphones are provided with Beyerdynamic's renowned Tesla technology, and it would be unfair to make such comparison. However, that's not to say the kids are lacking, Killing Me Softlyby Fugees sounds beautifully, for example. Vocals are crisp and the lower frequencies are bold and fulfilling. Hotel California by Eagles is another example of a song that is fantastically reproduced by these earbuds.
There is no Noise Cancelation. This is not necessarily a bad thing as noise cancelation can bring down performance when not done right, in my humble opinion.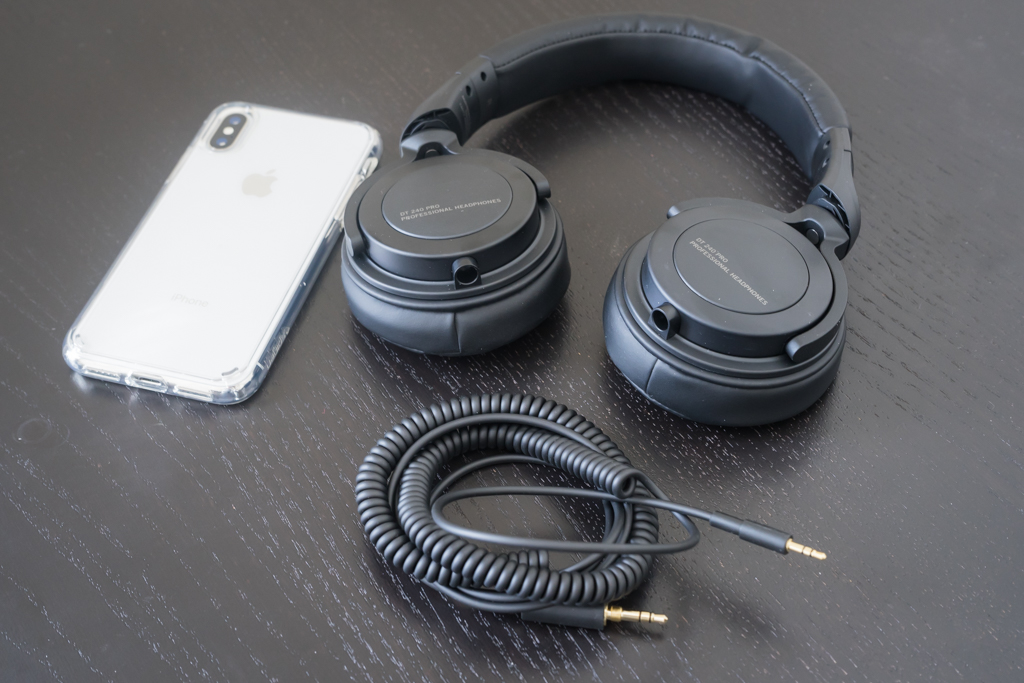 Price
Rating: 9.5/10
The Beyerdynamic DT 240 retails for about $99 at the time of this writing. That's a more than adequate price tag for the quality and performance these headphones offer. There are other alternatives out there offering similar features at this price range, but those options are generally semi-open back or completely open-back headphones. If closed headphones below $100 is what you are looking for, these are an excellent option.
Ease of Use
Rating: 10/10
This is as easy as it gets, just adjust the head band as needed, plug the coil cable on the side that better fits your use case and you are ready to go. There are no buttons, Apps or batteries to fiddle with.
Other Reviews
Amazon Reviews: None yet.
These headphones are still fairly new and there are no available reviews on Amazon or any other reputable online store. Therefore, this section will not be accounted for when calculating the Quarks rating.