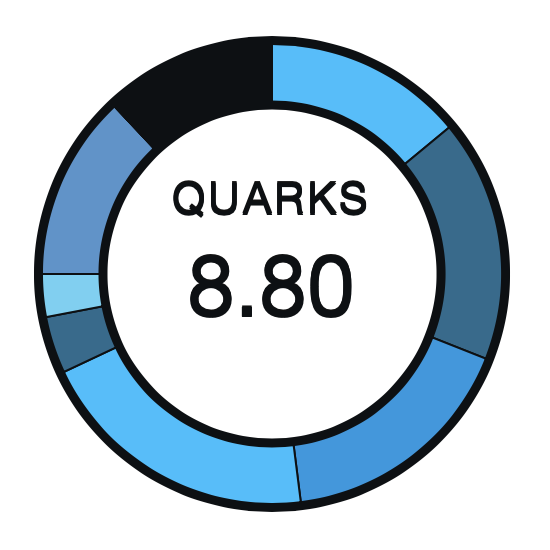 Quarks rating explanation here.
AKG is a well known Austrian manufacturer of high quality microphones, headphones and wireless audio systems. They have been around since 1947 and although their presence is not prominent in the consumer market (they are working on that), they are huge in the professional audio industry. To put it in perspective, Ol'Blue Eyes himself, Mr. Frank Sinatra, used some of their microphones and headphones. Read on for a detailed review of these closed-back headphones.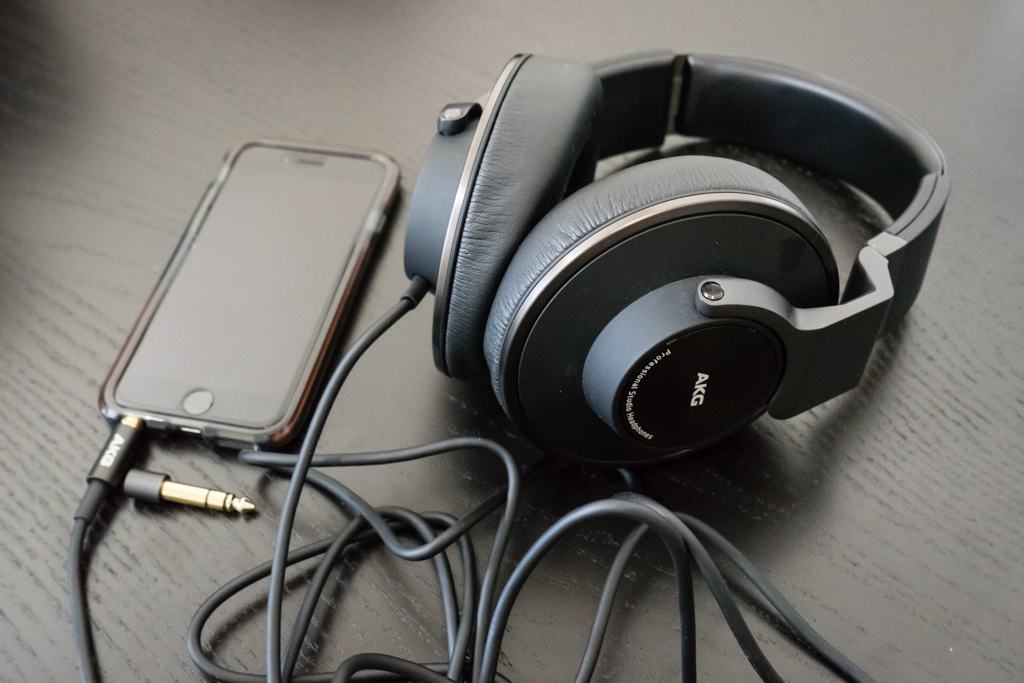 Hardware Design
Rating: 8/10
The K553 Pro design is bold and their size is unapologetically massive. AKG is well known for their self-adjusting headbands like the one in the AKG K712 Pro headphones. However, for this model they decided to go with a more traditional manually-adjusted headband. Judging by the pictures, you might think it's a rigid and somewhat uncomfortable headband, but that's not the case at all. It pivots in the right places and it's adequately cushioned so it doesn't bother you when the headphones are worn for long periods of time (and trust me, I did wear them for a long time).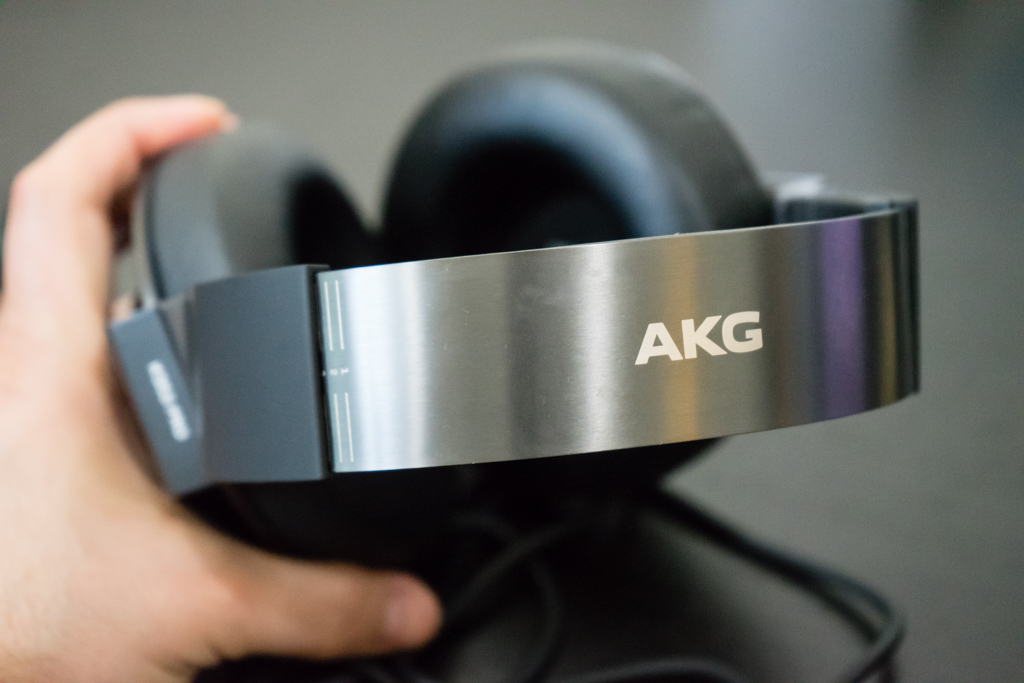 In AKG's typical fashion for over-ear headphones, the K553 Pro has big ear cups and big drivers (50 mm) that wrap the outer side of your ear nicely. Unfortunately, I found them not being deep enough, so part of your ear may be in contact with the inner lining. Not a huge disadvantage, but something to keep in mind. Also, due to the size of the drivers, these headphones are not meant to hang on your neck when not listening to music.
The cable, although long and thick, is not detachable and has no in-line remote controls (which is fine as these headphones are not geared towards on-the-go users). The cable has a 3.5 mm audio plug and AKG included an adapter to 6.35 mm (1/4") for use with desktop audio amplifiers.
Hardware Quality
Rating: 10/10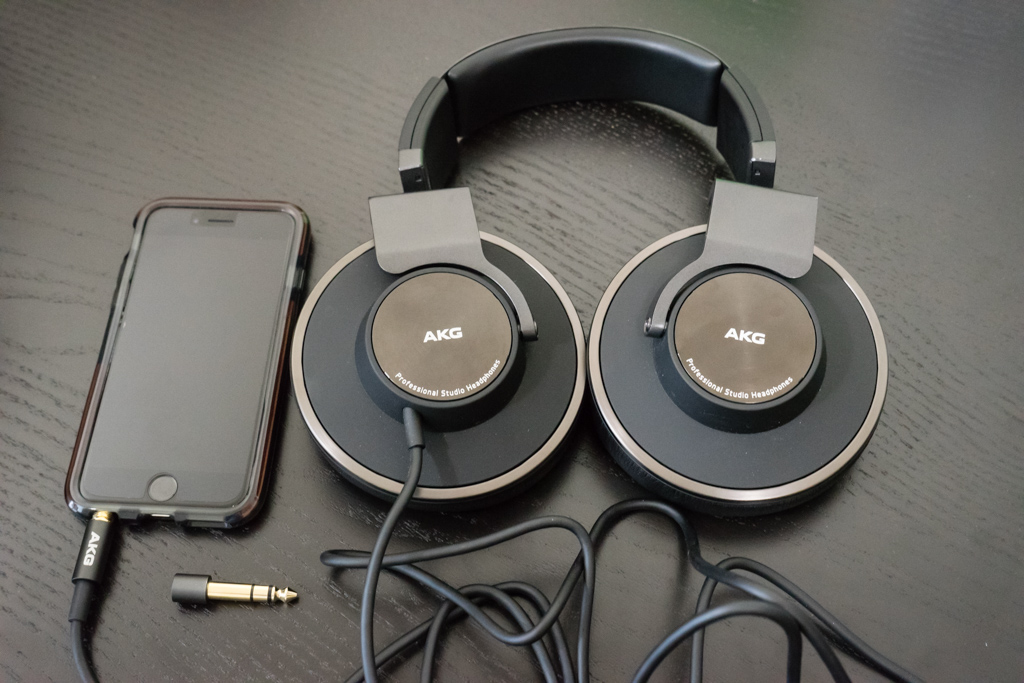 The quality of these Autrian designed headphones is top notch. There is ample use of metal and high quality plastics all over. AKG balanced the amount of metal and plastic is such way that the headphones don't feel heavy at all.
The cable is thick and soft to the touch, almost rubbery. It's pretty obvious these headphones were built to last for decades.
General Performance
Rating: 8/10
I tested the K553p with high resolution audio. That is, music encoded at (at least) 96KHz/24 bit, which is effectively better quality than CD audio (and hence, better quality than MP3/AAC compressed lossy audio). The files were in either Flac format or Apple Lossless format and were played.decoded through a DAC capable of reproducing them at 96KHz/24 bit resolution.
The whole arrangement may be overkill for mobile users, as currently most mobile devices (including Apple's iPhone 6S) are not capable of playing high resolution audio *through the headphone jack and keep the lossless audio quality. Additionally, the most popular streaming services (e.g. Spotify and Apple Music) are not capable of streaming music at such high resolution. However, I wanted to test the headphones with the cleanest audio source I could provide to rule out any quality issues or noise/artifacts that may be introduced.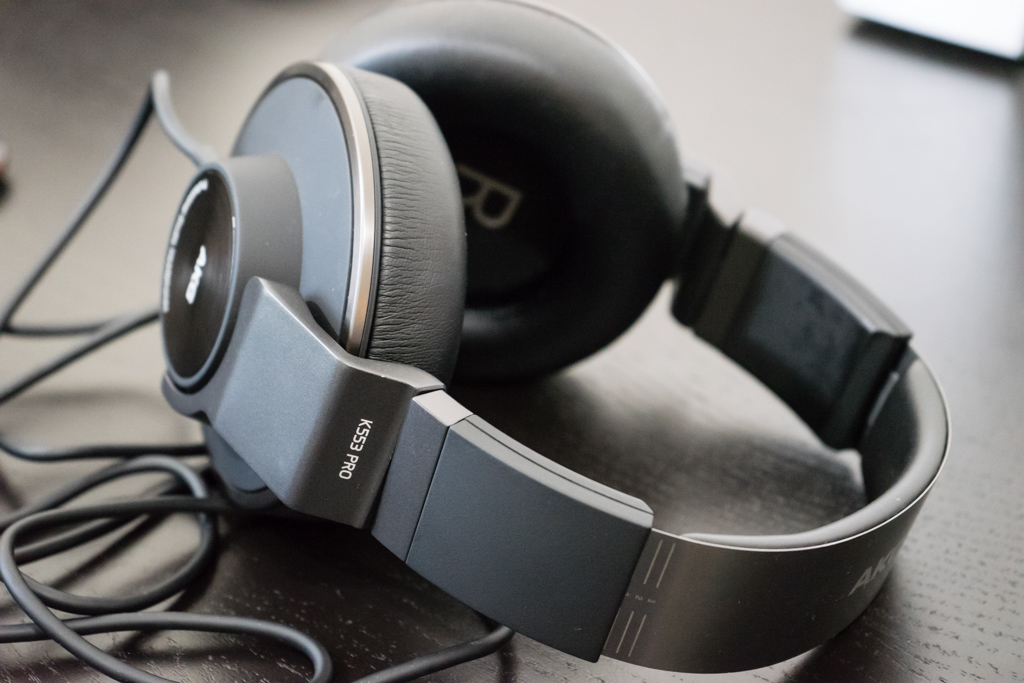 Although these are closed-back headphones, they provide a fairly open and pleasant sound stage while effectively isolating you from the surroundings. Since they have low impedance (32 Ohms), there is no need for a desktop amplifier as most mobile devices and laptop/desktop computers should be able to handle them.
I have included below the frequency response graph from headphone.com just as reference. The graph is actually for the K550, but it should be pretty close to the K553's performance. I've also included the response curves for the Sennheiser Momentum and the Beyerdynamic DT1350. They are in the same price range and have similar features as the K553's, except the DT1350 which is an on-ear design.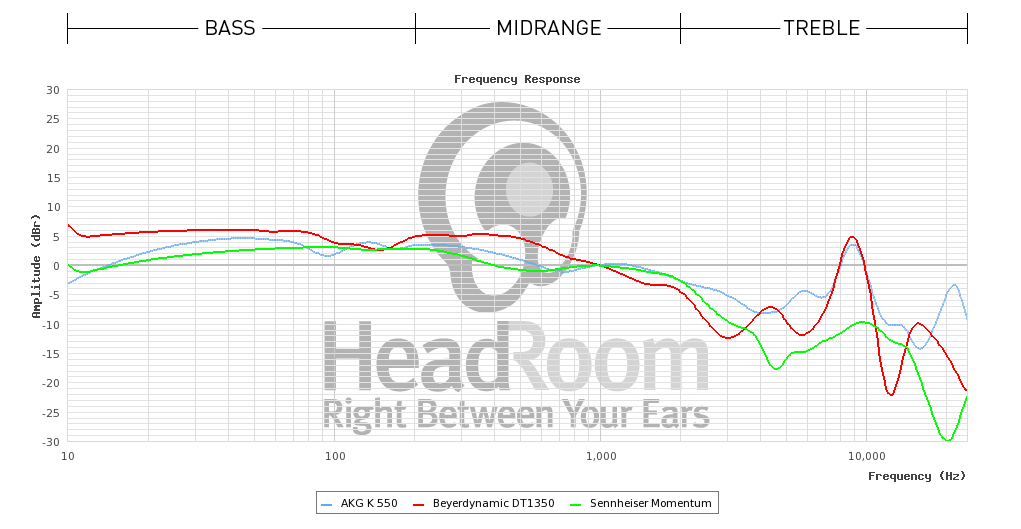 Midrange and treble performance is quite good. Hotel California and Stairway to Heaven sound terrific. The clarity of the guitars and vocals is truly remarkable. Bass response however, is just not quite there in my opinion. Even when comparing them with the Momentums, which on paper have similar curves; the K553's fall way behind. From the three headphones represented in the graph above, I prefer the performance of the Beyerdynamic DT1350's (currently my favorite on-ear headphones), but I must admit that I tend to like headphones and IEMs with good (but not overpowering) bass.
Overall, performance is quite good, close to a flat/reference response in my opinion.
Price
Rating: 9/10
The AKG K553 Pro retails for less than $200 on Amazon at the time of writing. Although not exactly a bargain, it represents an excellent value considering the general performance and construction quality. Additionally, you can find them from time to time on massdrop at an additional discount.
Ease of Use
Rating: 10/10
There are no buttons or in-line controls to fiddle with. Although the head band is not self-adjusting like other offerings from AKG, it's fairly easy to adjust. These headphones are truly plug & play.
Amazon Reviews
Rating: 4.4/5
The AKG K553 Pro's Amazon rating is 4.4 stars out of 11 reviews at the time of writing. This has been considered when calculating the Quarks rating. There are no other reviews available in either Adorama or Newegg.
In Summary
Pros
Comfortable and good looking design.
Nice choice of materials, good quality construction.
long sturdy cable.
Excellent overall sound performance.
No need to use an amplifier due to the low impedance.
Adequately priced.
Cons
Ear cups may be too shallow.
No case included.
Low frequencies somewhat recessed.
non detachable cable.